Hello, everyone, and welcome to the Rev Up. With there being a two week lull in the AMA Pro Racing schedule, I wanted to talk about some off-topic things but still keep it as moto as possible. But, moving along, man, this is a really heavy week for me. I talk about myself too much, I realize that, and I apologize. The motocrosser's ego is an amazing thing I guess. But don't get me wrong; I love talking about other people more. Writing about my friends and people I have been lucky enough to meet and be inspired by is my favorite thing to do.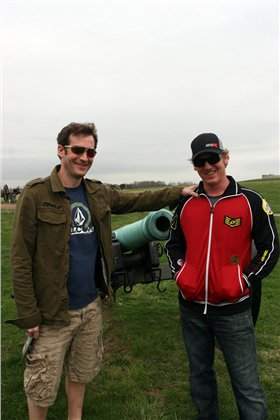 Thanks, DC!
photo: Jason Hooper
But when I woke up today I just kind of fell into a trance because of what day it is. In the past two years Thursday has been my favorite day of the week because it was Rev Up day. But this one is kind of bitter sweet: This Thursday marks my last day in my twenties and it just kind of freaks me out. I never imagined what it would be like to be 30-years-old. Until very recently, I've taken on my days as they have come to me and walked my steps with the carefree mindset and vigor of an 18-year-old. Although, I have noticed things changing around me….
The sound of a baby crying on an airplane used to make me want to shove pencils in my ears, now it actually calms me and brings a smile. Ten years ago I used to just love bouncing myself off the dirt on a BMX bike after work. Today, it doesn't get any better than a glass of decent Merlot and a good book. Going riding ten years ago meant trying to beat every single guy at the track whether it was race day or open practice. Today, just getting on a track and being able to shake out the arm pump after 20 minutes is a spiritually-fulfilling accomplishment.
I've accepted it. I'm getting older. I should get over it though. I mean, Guy Cooper did the entire outdoor national series for his 40th b-day, I think
John Dowd
got his first bike when he was 30, and I got my shot swatted playing basketball Monday night by
Racer X
's Jim Manilla, who will turn 58 years young next week on the 11th. I don't think this age thing plays as much of a physical role as it does mental. I get the feeling that when you reach 30 it's time to do what everyone has told me since I turned 18, which is "grow up." I'll tell you what, working at this place for a year made me do a whole lot of that.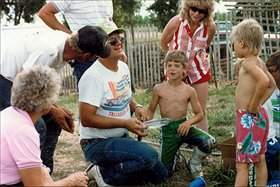 The Bowyer family at Prairie Pups MX in Hutchison, Kansas.
This weekend is very special. Tomorrow is Good Friday and this Sunday is Easter. That means a whole lot of different things to a whole lot of different people. But as I sit here on the eve of my 30th birthday I can only soak in this crazy influx of memories that lead me to this day. It just trips me out how things work out the way they do sometimes. All religion aside, I believe there is something out there that plays a role in how this mud ball spins. I believe in karma, luck, and fate. I have seen so many things, good and bad, that are simply unexplainable. For example, take a look at this picture that was taken of my Dad, Clint, and I. This was over 20 years ago at Prairie Pups MX at Hutchison, KS. When I won that shitty glass Budweiser plate for the track championship, we thought it was the coolest thing ever. I still have it! See that NASCAR Talladega t-shirt and Team Green hat. Five years later he was changing tires on my Team Green KX80s. Twenty years later he was standing on the spotter's tower at the Talladega 500 watching Clint take the green. Crazy stuff, man.
When I sit back and think of the events that took place between that picture and the moment I am typing on this keyboard today - It just blows me away. I have no idea why I am so lucky to have such a great family and have been able to meet so many incredible friends that have inspired me in so many ways.
Before I go I wanted to share something weird I found. I've never been much into astrology or psychic mumble jumble. I used to try to play the "sign game" to get dates at the bar, but never had much luck. But when I looked up the sign for people born March 21st through April 20th my jaw pretty much hit the floor. It describes people who are "Aries" as:
Adventurous and energetic
Pioneering and courageous
Enthusiastic and confident
Dynamic and quick-witted


On the dark side...
Selfish and quick-tempered
Impulsive and impatient
Foolhardy and daredevil

While the dark side fit me a little closer than the first part, it's astonishing how accurate it was. My friends that read this will surely laugh when they read that.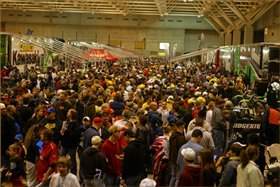 Happy Easter
photo: Steve Bruhn
But anyways, since there is no racing going on this weekend, spend the time together with your families and celebrate Easter Weekend doing whatever makes you happy and be grateful for the good things in your life. I am so grateful for what I have been able to see and do. Nothing makes me happier than writing this column and talking about the sport I love so much. Nothing makes my day more than hearing back from you guys. You can't put a price on the feeling. And I have to say thank you to DC for letting me do this. So, thanks, man. In the meantime, I'd like to hear from some of you other "Aries" folks out there and tell me how that description fits or doesn't fit you. It would be a cool b-day present from all you Revved Up readers.
Thanks for reading, see you next week.