Welcome to the Shift Number Cruncher. We decided to switch things up a bit for this week's column. Last weekend a group of us drove over to our nation's capital to visit some very special people (Purple Heart recipients from Operation Iraqi Freedom) and also check out the IMFA's FMX event at the Verizon Center. What an event it was! A near capacity crowd—with a huge contingent of young fans—watched J.J. Romans take the win. In typical freestyle fashion, he didn't have a number, yet everyone there knew who he was.
We got to talking about all of this on the way home, and we realized that a lot of really cool things often taken place on dirt bikes without numbers. Sometimes it's to take that first ride around the field on your brand new motorcycle that just came off the showroom floor; other times it's to practice on a race bike while the graphics are still being finalized. Times like this, it isn't the number that left an indelible mark it was just the rider and machine that made the moment (Travis Pastrana's double-back-flip comes to mind!). In fact, some of the more interesting and groundbreaking moments in the history of our sport have taken place with dirt bikes that had no number on them at all!

Here are some other big events that took place with no numbers.
Stefan Everts
photo: Racer X Archives
Stefan Everts
will always be known as #72 (and before that usually as #1). But on this day in Sunny California, no numbers were necessary for him to go shred some Glamis sand with Ryan Hughes for an early story in
Racer X Illustrated
.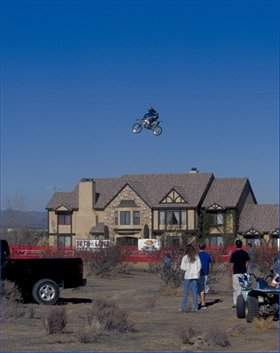 Seth Enslow
photo: Eric Johnson
The wave of fame and good times began to crest as he lined up for an attempt at the world record at Mike Cinqmar's house. While trying to push the distance, he suffered a smashed skull and never again really got to enjoy the fun he had in the late '90s. One of the coolest and most stand-up guys I've ever met,
Seth Enslow
earned a permanent spot in motocross history and never even had a number.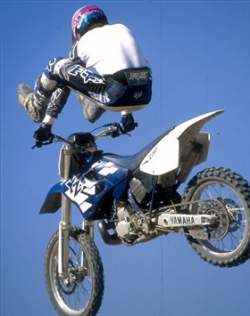 photo: Racer X Archives
Remember when the heel clicker was considered a gnarly FMX trick?
K-dub
was one of the first pro guys to start throwing them as he did many times on his way to two west coast Supercross titles. He did this while preparing for a Yamaha team shot back in the mid-nineties.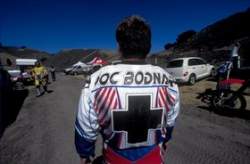 Doc Bodnar
photo: Mike Balzer
Professional supercross and motocross is a better place because of
Dr. John Bodnar
and the Asterisk medical crew. While he is often running the symbol of a doctor instead of a number—and when he does run a number, it's often 911—the good doctor is a very important part of our sport.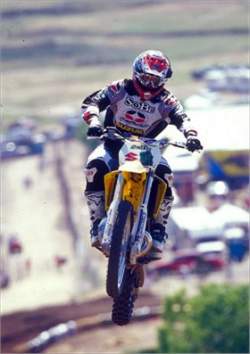 Cameron Steele
photo: Simon Cudby
Here we have
Cameron Steele
running the helmet cam during one of the outdoor nationals with his sponsors on the plates instead of a number. Cameron considers himself more of a free rider, which is a good thing because I was there that year when DC showed him up at
Hangtown
by jumping the uphill double when Cam passed on it. To his credit, the Amp'd Mobile man has hucked some really, really big stuff out at Ocotillo Wells, and now he's one of the top desert truck racers in his class in the whole Southwest.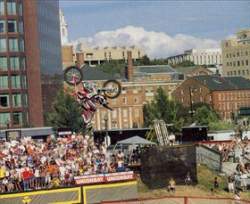 Carey Hart
I still remember the day that Dwayne Taylor (now a DC Shoe Co. rider support rep) called me from his cell phone while the crowd was still going bananas after
Carey Hart
yanked the first backflip in FMX competition. What number was he? Who cares! When you have stones like Carey Hart, you don't need a number.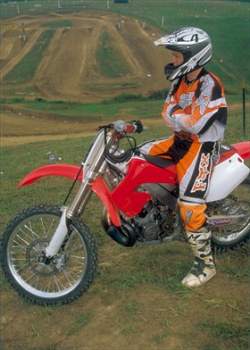 photo: Davey Coombs
What a huge moment this was. This shot was taken during
Ricky
's maiden voyage on a "wing and a prayer" the day after the 2001
Steel City
National. That was a HUGE deal in our sport because Ricky had ridden exactly one other bike in his life up to that point that wasn't green, and that was a Yamaha Tri-Zinger! RC was just establishing himself as the best rider on the planet when he up and decided to switch to Honda. A lot of people said it was because of money, but Ricky said he wanted a new challenge. He won all five championships he raced for on red, so challenge met. Three years after this exclusive photo was taken, RC said he wanted yet another challenge and went to Suzuki, where he swept all four AMA 450 titles in '05 and '06. Next challenge? Cars!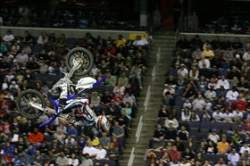 J.J. Romans
photo: Jason Hooper
Now this is one top-shelf dude you probably have never heard of, but let me tell you about
J.J. Romans
. After thrilling the packed crowd at the FMX competition in Washington D.C. last weekend, J.J. and some of his friendly competitors heard about a soldiers' bar in Adams Morgan and drove across town to hang out with the same soldiers who came to watch them ramp it up at the Verizon Center. These cats are definitely #1 in our book.
X photos:
I know there are some guys out there that have done some damage aboard numberless machines. If you have some photos send them to me an e-mail at andy@mxsports.com and I'll see if I can talk Bad Billy into throwing you into the Redux.