Monday Conversation: Josh Coppins
Our European colleague Geoff Meyer (www.mxlarge.com) sent along a pair of interviews this morning featuring the opening round winners in the 2007 Motocross Grand Prix Series. First, MX1 winner and fellow Racer X contributor Josh Coppins.
Josh Coppins came into the 2007 season as the favorite, although he was not expected to win the Grand Prix of Benelux. Poor pre-season form in the sand and what many were saying trouble with the set-up of the Yamaha had many handing over the favorite roll to riders like Steve Ramon and Ken De Dycker. When all was said and done though Coppins proved once again that his 15 years on the GP scene and his work ethic would pull him through. We caught up to Coppins as he sat with the Rinaldi Yamaha mechanics looking at ways to make the bike go even faster.

MXLarge: Josh, everyone had doubts about your form coming into Valkenswaard. Was that a ploy by you to give everyone a false confidence, or were you really struggling?
Josh Coppins: The truth is I wasn't riding so well in the sand before Valkenswaard, and I have never ridden well in the sand prior to this year. I won two pre-season races in Valence and Montervachi and both were hard pack. I think I have adapted to the Yamaha better on the hard pack than in the sand. Coming into this weekend I wasn't expecting to win, I would have been happy with the podium. I told myself to ride my own race and be consistent. Last week we found some good changes for the bike in the sand and the last days it was coming good.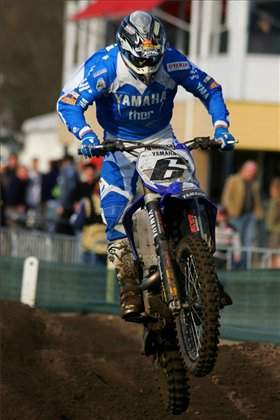 Josh Coppins surprised many by winning the opening round of the 2007 MXGP series.

Even on Saturday you didn't look comfortable, and it took you the whole qualification to get a good lap time.
I didn't really hang it out in practice, but in the qualification I had some problems, but in the races I can maintain the same speed. I am not as fast as Ken de Dycker, but I can keep going until the end, that is the difference. I still didn't expect to get a win, even fitness in the sand was a problem.

Ken De Dycker and you had a good battle in the early part of the opening MX1 moto. Was he aggressive?
That is just Ken, I think he thinks I am stupid or something. He tries to ride silly. He isn't aggressive, but he uses different lines and tries to rev the bike, like he thinks it will affect me, but it does not make any difference. All he is doing is using his energy up. I just slowed down, and he got away, then I picked up my pace, made the pass and put some good laps together. I knew he wouldn't last 40 minutes. In fact, as soon as he passed me early in the race he slowed down and started riding these strange lines. It is almost like he is playing. He is fast for sure. He needs to be smarter, it's possible he can get better.

What about the track, was it better or worse than in previous visits to Valkenswaard?
The track was good all weekend, it was slower and more technical. It seems to get harder every time we come here, the ground I mean. It was tougher because it was more technical and more jumps. It wasn't tougher as far as getting rough.

How about pressure? You are the favorite, so did that affect you at all?
It was a little different for me. I mean, I always struggle at the first Grand Prix, usually ride crap, so to get the win, I am really happy. First GP on Yamaha, so many people saying "Coppins is not good," and all that. A lot of people who were favoring another rider were talking about them. I will just keep working and see what happens. Coming into this GP a lot of riders were thinking about this race, but I was coming in with an open mind, I knew I needed to be consistent for the first five rounds. We will see who is in the hunt for the championship. This week they are saying [Jonathan] Barragan, next week it might be [Tanel] Leok, the week after that it might be somebody else.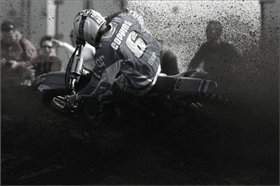 Coppins is comfortable on his new Yamaha

When do you think you will pick up the pace and ride maybe at your best?
Spain (is where) I start to ride good and Portugal is where I should be really going much better. I think the other riders were thinking they had a chance here in Valkenswaard. I would be a little concerned (if I was them). It was my first race on Yamaha, I had a small problem in the second race that I won't have in Spain and I was struggling in the sand. I am not going to say I am the best guy out there, but I have the best chance. I had some cramps in my stomach and legs in the second moto, but otherwise it was okay.

What about Ramon, did he disappoint you at all?
I don't know what people expected, the pre-season races are not like the GPs. I think he [Ramon] will be up there after five or six races. This weekend should not have been one of his best tracks, but after four or five races I think he should be second or third in the championship

What is all this "BCC" stuff I am hearing about?
The BCC is the "Blue Collar Crew." Plons [a photographer] put on a picture that I am a blue-collar man because I am not really good at anything, I just get my head down and am okay in all conditions. Ben Townley and I will wear that on our race pants at the next race—we are both putting the work in and getting the results!