Monday Conversation II: James Stewart
James Stewart was trying on all his smiles on the podium at Dallas. Stewart won a main event that Chad Reed pushed him to go faster in, and he's got a nice points lead going into a long-overdue two-week break. As Stewart gains experience in the premier Supercross class, he's learned to moderate things here and there. It seems there is no limit to him finding more and more speed, but he's learned that it can't always be switched on. Dallas had two days of rain before the night show and although the track was in remarkable good condition, it was still a little slick and Stewart had to adjust. We spoke about it just as he stepped off the podium.

Racer X: James, let's talk about your main event first, how did your start go this time?
James Stewart: The start was alright. I can't even remember where I started, I don't know. It was good, I got out front. [Andrew] Short was riding good those first few laps. That was the first time he led a Supercross class. I thought it was kind of funny. I was happy for him—to get someone else up there leading besides Chad, myself or Ricky all the time. It was fun.
Chad was jumping this triple thing in the middle of a section and making a bit of time. J-Bone put it on the pit board that I needed to jump it and once I did that, it was cool. It was like "double-double-triple" in that far rhythm section and I was able to get it. It was kind of easy but I didn't think it was any faster than what we were doing.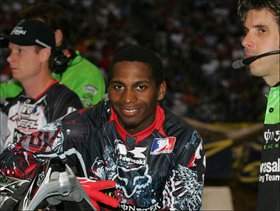 James is happy that he now has a two-week break

How as Short to race with?
He was strong. I don't even know what place he ended up. He was leading for a while. I'm also glad for Timmy Ferry. Two Kawasakis on the podium: that's always good. [Andrew] almost wadded himself so bad going down the straightaway. I kind of backed off because I thought he was done, but it was all good.

Was Chad riding better than last weekend at Indy?
Chad was riding good. He rode good last weekend. At this track I was comfortable with a second and a half or two-second lead, and I just kind of rode, just enough where I wasn't worried about him running in on me. If you try to over ride the track, this is one of those tracks like San Francisco you end up going down on. I was happy where my lead was.

Is there anything special about this win? You sure had a lot of smiles on the podium.
I am going on vacation—that is it. I am just happy about that. Thirteen weeks in a row is a long time. It starts taking a toll on you, when you have been going since December. To get a break and have a 35-point lead going into that break, and a win, I can't ask for more. That's why I was smiling

Hey, what's the deal on this video with Everts?
I saw it…. It should be good. I am excited about him coming over. Since that Motocross of Nations thing, at least we can race each other, one-on-one, for moto wins and let's see what happens…. [Laughs] Was that good enough?

Right… Okay, what about this Sorby thing? Chad mentioned it at the close of his interview last week.
I don't know. Lappers get into everybody's way. We are coming up so much fast. That can't be a reason why I won a race. It wasn't like he got taken out or something. I got messed up by lappers tonight. I don't know, I don't even want to talk about it.

When you first got in the lead in the main, you were whipping over the finish with Chad right on you. Were you pacing yourself?
I was just kind of checking it out. The track was changing every lap. When I started jumping that section, that triple thing, I thought I was riding pretty good and he was still catching me. When Jeremy put that "double-double-triple" on the pit board, I was able to stretch it back out. I did drop the hammer for maybe eight laps and was able to get that gap, and that was all we needed.