Over and over, you will hear how James Stewart is smarter and smoother and more mature—and then he'll make a mistake, and the controversy begins anew. But on Saturday night at the Dallas round of Amp'd Mobile Supercross, Stewart really proved just how smart he's become. He used literacy to win the race.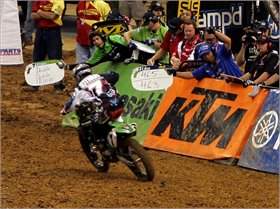 Stewart read the writing on the pit board
Monster Energy/Kawasaki's Stewart was the most well-read racer in the Dallas main event. Halfway through the race, Team San Manuel Yamaha's
Chad Reed
was in second place and closing the gap quickly on Stewart. Reed was closing specifically in a rhythm section where he tripled through the center, which was much faster than Stewart's plan of doubling through the middle and tripling out. Reed had worked Stewart's lead down to under one second, and the Dallas crowd braced themselves for a shocking battle for the lead. After all, last week Stewart had caught and passed Reed after starting in next-to-last. This time, he was just barely holding on.
Then his mechanic, Jeremy Albrecht, wrote "Double Double Triple" on Stewart's pit board. James read it, interpreted it, and jumped the section just like Reed. Then he started pulling away.
First, most riders like to keep their pit boards simple. Consider how
Ricky Carmichael
's board almost never lists anything but lap times. Moto XXX Honda rider
Josh Summey
says he has improved his results tremendously this year by telling his mechanic to only list lap times—listing positions only adds pressure.
Then, consider how difficult it is to even read a pit board. The Dallas Lites winner, Ben Townley, said he hasn't read his pit board yet this year, because he's not used to the short SX straights past the mechanics' area.
But Stewart got the message and jumped the section—impressive in itself, since the track was rutted and Stewart had not attempted that leap at all during the day or night. It was that combination of smarts and bravery that led to his tenth win of the year.
Give Reed credit, though. He was much better in Dallas than he was in Indy. After Stewart pulled him at lap ten, Reed started inching back to him on lap 16, and turned in his fastest lap of the night on lap 20. He almost snuck inside in the final corner to win the race. This may promise exciting racing through the final three rounds of the series. Since Chad is only racing supercross this year, he might as well work through the two-weekend break to try to get another win before the season is done.
And the rest of the field should only get better with rest. Team Honda's
Andrew Short
grabbed the holeshot and actually held Stewart off for a few laps. He finished fifth in just his second race of the year—and his teammate
Davi Millsaps
had a season-best fourth. Those guys are coming around.
Tim Ferry
remains the leader of that pack though, as he passed both Honda boys to collect his fifth podium of the year. After the race, Timmy admitted he would have been happy to get just one podium this season, but now it's clear that at 31 years old he is going to log the best supercross season of his career.
Sometimes old Red Dogs can learn new tricks!