Kawasaki/Racer X Race Report: Dallas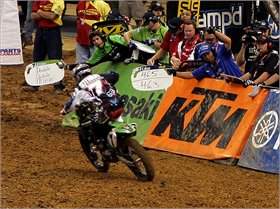 Stewart got plenty of pressure from Reed, even some hints from J-Bone.
Last week, James Stewart managed to come from 20th place, catch Chad Reed, and win the race. Tonight, Stewart was ahead of Reed early, but Reed managed to hang with him for the entire main event. Stewart won again on his Monster Energy Kawasaki, but Reed ended up closer to him than he did last weekend at the finish, in fact, he almost ducked inside of Stewart in the very last corner. But close will only be known to those on hand who watched Reed give it a shot. Otherwise, you can look at the results column and see Stewart simply did what he had to do to win his 10th race of the season.
"I'm going to Disney World!" exclaimed Stewart, who was happy to not only win, but to have reached the series first break. Racing won't resume until April 21 in Detroit.
The track turned out really good considering 2 days of rain.
Reed, on the Team San Manuel Yamaha, looked to have the $1500 Progressive Direct Holeshot Award, but Team Honda's Andrew Short knifed inside in turn one and got the money and the lead. Stewart found an opening when Reed ended up outside of Short to take over second, and then he passed Short on the second lap to take the lead. Reed followed him around Short, and then kept following, keeping the gap at less than a second for the first ten laps. Short, meanwhile, dropped into a big battle with his teammate Davi Millsaps and Monster Kawasaki's Tim Ferry. Ferry eventually made his way into third to collect his fifth podium this year, and Millsaps and Short battled all the way to the finish before taking fourth and fifth in that order.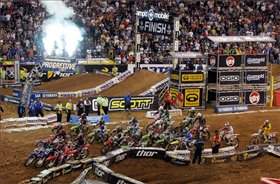 Short, Reed, and Langston go for the same rut in the first turn. Short gets the money.
Reed kept Stewart honest by jumping a triple in the middle of the first rhythm lane, while Stewart was doubling through those jumps and tripling out. Reed's line was faster, so Stewart's mechanic wrote double-double-triple on the pitboard. Stewart did the middle triple then, and started pulling a gap on Reed. The distance bulging up to about four seconds.
Reed didn't give up, though, and he dug deep on the last three laps to make it close. In fact, his 20th lap was his fastest of the night. "I think it just took me that long to get the right lines," said Reed. "By about the 16th lap I knew where I wanted to go."
He wanted to go to victory lane, but Stewart stayed strong and won by .8 seconds. Now they all get a few weeks to think about it.
The East Region Lites division tightened up even more, as Monster/Pro Circuit/Kawasaki's Ben Townley won an exciting main over his teammate Darcy Lange and Makita Suzuki's Ryan Dungey. Boost Mobile/Yamaha of Troy's Ryan Morias was fourth, which cuts his points lead down to just three over BT101 with a single round left to race.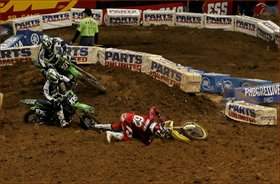 Dungey tipped over while leading, Townley is about to pass two at once.
Lange had the Progressive Direct holeshot, but Dungey eventually got around and into the lead. Then Dungey fell in a corner, Townley passed Lange, and held on to win. Townley was pumped with the win, even more pumped than after he won his first supercross ever in St. Louis.
"To get back to having a shot at the championship after starting where we did in Atlanta, this is a dream come true," said the New Zealander. It will all be decided in three weeks in MoTown.