For this week's Toyota Trivia, we pulled out this old 3x5 photo of Damon Bradshaw from Loretta Lynn's Amateur MX National. The year was 1988, and this picture was taken only days prior to his pro debut at Millville, where he finished a very impressive third overall.

But for this week, we did a little photoshopping to the photo below, and we're asking:
What number did Damon Bradshaw wear on his bike this particular year at Loretta Lynn's?
The first five correct entries will receive a Toyota prize pack. Email your answer (along with your name and address) here. Good luck!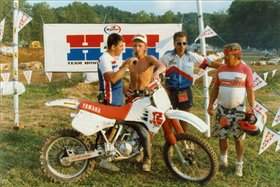 What number did Damon run on his YZ?
photo: Racer X Archives
As for last week's Toyota Trivia, the answer is the Pontiac SX, April 13, 2002.