First, the big news: Racer X Films has posted an exclusive video concerning Stefan Everts' future racing plans. He will make an announcement Sunday at the season-opening GP in Valkenswaard, Holland. It's nothing short of a bombshell. The video speaks for itself.
You can check out all of the Grand Prix information over the weekend—including updates on Americans Mike Brown, Sean Hamblin and Ryan Mills—on www.mxlarge.com or www.motocrossmx1.com.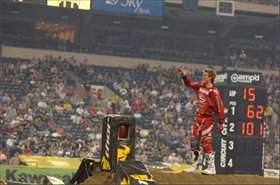 Dungey celebrates his second win of the season
photo: Carl Stone
And here's a real quick congratulations to
Roger DeCoster
, himself a five-time world champion, on his team winning a race the first weekend you-know-who is no longer there. We will sprinkle some of Cstone's photos from the Indy race throughout this column.
Meanwhile, here in the U.S., the biggest news of the week has been the brewing controversy over MXers For Jesus rider Kevin Cozadd and his appeal to the AMA to be allowed to race the Vet B/C class. Cozadd is a regular and friendly face at all of the big amateur races, and he's not bad on the track either—15th and 18th at Loretta Lynn's last year. But that doesn't necessarily make him an "A" rider. He was miles behind Trampas Parker and Mike Katin and Jimmy Evans. See, those classes last year were based strictly on age, not on a rider's skill level. MX Sports added the Vet B/C class this year as a way to give a large segment of riders a class to participate—too many ex-Pros like Jeff Emig, Denny Stephenson, Doug Dubach, Trampas Parker and more were coming back to the ranch to race in the vet classes.
But Cozadd was never a pro rider. In fact, he rode expert "for about six months in 1992" according to the AMA's Ryan Holliday. Since then, he's been a B rider. He rides B in the Mega Series in Tennessee and Vet B whenever it's offered. Holliday (and MX Sports' Tim Cotter) did not agree with his desire to remain a B rider, but he has the right to appeal directly to the AMA Congress, which he did. They agreed to let him stay in the B class, because he is a B rider. So he's riding the Vet B/C class at Loretta Lynn's, just like he dies everywhere else. He's taken a beating on the boards, and so are MX Sports and Holliday. But it is out of their hands—that is the class the appeals board put him in.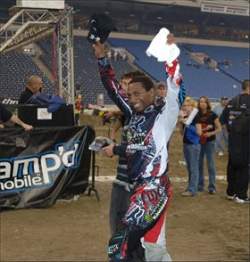 James was all smiles after his huge come-from-behind win
photo: Carl Stone
I would also like to take a moment here to remember
Robert Patterson
, who was killed in a tragic first-turn accident at an Area Qualifier in Tennessee. Patterson, a former GNCC regular and, by all accounts, a really great guy, was laid to rest this week. Hundreds of friends gathered to remember him, and then nearly a hundred or so rode their motorcycles from the church to the cemetery (with local police permission). Patterson's own bike followed the hearse in the back of his pickup truck. It must have been an incredibly moving ceremony.
I also received an e-mail from Ron Boyas' mother. I wrote about Ron's tragic death in Reason for Being in the last issue of Racer X in my suggestion that tracks and promoters find a way to slow everyone down on the first lap of practice—Ron's gas was off, and the bike apparently bogged on a triple. What I want to share here is that she said if she could ever help spread the word about the Leatt-Brace, she would gladly do so.
It's raining in Texas. A lot. TFS has the Weekend Window open with a photo of the Dallas SX track, which Live Nation has covered with plastic. No such luck for the GNCC Series, which is also in Texas this weekend. They had to cancel practice due to flooding, and now they are worried that the track is going to be an absolute mess. Good luck down there, Weege.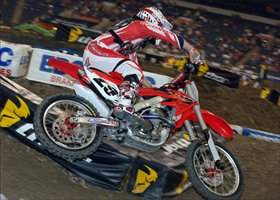 It was good to see Andrew Short back in action
photo: Carl Stone
Speaking of Weege, he will be calling the Dallas SX on
www.supercross.cc.com
along with
Jim Holley
. The show goes off at 7 p.m. local time, so that's 8 in the east and 5 out west. You can also watch the AMA's live timing and scoring throughout the day at
www.amamotocross.com
.
The East Region is coming right down to the wire: Ryan Morais hasn't won a race yet, but he's got the lead and, right now, controls his own destiny. A lot of people are quietly pulling for the Yamaha of Troy rider—he's been through a lot.
Darcy Lange is still in it too, and he now he's got more fans in Europe than he probably realizes. That's because the people who ship Racer X and Racer X Canada (which features Darcy on the cover) to Canada made another mistake and sent the RXC copies to everyone in Europe! The mistake had nothing to do with our hardworking gang in Canada, and the printer is doing the magazines over immediately and reshipping them. Everyone will also get a six-month extension on their subscriptions—the shippers will be picking up the tab on that. We apologize for the inconvenience, and I can promise everyone that it was not a pleasant week for our former agent.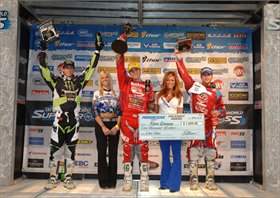 The Lites podium in Indy: BT101, Dungey and Brando
photo: Carl Stone
In the 450 class,
James Stewart
's got a 32-point lead on
Chad Reed
, and his win last weekend in the RCA Dome was emphatic to say the least. Afterward, in a short press gathering in the pits, Reed was asked by Motocross.com's
Tim Olson
if he thought the AMA should do something about
Eric Sorby
, who Reed feels is blocking for his friend Stewart. That led Sorby to go on DMXS Radio to defend himself, and also post online that he never intended to block anyone and that James really doesn't need his help anyway. The point of it all? Keep an eye on those two for the rest of this series.
And speaking of Motocross.com, there's a pretty cool video on that site right now of Grant Langston, Josh Grant, Chad Reed and friends messing around with alligators and paddle boats. It looks those guys are having a lot of fun!
Also, it appears that Sorby will once again pass on taking Rupert X. Pellett's Two-Smoke Challenge and ride a 450 this weekend in Dallas instead. The next possible taker? Maybe Nathan Skaggs.
One my buddies sent me an announcement about an upcoming visit on Sunday, April 1, by Evel Knievel at a place called Crystal Cathedral. It's being called "Leap of Faith." This has to be an April Fool's joke: crystalcathedral.org.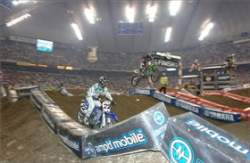 James took the high-line past Chad
photo: Carl Stone
And speaking of the Knievels, have you seen Robbie in that new Holiday Inn Express commercial where he seems to come to his senses? It's pretty funny.
Looking for something cool to read online? www.mxworksbike.com has a two-part story about the 1976 AMA 125 National battle between Marty Smith and newcomer Bob "Hurricane" Hannah, as told by their mechanics, Dave Arnold and Bill Buchka (plus great photos by Michael Stuziak!) and its just a really cool old-school feature.
Last weekend marked Ricky Carmichael's first as a stock car racer, and while it didn't go according to plan—he blew out his left-front tire and then slammed the wall—he did look like he was having a blast. Racer X's Matt Ware was there to film in at all for Racer X Films. If you missed his car video, check it out.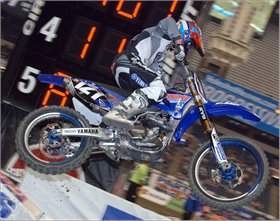 Branden turned the fastest Lites lap of the night in Indy

photo: Carl Stone

Andy Bowyer is the resident stock car racing expert here, so I asked him to riff on RC's car story:
"Just how big of a deal is Ricky Carmichael's auto racing venture? Big enough to have his name attached at the top of the headlines in the biggest sports news corporations in the world all week long. He seems to have gotten more mainstream press from entering in one Late Model contest than his entire legendary supercross career. From the Speed Report to USA Today to www.nascar.com and ESPN, everyone wants to know about this motocross guy that is running Late Models for Mark Martin and Bobby Ginn. But while they all want to talk about it, nobody seems to know much about RC and motocross in general. Wednesday night Carmichael was on ESPN's NASCAR Now broadcast, and as they spoke about him, they showed highlight footage from 2004 when he was on a CRF450R! Come on, people, get with the times. Roger D and the yellow squad had to have been a little peeved about the whole deal."
RC isn't the only motocrosser to get some mainstream love: Ashley Fiolek is featured right now on EXPN.com.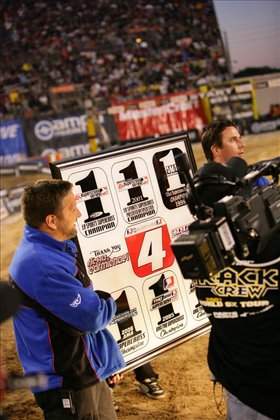 Jay Mitrowitz holds the frame given to RC
photo: Simon Cudby
So while RC is still doing six nationals this summer (likely the first five, plus
Millville
) and the MXdN at
Budds Creek
, you will not be seeing his #4 in AMA supercross again until at least 2012. That's because the AMA's
Steve Whitelock
retired the digit until then as a show of respect to the all-time winningest rider in American motorcycling.
Here's more on the deal
.
MX1 world title contender (and Racer X columnist) Josh Coppins has launched his fan online store: If you haven't checked it out yet, do so!

Also, check out Rob Kinsey's lastest painting: Danny "Magoo" Chandler leading the 1982 Motocross des Nations in Wohlen, Switzerland.
You know who had a great week? James Mitchell of McDonough, GA. He got a phone call from Racer X's Julie Kramer telling him that he was the winner in our contest from the magazine. What did Julie tell him he won? A Spy Optics-themed Air Nautiques boat! Needless to say, the 38-year-old was absolutely stoked, as Bill Ursic found out when he did a follow-up interview.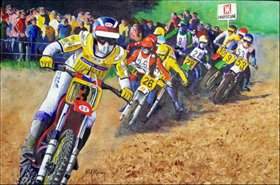 Rob Kinsey's "Magoo" painting
Okay, here's a good place to turn it over to
Ping
:
The local motocross tracks in Southern California are starting to buzz again. This week at Perris Raceway, some of the best amateur, professional and freestyle motocross riders in the world were in the house. Ryan Villopoto continues to prepare for his title defense this summer. He was doing some sprint work at Perris with his trainer, Randy Lawrence, but told me that he has been riding all over the place. He went up through California riding in Marysville, Oatfield, and eventually the Sacramento OHV Park, where the season opener takes place this May. Ryan raced a local event over the weekend just to get some track time.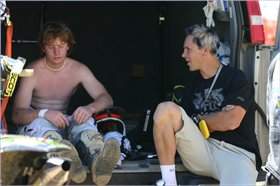 RV and RL
photo: Ping
Other fast guys that were getting in some motocross practice included
David Vuillemin
,
Jeff Northrop
,
Logan Darien
,
Andy Bakken
and
Tyler Keefe
.
Nate Adams was also putting down some laps after being in Australia for over a month. He was down under for the Crusty Demons of Dirt Tour, which takes place every year and continues to be a big success. Nate finished the series in second place, just getting edged out by Spanish rider Dani Torres. Nate was very impressed with Torres and the fact that he beat a very talented group of guys makes him a player in this years X Games competition. Nate has been riding quite a bit and looked fast on the track. He is also several weeks into a very serious bicep-building program.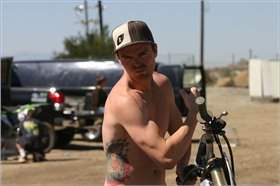 Nate Adams flexes
photo: Ping
And then there was the amateur scene.
Tyler Bowers
was there with
David Vuillemin
riding one of the MDK Honda 450s. It looks like Bowers was either having a tryout with the team or has already signed and was getting used to his new ride. Of course, Bowers, who is so big he looks like
William "Refrigerator" Perry
riding a 450, isn't eligible for the season opener in Sacramento as part of his punishment from an earlier arenacross scuffle.
Did you see the Nashville AX race yet starring Tyler and Brock Sellards and Danny Smith? It's pretty wild.
Nico Izzi, Ben LaMay, Michael Hall and a bunch of other kids were ripping all day long also. With the World Mini coming up, they should be working on their starts and three lap sprints. Also beneficial for that event would be riding in gusty wind and dust storms, dealing with dry, cracked lips and sunburn and the subtleties of playing craps. Of all the races I'm glad I don't have to attend anymore, that one is at the tippity-top of the list.
On a final note, I want to let everyone in America know that I am on the verge of packing up and moving to Canada. Is there some kind of inside joke to keep Sanjaya on American Idol that I'm not aware of? That little fruitcake should have been sent packing weeks ago. It is commendable that we have collectively kept the only good looking girl, Haley, on the program despite her inability to sing. What can I say? We fat, uncultured Americans like our pretty women. Come on folks, let's get Michael Jackson Jr. off the program. Thank you.
One more thing….
The MiniMoto SX is coming up again May 3 and 4 at the Orleans Arena in Las Vegas. The event gets bigger and bigger each year, and 2007 won't be an exception. There is a new youth class that will allow young stars to get in on the fun. Blake Baggett is just one of the super-fast youngsters signed up. He is actually teaming up with me at Red Baron Racing. The vet class is also star-studded. If Victor Sheldon wants to keep his title, he'll have to beat out Robbie Van Winkle. That's right, Vanilla Ice is signed up for the 30 Plus class. Go to www.minimotosx.com for info and tickets.
That's it from Ping. Okay, if you're going to Las Vegas anytime soon—hey, it is the official destination of supercross—you must put this on your list of things to do: Visit Carey Hart's new place!
Okay, sorry we're cutting this short, but I'm headed to Washington, DC, to meet up with a few good men and women from Walter Reed Hospital and then going with them and Mr. Pastrana and Andrew Lourake to the IFMA Show at the Verizon Center this weekend (thanks to everyone at Live Nation for hooking the soldiers and their families with tickets). Enjoy the weekend, and check back Sunday. Thanks for reading Racerhead.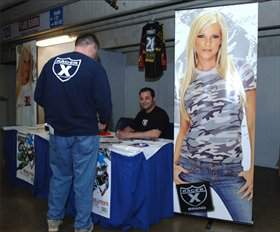 Fubar hard at work in Indy
photo: Carl Stone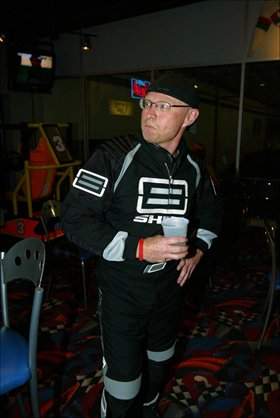 Rupert X poses for TFS' lens at the Road 2 Recovery Doug Henry benefit Go-Kart event that was held last Friday
photo: Steve Bruhn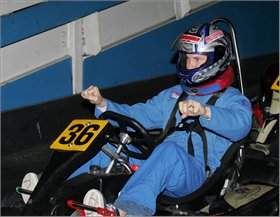 DC is a bit confused
photo: Steve Bruhn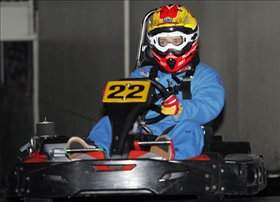 PPG/Motoworldracing.com Yamaha's team manager, Paul Lindsey, does his best Branden Jesseman impression by setting the quickest lap time
photo: Steve Bruhn