Hello, everyone, and welcome to the Rev Up. It's times like these that remind me of one of my favorite movies, Vacation, when a wide-eyed Clark W. Griswold hollers, "They'll have to get plastic surgeons to remove the smiles from our faces!" Seriously, it's been a really great 24 hours for this cat. With the onset of some absolutely gorgeous Spring weather and the opening of the local racetracks to weeknight practice sessions, the ole handlebars were calling my name. Last night I threw a leg over for the first time in over six months and I haven't stopped smiling since. Not only the riding a tremendous experience, I was lucky to fall into a random scenario that really made it special. As I glance outside the window and see that the rolling hills are just beginning to sprout hints of green, I don't think I could be in a better mood. I have blisters, my knees are screaming, wrists are junk, and my back feels like The Rock gave me a DDT. And it feels awesome!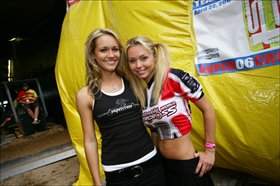 Let's get revved up!
photo: Simon Cudby
Before I get into that too much we also need to serve notice that Dallas is on the board this weekend, which is a pretty big deal because it's the last chance for the boys to run before taking a much needed two-week break. I have a one-two punch for you guys this week. The goal is to get you Revved Up about riding and racing. Let's give it a shot!
Riding
I finally committed to going riding yesterday. There is a track 30 miles form the office called Pyramid Valley. Davey actually did a story on the place a couple years ago that was complete with black and white photos. So when the clock struck 5 I packed sand and began going through the motions. You know, get the gear bag, gas can, and bikes loaded up. Things I used to hate doing, but this time I was almost giddy. Kaileb Russell (3 for 3 in his GNCC class this year) and I loaded up my trusty Nissan Frontier and headed towards the track. About 10 miles down I-68 we came upon a big orange KTM box van. Kaileb waved at the driver who in turn signaled for us to pull over. We got off at the next exit and got out and met, who turned out to be KTM dealer support representative Robert Bush, son of the late Rod Bush. He asks, "You guys going riding? If you are this thing is loaded with four brand new demo bikes you guys can use."

I took a look over my shoulder at the office bike I was planning to ride with bent levers, crooked handle bars and bald tires and replied, "Uh, well, hell yeah!"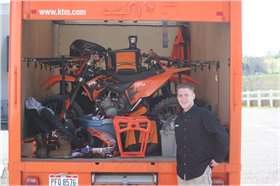 Robert Bush saved the day!
photo: Matt Ware
Twenty minutes later I was firing up a 2007 KTM450, via electric start, and feeling the silky smoothness of the front brake and clutch levers. The thing still had the rubber nubs on the tires! I'm not sure, but I think I had a tear in my eye as I clicked it into gear. I can't remember feeling and probably looking like a bigger dork as I sat in the little area all the guys were waiting in before they got on the track. Everyone was chillin with their bikes off and goggles resting on their handlebars – not me. I was hopping up and down, shaking my arms, rolling my neck and gassing it like the 30-second board was up. I did a couple McGrath claps, and was actually hooting out loud.
Two laps later I had to pull over because I had cinder blocks in the lower arm area on both sides.
Three hours later I was riding home bench racing with Kaileb about "almost hitting that one rock," and how "that middle table top had a little lip in it on the outside" and other stuff like that. My pride had been crushed by the fearless and extremely fast 17-year-old, but I was still beyond happy. Suffice it to say, I was super-pumped. I know exactly what I am doing next Wednesday night. And thanks Robbie, what a cool deal that was!
Racing
We have Dallas this weekend. The Big D., baby! By far one of the weirdest stadiums in the nation, what with its hole in the roof, things could get a little interesting with rain in the forecast. Bubba could slip up if it gets a little greasy. Probably not, though. He may be the best mud rider out there. And the muck isn't Chad Reed's specialty at all.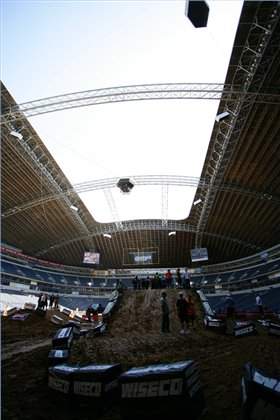 Will the weather be a factor this weekend?
photo: Simon Cudby
Ah, but the real sauce lies in the Lites class. If it decides to downpour, there will be a lot of guys cussing the man that decided not to finish the roof in that place. Especially Ryan Morais who is holding strong with a 10-point lead with just two rounds remaining. When you look at the points, things could get really interesting really quick. How cool would it be to go into the last round with a half dozen guys capable of winning? As far as championship scenarios go, time is running out on anything dramatic happening in the Supercross class. But the Lites division is still very much up in the air. Can Morais pull it out? Will Darcy Lange finally get a win? Will Jessemen grab another podium? Big weekend, folks.

Before I go I just want to try to get everyone to go ride this weekend. If it's been a while and things just keep popping up, just bite the bullet and make it a priority. Change the oil in your old girl, air up the tires, and get that gear in the washer! Spring is here, man. It's time to ride, baby! I feel like a got thrown out of a car today—I have roost welts all over my chest—and I still have arm pump so bad I can hardly type, but I'm all-geeked out about moto. Go out there and get you some this weekend!

Thanks for reading, see you next week.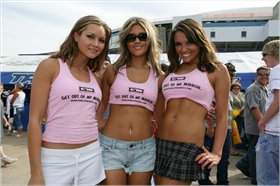 See you next week!
photo: Simon Cudby