Privateer Profile: Matt Lemoine
If you were to ask me which West Coast Supercross Lites series rookie impressed me the most, the name that quickly comes to my mind is Texan Matt Lemoine. Flying in a bit under the radar, the Lucas Oil Star Racing Yamaha privateer has made his mark in AMA Supercross Lites with a strong fourth at Phoenix, along with several other top ten finishes. Residing in Southern California during the early rounds, I caught up with the 17 year old as he was driving back home from a practice session near his home in Texas. Currently eighth in his rookie season; with one race left Lemoine still has a shot a top five in the standings.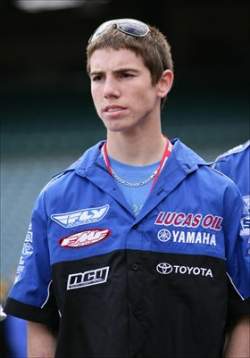 photo: Simon Cudby

Racer X: Matt; how about a rundown on your supercross season to date.
Matt Lemoine: I think I've accomplished what I've wanted to do; I was top five in points for much of the series, so I'm doing pretty well. My initial goal was top ten, and to just get through the supercross season and see where I stood. After the first race I saw that I could do fairly well; then I had a few good finishes and a few bad ones. Unfortunately, that bad race in San Diego set my points back a bit, but other than that everyone's been pretty happy about what I've done. I was really hoping for a podium at Phoenix, but I think I was just a little too conservative at the end, rather than just going for it. But there's still Seattle, so hopefully we can do something there and get on the box.
At Anaheim 3 you had a great battle going on with Ryan Villopoto for a while.
That was the second heat race; I led a few laps over him before he passed me. Then I stayed right on him for about a lap before he messed up in this one section, and I jumped right back past him. It was cool for a while until I went down - I wish I could've stayed up there, but you know how that goes.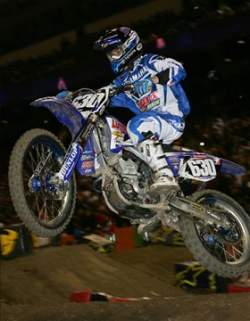 For a rookie, Lemoine has exceeded his expectations so far.

photo: Simon Cudby

This is likely a typical question any rookie rider would get; but what's been the biggest adjustment to pro racing?
Jim, there are so many different things! In amateur racing, there are three or four guys who are really fast and can break away from the pack -- those guys are always gone. Next you have your guys that are a little bit slower, that are staying in like sixth through 12th spot. But in supercross, everyone's fast; no matter what. You can't go to the line thinking "I need to worry about this guy, and this guy, and this guy." You need go to the line thinking "I just need to race," because there's so many fast guys! You need to just go out there and ride, rather than going out there worrying about certain people - the field is a lot deeper! Another big thing is the training that you need to do in the pros; the races are a whole lot longer. You get a lot more exhausted so you have to train twice as much.
It might be easy to assume that from your past amateur racing, you're probably more comfortable or more familiar with motocross versus supercross. Coming from the amateurs do you have more outdoor motocross experience?
Yeah, I do have more outdoor motocross experience, but I don't think it's really the same as the experience that you need to go into outdoor nationals; just because the tracks are totally different. It's so much rougher in the nationals with longer and bigger tracks. Those motos are so long; in amateur motocross you go out there for five or six laps and then you're done - basically it's a sprint. In pro motocross you go out there and you're on the track for thirty five minutes; so I think it's a lot different! I like supercross pretty well so far, but I'm excited to see how the first outdoor races go. I know it's going to be a whole lot tougher; there's going to be the East and West coast riders combined. If I could get top ten overall in points, then I would be stoked – it would be really good; especially for my first year.
When you've been in California, along with your teammates, have you also ridden much with the Yamaha of Troy guys, and Factory Yamaha, or the L&M Yamaha team? When we're out at the test track, sometimes everyone will be out there. There will be almost a full-blown race; but sometimes we go out there and it's just us. No one really calls anyone and asks "Hey, are you going to ride?" It's basically just whoever's there is there. But yeah, the Yamaha of Troy guys are there quite bit and the Factory Yamaha guys are there – and Chad Reed's been there a few times when I was there. It all depends on what day they feel like going riding.
Are you able to watch those guys and learn anything?
Yeah; I think Reed is the biggest one you can watch to see kind of what he's doing. He's on a different bike, so he does do some stuff that we can't do; but you can see where he's entering the corner and getting on the gas. The whoops are pretty much the biggest thing he's really good at. But basically, he has his own talent; no one there can really go as fast as he can to see what he is doing. It's hard to explain; you can watch and learn from him, but it's not that simple.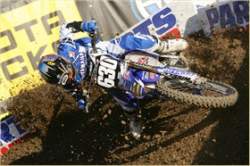 Lemoine is hoping to finish the series in the top five in points

photo: Simon Cudby

Is there much rivalry between the Yamaha guys in the 250F class? Is it important to be the top Yamaha guy?
It's not that there's a rivalry; but like you said, you do want to be the top Yamaha guy. Even though you're getting beat by someone else, you definitely want to be the first Yamaha. You want to go out there and ride well, but I think that you put a lot of pressure on yourself for nothing by being rivals with your teammates.
You now have some time off before the final west coast race in Seattle; what are you focusing on?
Well, I think seventh place is one point ahead of me and then sixth place is two points ahead of me, so I still could finish really well. I just have to have a good race; all I really need to do is go into Seattle and focus on getting a top-five finish. If I can get a top five there, then I think I can finish the series out well.
Matt Lemoine's sponsors:


JD Built
Web Cams