Between the Motos: Josh Coppins
This approaching Sunday afternoon at the sandy Eurocircuit in Valkenswaard, Holland, 30-year-old Josh Coppins will begin his run at winning the 2007 MX1 World Motocross Championship. Hailing from Motueka, New Zealand, Coppins has been a stalwart on the Grand Prix circuit, coming to the fore in 2003 when he placed second in the 250cc World Championship. In the ensuing years, Coppins has won numerous Grands Prix and has been a perennial top-three rider in each championship he's lined-up to contest. The problem for Coppins, though, was Stefan Everts. The greatest GP rider the sport has ever seen, Everts always seemed to have that little extra something required to take the measure of whomever dared to confront him. But Everts is a retired racer who's next endeavor might not even be in Europe. Hoping to step into the vacuum left by Everts' departure will be Josh Coppins. Signed on to ride full-on works Yamahas for the Rinaldi team — the same team Everts brought so much glory to — Josh Coppins has put himself in a position to fulfill his lifelong dream of becoming a World Champion. Racer X Illustrated spoke with the friendly New Zealander (who has a monthly column in our magazine called "The Contender") about his past, present and future in motocross.
Racer X: Josh, how would you describe your 2006 season?
Josh Coppins: I'd say up-and-down! I got hurt two days before the season started and then missed half the season. But I came back good with seven podium finishes and I was the only guy to beat Stefan Everts and end his perfect season. So I guess I like to say it was up-and-down.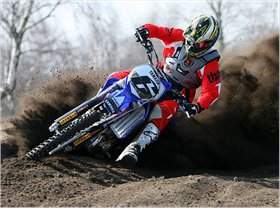 Josh Coppins is a favorite for the MX1 World title in 2007

You were second in the 2003 250cc World Championship, placed third in what was changed to MX1 in 2004, then you were second again in 2005. Is it now time for you to become World Champion?
Well, I've been doing the GPs for a long time now and my goal has always been to be a MX1 World Champion. I've been close, but to answer your question: Yes, I think it's time.
Is this your best chance ever?
I think so. I've moved to Yamaha for the 2007 season and my whole set up is very good. Obviously, with Stefan Everts hanging up his boots at the end of last year it makes my job a little easier. He's been a very tough competitor over the past few years!
Do you feel added pressure to win?
Yeah, I do. Big-time pressure. Most the European press think I have already won it! No championship is easy. Because I came back well last year and beat Stefan, it's easy for people to think the way they do. Also, when I beat Stefan [in Ireland] we lapped up to fourth-place. Now I've taken his ride at Yamaha, where there has obviously been a lot of success, people expect good things from me — but so do I!
Do you have a strategy in mind of just how you'll approach the season?
I just want to start steady and see where I'm at. Then I'll just chip away at it. By mid-season, I'd like to be in the lead and stringing a lot of wins together.
It sounds like you are already in Valkenswaard for the opening Grand Prix this weekend. How is the track? Do you like it? Do you like the sand?
I live 20 minutes from the track and we had a press day there last week. Interestingly, the track goes backwards now. I like it. It's "jumpy" and fast, but I'm not a top sand guy. I can ride it and do well in it, but I enjoy the hard dirt.
How did the international warm-up season go for you over the winter?
It all went pretty good. I hate the preseason races, though. It's always cold and mostly wet! It's kind of the same thing for me every year: I come back from summer in New Zealand, land in Europe and struggle. However, this year went good. Like I said, I moved to Yamaha so we had a lot of work to do at the pre-season racers. I got second in Mantova (Italy), won Valance (France) and was third at Hawkstone Park (England). All three races were muddy, so I was pleased with the results. I also won an Italian Championship round (at Montevarchi), so that was good. I DNFed a Dutch Championship race with a bike problem, but that's why we do those racers — to iron out the bugs.
How did you approach the warm-up season?
I just took it one race at a time. We were testing at all those racers, so we were mainly concentrating on my riding and getting the bike prepared.
In your opinion, which riders looked strong over the winter?
All the guys that should look strong did look strong at one race or another. There were no standout guys, just the normal guys like Steve Ramón, Kevin Strijbos, Tanel Leok, David Philippaerts, Jonathan Barragan and Marc de Reuver.
Which riders do you expect to have to fight the hardest for the championship?
Probably the Suzuki guys: Kevin Strijbos and Steve Ramon. Both these guys are consistent and strong and will be so over the entire season. But, I expect battles with everybody that I mentioned earlier at some stage. I'm just not sure when, though. After four or five GPs, you can see who the contenders will be. But until then, you can't really be sure.
Any "surprise" or "sleeper" riders that may raise eyebrows in 2007?
Well, Max Nagl from Germany has been a real surprise in the pre-season and could be good in GPs. I'm not sure if he'll be a title contender, but he is riding good! David Philippaerts will be good at times, but I have not seen any other surprises yet. Ask me again after Valkenswaard!
How do things seem with Stefan Everts being absent from competition?
It's definitely changed all the boys' attitude a bit! Last year I think I was the only guy that thought Stefan was beatable. Now everyone sees a chance to win a Grand Prix or even a World Championship and is stepping it up.

Will Everts' knowledge and presence help Team KTM out a lot?
I'm really not sure, though it looks like he has a lot of control there. And for sure he has a lot of experience and good ideas, but his riders are not Stefan Everts. I guess time will tell. But even if Stefan just drills his work ethic into the team riders, this will be a big help.
How did you end up with the Rinaldi Yamaha team?
Since I was a kid and arrived in Europe, I wanted to ride for Michele Rinaldi. The past few years we talked with the team about a deal, but Stefan was their man guy. For 2007, though, it all just fell into place and I jumped at the deal.

How is the Rinaldi team as far as organization and infrastructure go?
It's very good. It's kind of what I expect a MotoGP road racing team to be like. They have stepped it up in every area and all the other teams are trying to follow. They are great at things like testing, training and preparing and developing the bikes. And the team follows all the testing and training very closely. And with the team, the focus is always on winning and improving the Yamaha for the customer. Every time you ride, the team is thinking so hard that they are already two steps ahead of you. The team also has a really nice atmosphere. The Italians, of which most of the team members are, are passionate about their motorsport. I really like this.
The Rinaldi team has won a lot with Everts; do they expect the same winning results from you?
To be honest, yes. That's what they hired me to do. They thought I would be the best guy to keep getting them the results they are used to.
Of the tracks on the 2007 circuit, which do you like and dislike?
I like all of them except Mantova, Italy. I like Mantova to ride on, but not to race on because it's very hard to pass on and one-lined. The first Grand Prix will be the hardest for me. I always seem to struggle at the Valkenswaard GP for some reason. Maybe because it's all sand. I do like the track, though. You know I like to ride and race on any track. There really is no track that I hate.
Is Grand Prix motocross, as far as a motorcycle racing property, healthy?
I think so. Sure, there are problems like any sport, but overall our series is healthy. Our tracks are better and there are a lot of good kids coming through the GPs now. I think Youthstream is doing a good job. I am one of the few riders that have been involved in the Grands Prix when there was no promoter. I was also there when the Action Group came along. Then came DORNA and now Youthstream. I've seen a lot, but mostly there has always been good changes and progression.
Have you been following the travels of your friend and fellow countryman Ben Townley here in the U.S.A.?
Hell yes! He's going to win the East Supercross Series! I speak to him nearly every week. I really admire what he's doing there in his first "real" year. It's been tough, but he's showing he's the real deal. The outdoors is going to be awesome between him and Ryan Villopoto.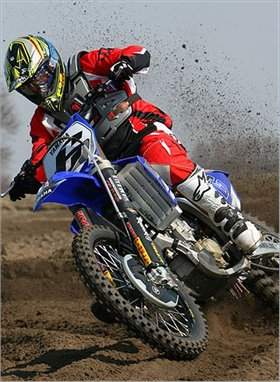 Coppins switched from Honda to Yamaha for his assault on the World MXGP series in 2007

Would you ever want to race in the USA?
Yes, I would, but I'm not a supercross guy. And I'm getting old, Eric! My dream was always to win a world title. Don't ask me why, but that's what I have always wanted. I never thought about coming to America. I love the country, though, and have heaps of friends there, so I'd love to come and do a season of outdoor motocross. I think it would be a great way to see more of your country.
Do you know many of the American racers?
Not really. I know a few that have raced in Europe. Riders like Mike Brown, Ryan Hughes and Scott Sheak. I also met Ryan Mills in Mantova over the winter, but as for riders racing in the U.S. right now, no I don't really know any of them.
What do you think of the American racing scene?
It's cool. I have not really been to many races, but I loved the ones I did get to. The sport seems to get bigger and better every year over there!
What's in your future, Josh?
Well, Eric, here's my wish list: To win two world titles. Then maybe do one year of cruising America while doing all the outdoor races. Then one year in Australia racing. After all that, I'd hang up my boots and go back to New Zealand and live on my farm.
Good luck with that, Josh, and good luck this weekend.
Thanks Eric.