Monday Conversation: James Stewart
Monster Kawasaki's James Stewart got shut out at the start of the main at Indianapolis and had one of the toughest challenges of 2007: could he go from last to first, right when Chad Reed grabbed the holeshot and was checking out?
Stewart put together an amazing charge, and by the halfway point, he was in second place with about seven seconds to make up. He used a triple-triple combination just after the first whoops and put more than a second a lap on Reed until he caught him and made a pass to win with about five laps to go. It was an amazing race that had the fans on their feet, so forget about SX being over with without RC! We caught up with James, who now holds a 32-point lead in the AMA rankings, just after the TV interviews at Indy.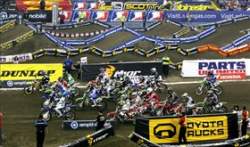 James Stewart (7) put in an incredible ride to overcome his near-last-place start


Racer X: What happened with the start?
James Stewart: Chad had a better jump. He just cut me off. He had the right. He had a wheel on me. I had to back off, otherwise he would have taken my front end out. I thought maybe I could squeeze through in the first corner, give them my normal move, but I was too far back. It was all right, I got through best as I could.

You were nearly last going into the first turn, weren't you?
I think I was—they said I was second-to-last, but either way, that's not good. From 19th to first, I'll take that any day of the week!

Were there any scary moments?
One time through the whoops, I got a little bucked and went sideways. I think [Davi] Millsaps ran into me just before the whoops. It was just carnage back there! But I was so far back, you have to expect that. They were probably shocked to see me that far back!

What chances did you give yourself to win after about a lap?
I don't know.… I didn't know how good my chances were. All I knew is, I was in shape and I had to push for 20 laps. I knew that if I could get up quick enough and keep it within seven or eight seconds, I had a chance.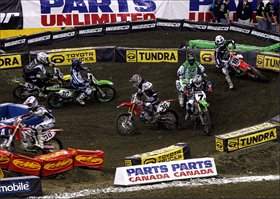 Stewart had to pass 18 riders on his way to the top of the podium

What was the gap?
About eight seconds. I was actually making up a little time while passing 18 guys, so I'm stoked.

Did you have any idea how fast you were making up time?
No. It was really hard. We were going super fast on the straightaway, so it was hard looking at the mechanic's area. I really didn't have a sense of where I was. It reminded me of last year, but I came up a little but short [then]. I thought, I gotta give these guys a good show, I gotta do it.

When it was down to just you and Chad, did you know you would get around him?
I didn't know if he was pacing himself to run the last 10 laps. I think he knew if I didn't fall, that I was coming. He picked it up when I got there, but I had to dig a little deeper and pick it up and bust a few hard laps, and that was it.

It looks like he ran it in on you in a turn once you passed him.
Yeah, I'm not worried about that. That was normal. It's the way it is. That race said enough, that's all.

What about that section right after the start and the first whoops? You found a place to triple out. Were you doing that all day?
Yeah, I was doing that in practice. The only thing was the triple-triple [in front of the press box]. I didn't start doing that until the heat race. I didn't do it until the first part of the race, and I needed to make up some time. It was a bit sketchy. It was like that rhythm section in Atlanta. It was taking a big chance trying to do it. I had to make up some time. You can't come that close and not get it.

If you get this title, are you going to think this is one night where you earned it?
I think I earned it so far this season, just by being smart and trying to do my best to stay up and win these races. I think I'm doing that right now. I feel I'm doing really well as far as my program and the way I come to the races. I can't pick one night. I earned it for the season if I win it.