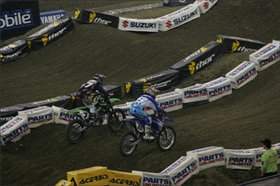 Stewart put in one of the best performances of his career to take the win in Indy
It's safe to say that
James Stewart
gave
Chad Reed
every chance to win the race on Saturday night with was probably the worst start of his career. Stewart got pinched off on the start by Reed, and it took him a couple laps to get going. Once he found his groove, though, the other guys didn't have a chance. James took the high line in a couple of different sections that no one else could do with seemingly little effort, getting down the RCA Dome floor like Payton Manning throwing deep passes. (Remember at the Anaheim press conference when "Lug Nutz" compared him to Payton and James said he would take it?) In the rhythm section, everyone was going double-triple- triple- single, but James was busting out the triple-triple-triple, which was almost unbelievable. He said following the race that he had it in his back pocket when he needed to pull the trigger.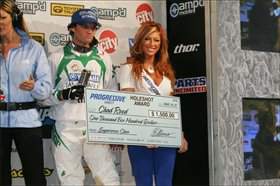 Reed collects his holeshot money
One thing to note: once
Bubba
passed Reed, Chad stayed with him, followed his lines, and even ran it in on him. The San Manuel Yamaha rider always has some fight in him. But right now, Stewart is doing next-level stuff, and it's making it hard for the other riders to follow. In practice, he's always trying new things and different lines, so he has a loaded gun if he needs to pull it out. What else is this guy going to pull out this season?
So far it's been a seamless transition from RC to
Bubba
. He didn't bring the intensity from last week because he didn't have to. That's not saying Chad didn't show up, but if he had raced the first ten laps like he did the last ten, Stewart might now have caught him. After a great start, Reed didn't take advantage of the situation that was given to him. If this is a glimpse of the future, or even if the future is now, it's going to be a nightmare for everyone except Kawasaki and the #7.
In the interview after the race with Jason Weigandt and Jim Holley from the webcast, Stewart said, "This was maybe the best race of my career." But if you saw Orlando, you might have to argue that! Regardless, the past two weeks have been huge for him.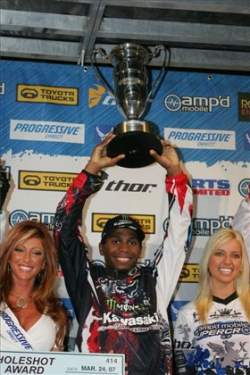 James collects his first-place trophy
Behind the leaders, it was more or less business as usual for the rest of the guys.
Tim Ferry
rode to a solid third and
Grant Langston
nailed his best finish with a fourth. He said following the race that last week he hit the brick wall around lap 12, and this week it happened on lap 16. So if Langston keeps gaining momentum going into the outdoors—and if Stewart makes some mistakes like he did last year—then look for GL to be a title contender. The kid can ride the outdoors!
Rounding out the top five was
Ivan Tedesco
, who has been putting in some solid rides the past few rounds and seems to be getting back up to speed. And my hat goes off to
Davi Millsaps
, who put in his best ride of the season to finish sixth. If Millsaps and Langston stay healthy and keep it on two wheels, we might see a different face on the podium before the year is over.