Hello, everyone, and welcome to the Rev Up. Wow, this is a big weekend. The Sweet 16 will get started tonight (Thursday) with a nice East/West shootout between Pitt vs. UCLA. Meanwhile my beloved Kansas Jayhawks finally made it past the first round and are looking tough. But the real noise is over here in the motorsports realm where a lightning storm will strike Indianapolis when the 2007 Amp'd Mobile AMA Supercross series arrives with a fierce battle for the Lites division championship.
Meanwhile, another cluster of dark clouds will gather around a short (stock car) track in Florida where a new storm may be brewing. And smack dab in the middle of it is what I call the eight wonder of the world, in the gargantuan coliseum of Bristol where the COT (Car of Tomorrow) will make her maiden race voyage. This is a very big weekend, indeed. There is so much to get Revved Up about, so lets break it down into four parts and get going!
Lites class
This is where the heat is. Ryan Morais clings on to a six-point lead while both he and Darcy Lange continues to scratch and claw their way to their first supercross victory and title. Behind those two lies a swirling pool of inconsistency that has produced huge crashes, big wins, and all sorts of drama. We've pretty much seen it all with this bunch. Red flags, DNFs, last lap mayhem, dudes getting dragged down the starting line, upset victories—and the series is just past the halfway mark of the Amp'd Mobile East Region SX tour!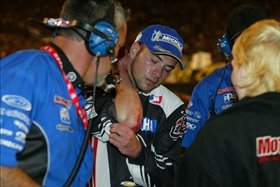 Branden Jesseman and the rest of the East Lites will surely provide a show on Saturday
photo: Steve Bruhn
What can we expect this time around? My guess is a whole lot more of the same madness. On the other hand, it has been a while since
Ryan Dungey
has put it together. He has the tools to win these races and I have a feeling we may see him do just that in Indy. Although, a nod has to go in
Mike Alessi
's direction: He was on fire in Orlando and appeared to be a totally different supercross racer altogether. Look for him to ride with confidence in Indy.
BT101, Lange, Hahn, Goerke, Morais, and last week's winner Branden Jesseman are going to provide a show, count on it.
Bristol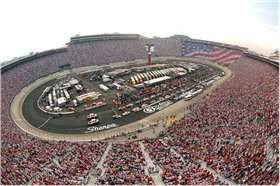 Bristol Baby
Let's detour from Indy to Tennessee. In my 30 years and all my travels I have never seen anything like Bristol and it's 160,000 seats surrounding the tiny ½ mile racetrack. I am sure a lot of you have been to an NFL game and stood in awe of the massive stadium. Try to imagine one that is more than twice it's size filled with beer-swilling NASCAR fans. Let me tell you, it is pretty wild! And this weekend's event has the potential to be the craziest one yet as Sunday will play host to the inaugural race for the long anticipated and highly scrutinized COT. These Bat Mobile-looking 800 hp monsters are supposed to level the playing field and provide better racing. That is a problem Bristol have never had. If you want to see some motorized madness, tune into the broadcast on Fox at 1:30EST on Sunday. Hopefully the midnight black, tough as hell looking, #07 will be delivering the pain and bringing home the first Nextel Cup win by a motocrosser since, well, last weekend's Jimmie Johnson win I guess.
Lake City, Florida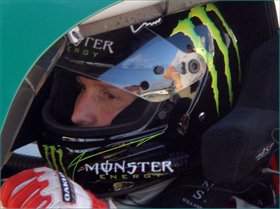 RC
photo: Scott Taylor
Picture this if you will; you work at the local car dealership as a parts manager. Everyday after work you head straight to your work shop where you and a couple of your close friends tune on your late model stock car, which you personally fix the dents on after every weekend. Well, when you arrive at the track this weekend, the same track you have been going to for five years, you notice a guy with huge corporate logos splattered all over his brand new car with an entourage that seems like George W. is in the house. You think to yourself, "Must be Burt Reynolds, or something." Not only does this little red-headed character have a ride from the best team at the track, he has Mark Martin himself as his crew chief.
Five laps into the feature you find yourself on this person's rear bumper. How do you feel about being in that situation and I guess an even spicier question would be, what do you do?
I painted this picture because I have been to several late model races and I know what they are like. I remember the animosity that Clint had to endure just because he had Sonic Drive In's as a sponsor and had a new paint job on his car. There were a few times he and his bunch left the infield walking backwards and swinging forwards.
How will Ricky do? Wow, man, I really don't know. He's arguably the most competitive man our sport has ever seen. But I do know he will have some of his boys from Tallahassee watching with their arms crossed just in case that guy's animosity we mentioned above becomes too much for him to control. Hehe… Go get' em Ricky!
450 Class
It's all up to James and Chad to bring the house down this weekend. It sure would be cool to see Kevin Windham grab another holeshot and get in there, but realistically the upcoming 20 laps we'll see and hear about this Saturday night will be between #22 and #7. And speaking along the lines and theme of madness, no shortage of that between these two cats!

Oh and hey, before I go, I have a special flash trivia contest for you guys: The first 5 people to correctly tell me the amount of professional championships (AMA and/or FIM, in 125, 250 or 450 classes) shown in this awesome One Industries poster will get one of their own! Email your answers to andy@mxsports.com.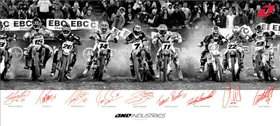 How many championships do all of these guys have together?
So, let's get ready to roll up those sleeves, throw on some tear offs, pull those belts tight, kick the tires and light the fires! Competition is in the air this weekend. Bring it on!
Thanks for reading, see you next week.