Privateer Profile: Paul Carpenter
While James Stewart, Chad Reed, and Ricky Carmichael score all the headlines and attention in the supercross print and electronic media—and deservedly so—riders like Paul Carpenter, who consistently place in the top ten on more production-based machinery, can go virtually unnoticed. Pull a top-ten in NASCAR, MotoGP, or even Formula 1 and it can be cause to rejoice for a smaller team or lesser-known rider or driver. Throughout the course of the 2007 AMA Amp'd Mobile Supercross Series, Carpenter, in his first season in the 450F-based Supercross class, has consistently been in the top ten. And as of this writing, the 25-year-old Cernic' s Kawasaki rider sits eleventh in points and is closing in fast on the top ten.
Racer X: Paul, in Daytona you missed the first main event of the 2007 AMA Amp'd Mobile Supercross Series. What happened?
I guess it all started with my heat race. I got a late jump off the start and was right behind Ricky Carmichael going into the first turn. RC tried to cut to the inside and his front end washed out. I ran into him and was dead last. I rode as hard as I could to try and get into a qualifying position but kept making stupid mistakes. Also, the track was tight and tough to pass on. To make a long story short, I didn't end up in a qualifying spot. Then, in the Last Chance Qualifier, I don't know what I was doing. I got a dead-last start but then worked my way up to second place. I was going for the lead on the last lap and pulled what I consider the biggest retard move I've done in years. I went down in the whoops and that was it. I don't know what else to say.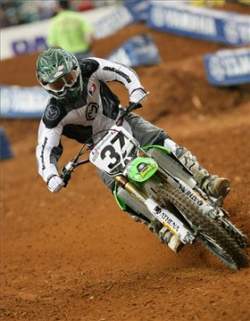 Paul Carpenter currently sits 11th in the AMA standings.

photo: Simon Cudby

You've been racing professionally for roughly eight years now but really started to shine in the 2006 AMA West Region Supercross Series. Would you consider '06 to be the breakthrough year for you?
Last year was good, for sure. I finished eighth in the West Region and had some good runs. I had some ups and downs, but it was a good season. Then, I finished 11th in the outdoor nationals and felt pretty consistent all summer long. But by the end of the Nationals, it was already in my mind that I wanted to move up to the big bikes in 2007. I had been on 250Fs for three years, and I knew it was time to make the change.
A number of people may not be aware of the fact that you were the 2002 and 2003 Western 4-Stroke National Champion. And while the series isn't super-well-known, you—and the series itself—were ahead of your time as far as four-strokes are concerned.
For sure. I always felt that I was a better 450 rider and needed to be back on the big bikes. So basically, during the off-season, any 250F deal that came my way, I did not take seriously. I mean, I don't want to say I looked down my nose at the offers, I just knew I needed to be on a 450 in 2007. However, the 450 offers were slow in coming. So it just so happened that about one hour, literally one hour, before I was going to sign a deal to ride for a 250F team, Billy Whitley called me. I didn't really know Billy well, just from arenacross and stuff, but he told me about a 450 team Cernic's s was putting together for 2007. Even though it was supercross-only deal, I said to Billy, "Where do I sign?" Twenty minutes later, Billy had a letter of intent sent over to me and I signed the contract the next morning. Billy and I worked really well together right from the start. He sent me a new KX450F to ride get my feet wet while I was back in New York, and by November 1, I was in California testing.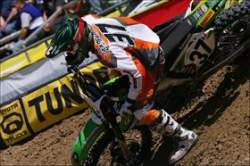 Carpenter seems to get faster every weekend.

photo: Simon Cudby

You placed 11th at the season-opening round at Anaheim. Were you pleased with the result?
To be honest with you, it didn't feel that good. We worked a lot harder than that result showed. We had some issues with our motorcycles at Anaheim that were out of our control. It was just a random thing. I didn't feel anything good about the result. The only good thing about the race was that I came out of it healthy.
You placed 19th at round two at Chase Field in Phoenix.
I had a flat rear tire in that race.
Then you placed seventh at Anaheim 2.
And that felt like it should have. That was what we had worked for all year. Everything clicked at that race and I went on a roll at that point.
So what's the long-term plan for Paul Carpenter in racing?
My plan for the long term is to stay on a 450. I don't want to go back to the 250F. At my age and with my experience, I don't want to go back down. My goal is to put myself in a position to stay in the top ten. If I could get into the top five overall in a series, it would make everything worthwhile. Pulling that off is what I'm really shooting for.

Paul Carpenter's sponsors:
Athena