Welcome to the Shift Number Cruncher. Here we are with another week and another incredible story behind a man and a number. I am not sure there is a story going on right now as cool as Branden Jessemen's win last weekend in Orlando. Off the top of my head, the only other rider I can think of that has a bigger time gap between supercross wins is Tallon Vohland, who won in the Houston Astrodome in 1991 on a Suzuki, then again in Anaheim in 2000 riding for Mitch Payton!

All the same, Branden has had a tough go of it since winning the 125 East Region championship in 2003. When I listened to the live broadcast and heard Weege screaming, "Jessemen takes the white flag!" I could almost hear the horns from the movie, Rocky. Talk about a comeback. There was little dispute and debate over what is the hottest number going this week. Pennsylvania's Branden Jessemen and his #121 carry the flag for this week's edition of the Shift Number Cruncher.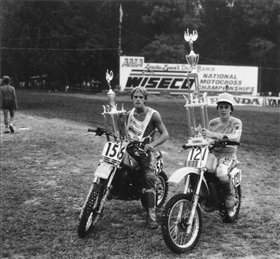 Eddie Hicks wore #121
photo: Racer X Archives
When people mention the all-time of the mini cycle bad asses names like Mouse McCoy, Brian Swink, Jeff Emig, Buddy Antunez, RC, Charlie Bogard and
James Stewart
usually pop up. Somewhere in the middle of the best of the best 80 riders of all-time lies the name
Eddie Hicks
. With two Loretta Lynn's titles in 1984 wearing the #121, Hicks went on to ride pro in 1985—he finished on the podium at the season-ending Pasadena SX—but then his career just kind of flamed out. Like Paul Denis. Or Rick Simmet. Or Gene McKay…
Flash Trivia: Can you name the rider on the #156 bike next to Eddie Hicks in the photo above? The first one to get it right gets a
Racer X
t-shirt! Email
andy@mxsports.com
.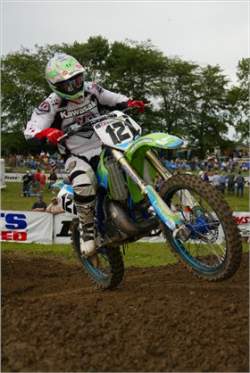 Casey Johnson
photo: Steve Bruhn
There was a time when
Casey Johnson
had the world by the short and curlies. Coincidentally, he was riding for Yamaha of Troy like Brando was last year and was reeling off supercross wins in the 1999 West Coast supercross series. Casey had a stellar amateur career, complete with three Loretta Lynn's titles including the coveted 125 a Modified class championship. He came roaring into the professional ranks and appeared to be well on his way towards being a "made" guy. Alas, it was not to be. Sadly, he attempted a triple in 1st gear on accident and came up way, way short. As soon as he landed on the face of the third jump, Rusty Holland landed on his upper arm and snapped his humerus bone. Casey was just never the same after that. He did come back with a vengeance in 2003 at
Glen Helen
as he was moonlighting for factory Suzuki, wearing the #59. He led a good portion of the first moto, but ended up going down hard. Most recently, Casey he was competing in the WORCS series on a Yamaha.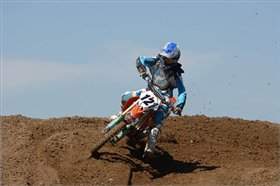 Todd Sewell
photo: James Lissimore
The crew up north threw us some love again as
Racer X Canada
's Danny Brault remembered that Calgary's
Todd Sewell
ran the one two one when he claimed the overall in the 125 Junior class aboard his big wheel KTM 105 at the Western Canadian Amateur National in Raymond, Alberta last year.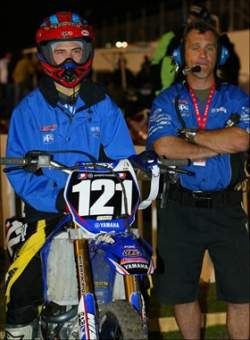 Branden Jesseman
photo: Steve Bruhn
Back in the day Branden ran #775. He was super fast riding Suzuki 85cc machines and wearing that gunmetal gray and navy AXO gear. People around Western Pennsylvania said they had never seen anybody rail a corner like him. He had one of those effortless riding styles and is super soft spoken, but the accomplishments he has made in this sport speak volumes. His latest win is a true shot of comeback courage. When he went down in that horrifying crash on lap one last weekend, he hit
Ryan Sipes
' cartwheeling bike and then hit his head so hard he was nearly knocked unconscious. Bent, bleeding, and barely able to make it back to the line for the restart, Jessemen put his sack on the tank, grit his teeth, and went out and won the stinkin' main event!
The only guy that may have been happier about that than #121 was Paul Lindsey. Bravo, Branden. And bravo, Motoworld Yamaha.
By the way, in case you're wondering how Jesseman got the #121, it came when he signed with Yamaha of Troy last year: The team wanted to have a "uniform" look, with Brando #121, Matt Walker #122,
Brett Metcalfe
#123 and Andrew McFarlane #124. Ironically, not one of those guys – or those numbers – are involved with Yamaha of Troy now.
121 photos:
I know there are some other big time #121s out there. And I think that old school Texas wildman Jason Edwards used to run #121 on a Team Green Kawasaki. If anybody can find me a picture of him racing with that number I'll hook you up with a Shift t-shirt. I may be wrong though, in which case – no soup for you! How many can you guys think of? If any come to mind send me an e-mail at andy@mxsports.com and I'll see if I can talk Bad Billy into throwing you into the Redux.