Between The Motos: Eric Sorby
Two-stroke fans got their hopes up when word got out that Tamer Motorsports' Eric Sorby was going to try to take Rupert X. Pellett's Two-Stroke Challenge and try to make a supercross main event in Orlando on a bike that goes "braaap!" It didn't turn out that way, though Sorby did ride a KX250 for a day. He didn't have time to get it race-ready, so the Two-Stroke Challenge carries on to another day.
Fans didn't get to see Sorby on the two-stroke, but they did get to see him riding at James Stewart's track in Florida on Racer X Films. What's up with that? He's been living there a few weeks, and he gets to ride and train with the one guy everyone wants to learn from the most.

Racer X: Hey, I just saw that Racer X Films thing of you fooling around at Stewart's. What up with that?
Eric Sorby: Yeah, actually I've been training with him and Billy Laninovich for the past four weeks. It's been pretty fun. We ride a lot, pretty much every day.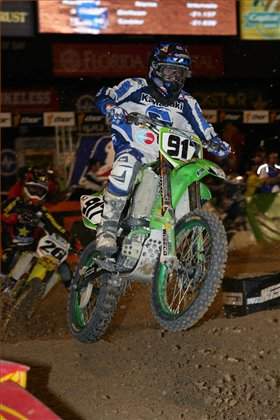 Sorby stuck with the four-stroke in Orlando

photo: Simon Cudby

Do you play ride like that a lot, or was that just for the film?
Actually, what we do during the week is, the one that's slow goes first, then after that the second one, then James goes last, of course, because he's faster than everyone. Then when he catches us, like lap eight or ten, we try and do take-outs and stay with him—maybe half a lap! Billy and I pretty much ride about the same speed. We don't do any takeouts until maybe the last five laps.… Yeah, we always do that. It's like training for racing.

Is James' speed rubbing off on you?
Yeah, of course. I'm one of the lucky people that can live with him and be with him and learn a lot of stuff on a motorcycle. Since the last four weeks, you can see that my speed is better, and my results too. To be with him, and he is the best rider right now in the world, and he helps me a lot. Also, he's with me every day telling me what to do. He's with us on the track. To be there with his family, his mom and his brother, it helps me a lot. They're like my U.S. family, and James is like my brother. I appreciate the family a lot. I know thousands of people would want to even spend one hour with him, so it's pretty cool.

When did you get the idea to try out that Two-Stroke Challenge, and whose idea was it?
Actually, James saw this on Motonews, on Mototalk, and said, "If you want, I have a two-stroke for you." And I said, "All right, let's do it." We tried to make it happen, but it was pretty hard because to have a good engine and suspension, it needs a lot of testing. That's why I didn't have time to do that, and I didn't ride Orlando on a two-stroke. Making the main event, I don't think it would have been a big deal, but after that we have 20 laps to go. If I had to go 20 like that, just making it, it's going to look bad.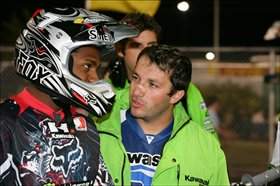 Eric gives James some pre-race advice

photo: Simon Cudby

You did get to ride one a couple of days to see, right?
I rode it once and tried to see. It was stock, just a couple of things on the bike. It was not that bad. Everyone needs to ride a two-stroke again! All the technical riders should want to ride a two-stroke again, but we can't anymore, everyone is on a four-stroke. The races are way different than before. The way the tracks are, they are way easier than they used to be. It's not as technical as it used to be. A guy like me that was used to technical tracks, racing four-stokes is killing me, to be honest with everyone. What I have to do is the same for everyone - that is why I keep practicing and training, and hopefully I will get where I used to be.

So when you rode that two-stroke for that day, what can you tell the people about how you felt? Faster or slower or what? How much of a switch was it really?
Not that much difference, but I knew the track over there. When you go to a race, it's different.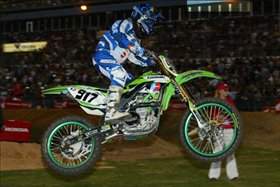 Will we see Eric on a two-stroke anytime soon?

photo: Steve Bruhn

So if you had the best possible rear shock ready and all that, the bike is ready, can you in a couple of weeks get ready and be competitive?
I don't need a couple of weeks. If you give me the bike ready, in two days I will be at the race with the bike and make the main event. I know because I could go the same speed on a two-stroke as on a four-stroke. Making the main event is only four laps. I think where I would get behind is in a main event - 20 laps, and things get rough and slippery. On a track like Vegas, I wouldn't try and ride a two-stroke there; it's very hard-packed. Orlando was the perfect track to do it, but we didn't make it happen. We didn't get any suspension on time and that was it.

Are you going to not try again, and could someone else make it?
Yeah, if it's a top-20 rider that decides to ride a two-stroke, of course he can make the main event. But I don't know. Right now it doesn't look like I would do it. If you give be a bike ready to go and two days I might, but the way we did it was too much to do.