Monday Conversation: James Stewart
James Stewart was the winner in his last Amp'd Mobile AMA Supercross race with Ricky Carmichael, and both walked away saying it simply wasn't possible to go any faster. Much of the night was all about RC saying goodbye to supercross, but for Stewart, things were business as usual.
It was a much different kind of night in Orlando. There was much focus on RC racing supercross for the last time and his dramatic rush back to the hospital for the birth of his twins. It was still a business night for Stewart, who found RC to be more than a handful, and even a bit playful on his way out—even at maximum speed.
It's been said that RC brings out the best in James, and RC often admits James brings out the best in him. For one last time, fans got to see them working in tandem inside a stadium. We asked James for his reaction to the race just as he stepped off the podium:

Racer X: A lot was going on tonight, James. What were you thinking just as you were on the gate for the main event tonight?
James Stewart: I felt like I rode the best I could, the way the track was and everything that happened. It was good. I swear Ricky rode the fastest 20 laps I ever saw him ride on a supercross track! He had me riding hard. With him, there is no laying back and keeping something in store. There was none of that tonight. I was giving it all I had and I was able to edge him out.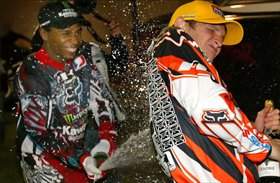 These guys bring the best out of each other

Were you thinking, 'Hey, I wish all of them had been like this?'
[Laughs] I don't know! I don't know about that, but it was fun. As far as racing the guy, and looking at each other over a triple, that just shows how much respect we have for each other. I was yelling at him in the corners to let him know I was coming in, so he wouldn't get shocked I was coming in. He made some clean passes. He got me back over the triple and we looked at each other and I was like 'Dude, here we go!' There were like five laps to go, and it was cool. I think he waved too! I saw his hand move. I looked over and was like, 'Man, I know it's your last race, but I am still trying to win a championship. I can't play around too much!' So I just gave him a little look here and there, but it was cool, it was fun for sure.

It looks like you had a few close calls coming into turns close, like the first turn corner one time.
Yeah, there were a few corners where I came in, and almost tucked the front end. I didn't get close enough to hit him, but I didn't know how he was going to cut down (in a turn). All the passes I made, he knew I was coming! I was screaming like a girl out there, going "Aahh!" I knew he knew I was coming so I wasn't worried about making contact.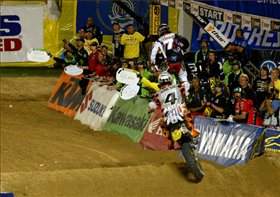 RC and James were thisclose throughout the main event

Do you remember any of your pitboards?
[Laughs] I didn't even look, the whole race! J-Bone got his money's worth, but all the information was behind me. I knew how many laps. I looked at the scoreboard to tell how many laps to go. The laps times didn't matter, we were still racing each other so I didn't care.

Is that scoring pylon the best invention ever?
For me yeah, I could tell how long the race was. I saw lap 17 and knew once we came around, we had 2 laps. I think the last two laps were the fastest I went all night. I was stoked.

Were you making up your time in the whoops?
Yeah, I was definitely making it up (there). My entry speed was good. Some laps I would get him in corners. It was a trade-off. Some laps he would be faster, but it all worked out.

Did you talk to Ricky much on the podium about what it's been like racing with him?
I was just telling him, 'Yeah, it was fun racing with you. It's the last time I am going to race the guy (in supercross) and to race like that, I was stoked. I can't say enough about him. He has always been a class act to me. We have always been good friends, as far as on- and off-the-racetrack. I am sad to see him leave. It was good to race him one more time in supercross like this.

Is it possible to go any faster?
Maybe in a one lap sprint… Maybe it is possible to go a little faster, but for 20 laps, I told the guys after my heat race, "Man, I am not going any faster." And we ended up going faster in the main event! So we had no choice.

What was he deal with the proclamation from the mayor of Haines City, Florida?
I am going to be the mayor of the town for a week! Everybody gets Mondays off. We are going to have a big old balloon with my face on it! It was really cool to get an honor like that.