Monday Conversation #2: Branden Jesseman
Branden Jesseman clinched the 2003 AMA 125 East Region Supercross title at the Pontiac Silverdome and then went into an injury-riddled funk that's lasted almost four years. Along the way he's bounced around to different teams, built an entire filing cabinet of X-rays, and got married and divorced. He almost disappeared. But on Saturday night, he looked like the Jesseman of old (at least once he got back to the gate for the restart after that harrowing crash). Number 121 put in 15 strong laps on the PPG/MotoworldRacing.com Yamaha to win his first race since the spring of 2003, and the first Lites/125 SX for the blue brand since, what, Josh Hansen at Indy '04?
Never comfortable in the spotlight, Jesseman didn't stick around too long after the race, but we did track him down this afternoon for this Monday Conversation.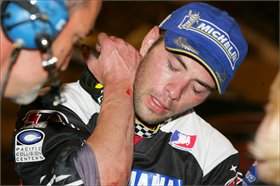 Branden Jesseman got a little scraped up in his heat, but he came back strong for the Lites win, his first since 2003


Racer X: Branden, I know it's been a long time, and probably some really difficult seasons, but you have to feel as happy about standing on top of the box as anyone possibly could.
Branden Jesseman: Oh, definitely. It's been a long time. It's been a struggle, and there were so many emotions going through my head when I was in the lead. And then after I won the race, it was overwhelming. It was probably the most beneficial win I've ever had.

And maybe one of the most painful. I mean, you guys crashed hard off that first start. What happened there?
That was crazy. I got kind of a mid-pack start, and I couldn't do the triple, so I just went double-double through there, and when I was in the air, another bike flying through the air hit me and I crashed pretty hard. I laid there for a minute or so because I got the wind knocked out of me and I couldn't breathe. I cut my hand up and my elbow a little bit, but not too bad. I was kind of shaken up and my bars were bent, my front end was bent a little bit, and I was actually thinking about whether or not I should even race the main because I was kind of dizzy from all that stuff. But then I said, "Nope, I never gave up, and I'm not going to give up now." At that point I was even kind of mad, and I think that helped me get a good start on the restart!

You did have a good jump, and if there was ever a time to get a good start, it was right there at Orlando. Can you take us through the main a little bit? I know you had Billy Laninovich out front, and it seemed like that settled you a little. You looked really relaxed.
Yeah, actually, I was. I was riding behind him, checking his lines out and just kind of breathing and relaxing. I felt kind of good, and I just put a block-pass on him and got the lead. From there I just kind of put my head down and put in some good laps and just kept looking ahead. There was a lot of thoughts going through my head—I mean, it's been a long time—but it seemed to come back to me fairly easy, because the race was a lot more simple when I could get out front and ride my own race.

Well, I was watching pretty closely, and there was a few times through the whoops where it was like, Oh no, he missed his line! But then you settled down.
Yes, there were a couple of laps when I made mistakes and missed my lines, definitely through the whoops there. There were getting kind of tough, with square edges and all, and sometimes I just missed my rhythm a little bit and made mistakes, but I hung on.

I had written in 250 Words about how when I got to the hotel, I realized your team manager Paul Lindsey wasn't there to watch, so I gave him a call. He was just ecstatic about the results and how proud he was of you and the team. When did you finally get to talk to Paul?
Um, actually, I haven't talked to him yet!

You're kidding!
No, I got a message from him Saturday night, but it was pretty late and I didn't want to call him back and wake him up if he was in bed or—

—Oh, I guarantee you he was wide awake late into the night.
Well, he did sound pretty ecstatic there in his message, and I know he was happy—the whole team was. They all work really hard, and the bikes are pretty good, so it was a great night.

Yes, and Justin Brayton got, what, sixth?
Yes, he's been riding really well. He's a really strong rider, and I think he's definitely going to get some podiums before the season is out.

And that brings me to the rest of the season. You have three rounds to go here, and while you had a bad night at St. Louis [Branden did not qualify there], you're still right there with everyone, more or less, and the guy winning—Ryan Morais—has been the steady one. If he has a bad race, you're back in this.
I think I'm 25 points back, which is pretty good for missing a race, which is something most of the guys have done except for Ryan. It's still a toss-up, and I think it's going to come down to consistency and who stays out of trouble and doesn't make any mistakes.

Well, you described this as a real emotional win for you, but what about the last four years—can you describe what was the real low point there, as far as injuries or the bikes or anything?
It's been a combination of a lot of things. It's been injuries, but I don't want to blame it on just that. There's been a lot of problems, like, in my personal life, but I've been really working and trying to figure it out and get things back straight, but it's just taken a little bit longer than I thought. I mean, right now I'm up in Iowa to visit my daughter, and I'm just getting to spend a little time with her, and today was the first day she called me "Daddy," so I'm really happy about that, and it really hit me. It's exciting just to be here with her.