It ended perfectly.
Ricky Carmichael
shut down his supercross career – not to mention the biggest weekend of his life – the same way you would expect: he gave it all he had, and he left everyone smiling, even if he didn't win.
James Stewart
has a sense of history, but he's also got a championship to win and a legacy of his own to keep building.
The Orlando Supercross will go down in history as one of the best races we've ever seen from the GOAT. For 20 laps, he gave it all he had, and the partisan Orlando crowd could not have been more pleased about it. After they rolled out the red carpet (literally), after the long tribute, after the awesome fireworks, a slam-bang Lites main, and then an absolute battle in the 450 main, Carmichael parked the #4 Makita Suzuki RM-Z450 supercross bike for good.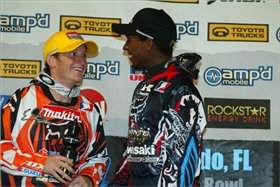 It was a race for the ages between these two
Throw in some of the other eye-popping stuff—thousands of well-wishers, omnipresent media recording his every move, a transatlantic trip by Europe's King of Motocross, and especially the birth of his twins early Friday morning, followed by a helicopter ride back across the state of Florida – and we have a movie of the week. Too bad they already screwed up
Supercross: The Movie
, because this script would have filled up movie theaters.
Even though he lost the last supercross race of his career, Ricky did it with honor. He gave
James Stewart
all he wanted, and both were left smiling after the race, laughing about the last good race either of them may see for some time. (Third-place
Chad Reed
wasn't in the picture as soon as both #4 and then #7 went motoring by early on.) This Saturday night in Indianapolis, Stewart will likely slow down and still have a definitive edge on everyone else. Carmichael, meanwhile, will be racing in circles down in Florida, steering right over to car racing to begin what will certainly be a long and difficult climb to his eventual goal of being a NASCAR driver.
What will his legacy be in supercross? That of a guy who showed up every night, who learned how to win by surviving an entire highlight reel of crashes, and who knew when to take a second when second was all he was going to get. Here was an athlete who learned to surround himself with the right people and to treat the fans well. He knew he would never be the "King of Supercross" – that title will always go to the Greatest of All Time in supercross, Jeremy McGrath – so he carved out his own face on the Mt. Rushmore of supercross, alongside MC, Rick Johnson, and Bob Hannah.
One cool moment that really summed it all up: After the checkered flag, after stopping to pat James on the pack, Ricky was just starting to ride out his farewell lap when David Vuillemin pulled up alongside him, took his hand off the bars, and bowed his head down in respect to the very man who has spent the last six years denying DV12 and everyone else so many wins and championships. It was an impromptu salute that said as much as all the fireworks and red carpets and testimonials that came before the race started, and it probably meant just as much to Carmichael.