Hello, everyone, and welcome to the Rev-Up. When I sat down this morning to write this week's column, I grinded away for about 20 minutes trying to think of a fitting song title, novel, or movie that would tie into the last main event of
Ricky Carmichael
's career. But nothing really compares to what this weekend's race means to me or anybody else that has spent a considerable amount of time with Ricky, on or off the track. It's an unprecedented moment and event. Then I remembered a thread I saw on Mototalk about people's memories of Ricky's supercross career. It made me think back and remember some moments that didn't really seem that cool or unique until the arrival of this weekend. It made me realize that great moments occur around us every day. They may not seem great at the time, and events have to unfold a certain way in order to make them special. And every now and then comes an event horizon that hits you like a sledgehammer in the heart and all you can do is soak in its magic.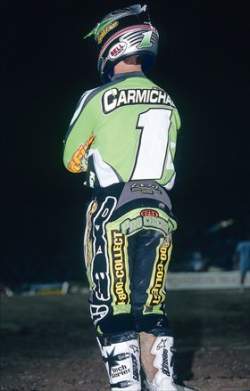 RC in '98
photo: Courtesy of Moto Verte
There are men out there who may have played baseball with a hall-of-famer in high school or been on the same basketball court as an MVP. There are racecar drivers who have driven on the same dusty dirt track as Tony Stewart or Carl Edwards. When those men sit and watch the World Series or the NBA playoffs or the Nextel Cup on their television sets, I would imagine they feel similar feelings to what me and everybody who has ever lined up on a starting gate with
Ricky Carmichael
is carrying around right now. It's a realization that you were in the company of greatness. Which is neat and all, but now that it's all over, now that the end is here, man, those memories just seem to be shining with incredible force. As I ponder The GOAT's final supercross in Orlando this weekend, some moments of his supercross career that I was lucky enough to experience really stand out.
In 1997 I drove to California with a van full of bikes and stars in my eyes. I stayed with Ricky at Chad Watts' house and went riding with him. I was there for some of his first laps around the sun-scorched Kawasaki practice track. He was fast, but not much faster than Ping and the other boys. I ended up lining up next to him at the St. Louis Supercross later that year. We both had awful races that night. I actually hung it up shortly thereafter, while RC had only just begun to fight.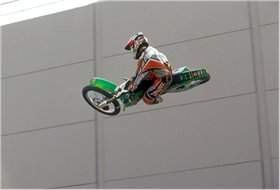 Carmichael stayed with Kawasaki through 2001
photo: Simon Cudby
Two years later, and the season following the first ever-undefeated SX season, I was sitting in the emergency room with him in San Diego. That night he smoked McGrath in his heat race straight up, then busted his ass in the main event and took a peg to the thigh. There he sat, stitched up and eating McDonald's french fries. He was beaten down, but not defeated. A couple years later he would finally defeat the King of Supercross (under the lights) in the same building. Two races were all he needed to reach the top of the mountain at Anaheim 3. Everybody remembers that night. I'll never forget being there. It was special then, and now that his SX career is over, it's even more incredible. To see somebody completely take over an entire sport in twenty laps was amazing. But I'm not sure if it was any more amazing than his ability to continue to win titles on two other brands of bikes and against the incredible
Chad Reed
and
James Stewart
. Who would have thought he would have been able to single-handedly bring factory Suzuki out of the shadows? Who would have thought he would have beaten Stewart in 2006 (or 2007)?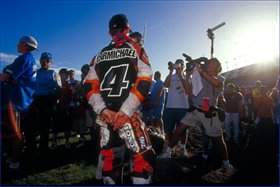 RC won with Honda from 2002-'04
photo: Simon Cudby
It just blows me away to sit here and reflect back ten years ago. To be there in the beginning and then watch what that guy has accomplished is nothing short of astonishing. Please understand, I am not trying to make it look like I'm one of his close friends, because I'm not. I'm just one of his old racing buddies from back in the day, and a big fan. I'm only a good enough of an acquaintance that when he won what was probably his last supercross of his career in St. Louis, he gave me five minutes of chat and a handshake, which was absolutely huge to me.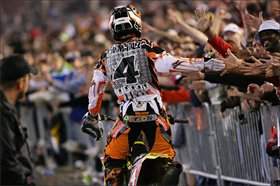 RC says goodbye this weekend
photo: Paul Buckley
Just how big is this weekend? I guess it's relative in a lot of different ways to a lot of different people. How does it stack up to the end of other great athletes' careers? Is it as big as AJ Foyt's last Indy 500? Does it compare to the last at-bat for Cal Ripken Jr.? Will people remember it the same way they remember John Elway's last drive? Well, this isn't exactly the official end for RC, as he still has six outdoor races. But what he accomplished in his time as a professional supercross racer ranks among the upper echelon of any entity in any sport. And for me, personally, there has never been anything as big. Jeremy McGrath will always be the King of Supercross, and I vividly remember his retirement. But I didn't grow up at the amateur nationals with him. I never saw any of his pain and struggle. Ricky isn't going to hang around like MC did. This is it. RC will never race supercross again after this weekend.
Ricky Carmichael will push to the starting line in Orlando as a veteran of unprecedented success as well as struggle. Never before was a supercross champion so soundly booed. I know he hated being booed. Let's try to make up for a little of that for his final supercross charge this weekend. If you are in the stadium, respect what you are seeing. Whether you are a fan or not, stand up and put your hands together when they announce #4 for the last time.
Thanks for reading, see you next week.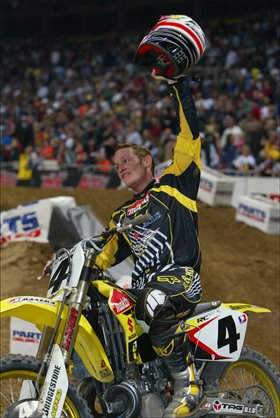 photo: Steve Bruhn