Privateer Profile: Garrett Edmisten
The Can-Am Grand National Cross Country Series is all mixed up right now, so much so that a privateer is leading the series points standings! Garrett Edmisten, 21, is last year's GNCC Four-Stroke A Open Champion, but he's stepped up big-time this year for his first full run in the pro class. With third and second finishes in the first two rounds, he's out front of all of the factory boys so far. We rang him up to find out more. Remember to show Garrett some support by clicking the links below.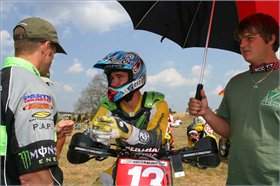 Garrett Edmisten is leading the '07 Can-Am GNCC Series!

Racer X: How the heck is this possible? A privateer is leading the biggest off-road racing series in the country, or maybe even the world!
Garrett Edmisten: Uh, I don't know. You got me. I'm just putting my head down and going to the races and doing what I do best, which is ride.
You told me before that you were loading up your mountain bike. How's the new training program? I've heard your trainer, Michael Phillips, is an animal.
Oh yeah, he's a totally different breed. Anything he can do, he can do for hours. A motorcycle or a bicycle, whatever. It's not one of those deals where he pounds me every day. He just says, "This is what we're gonna do," so then I go out there and that's what we do. When we go somewhere, I don't even see him. I just do my own thing and go as hard as I can. I wear myself out, and then a few hours later he's done. The first day, I rode for an hour and a half, and I did three laps and he did four laps.
Is this in sand?
Yup.
Mountain biking in sand! That sounds like the worst thing ever.
Yeah, after a while it's pretty bad.
When did you start this?
I'll tell you exactly when I started, because I have a log book going now. I started on January 8.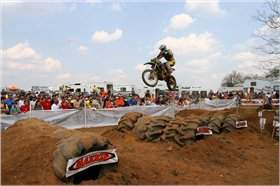 Edmisten credits his training for the success he has had so far.

A lot of trainers will tell you that two months isn't enough to make a big impact on your fitness, but I guess it has for you.
For sure. If I don't go mountain biking that day, I'll go running. Then the next day I may ride mountain bikes or ride my motorcycle. I try to do something at least four days a week.
So are you now out-training everyone else, or does this program just work for you?
I don't think I'm out-training everyone else, but I think it's just working for me. I decided that's what I needed to do, and I think as time goes on I'll do more. Right now, this is working.
Last year was tough once you turned pro. Obviously, you weren't on this program yet.
No, I never really had any kind of training program. I would just go riding my bike for a little while and call it day. I basically saw how far my talent could take me, and it could only take me so far. Then you have to do other things. I realized that. I had knee surgery in the off-season, and I promised myself once that knee surgery was over, I would come back and start from scratch all over again. I had some kind of mass or something in my knee and needed to have it cut out of there. It was about a month and a half that I was off.
So is this one of those deals where you don't even do too much riding?
Not that I don't want to ride, but I know how to ride already. I needed to improve my conditioning, and the motorcycle can only bring you so far. I'm doing the cardio right now more than anything. Some races I go to, I'm sore, but nothing to where I can't move. I'm sure I could do some sort of weightlifting to help that, but right now I don't need it.
You're from Florida. You've always done well at that round.
For sure, plus this year was my hometown. I want to let everyone know we can compete with the best down here.
Well, on the podium at that race, we had Watts from Australia and Knight from the UK, and then you, and you only live a few miles from the track!
I just wanted to hold second or third all day. I would have been happy with top-five. But making the podium in my hometown, it was a special feeling. I think everyone in town that knew me came out to watch!
Last year you improved immensely in the dirt and clay up north. But did you still think people figured the Florida race was a fluke?
For sure. I knew people had to be saying, "Hey it's a hometown race." Last year in Georgia I won Four-Stroke A, and I think I got eighth overall, top amateur. So I knew I could get top-ten no questions asked, and if I was in the top five I was going to shoot for that. I came around the first lap and I was in the top five, and then eventually I was in second. I was good, so I just kept ticking and ticking and going and gave it everything I had.
What feels better: third in Florida with all of your friends there or second in Georgia in the real trees and dirt?
I would have to say Georgia for sure. It's clay, it's not Florida, and I made my point, which is that I can do it. Hopefully, I'll be there for the rest of the season.
Are you actually thinking about the possibilities of winning this championship?
The championship is not really on my mind. If I'm going to win it, it's meant to be. I just want to get more podiums. If I win the championship, it will be great, but I've got a lot of time to work on that. Every time I go to the mountain-bike course, I'm still improving a lot every day. I just have to keep doing the best I can do.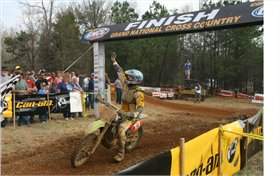 Can a privateer win the GNCC championship?

Over the last few years, the GNCC factory teams have really grown, and now people are thinking there's no way a solo rider can compete against teams that have all these guys in the woods pointing out the good lines and all these technicians working on bikes. Can a privateer compete?
In a certain way it helps, and in certain way it doesn't. If you're not around the factory guys and stuff and you can't see their lines, it might not work out. But if you're a good rider, you can figure out what the good lines might be. You just need to take a second and keep your eyes open for the good lines. Sometimes you might even have to let a lapper go and try the line before you.
Who is helping you this year?
First off, my friend Keith Walpole from Walpole Trucking. If it wasn't for him, I wouldn't be where I am today. He's a guy I met through racing, and he's supported me for four or five years. Moose has been behind me the whole time, my trainer Mike Phillips for keeping me motivated, my mom and my dad, all my friends, Dunlop, Renthal, Scott goggles, CTi, Maxima, Action Kawasaki - the owner of that shop, Jack O'Neal has been behind me for a long time. Also RK Chains. And anyone else I forgot.
What's DSP?
Down South Players, just something me and my buddies came up with. One of my buddies, Kyle Farnell, he won a title at Loretta's a few years ago and said it, so I made sure to say it on the podium just to get it out there.
Garrett Edmisten's sponsors:
www.shopactionkawasakiyamaha.com
Walpole Trucking
Mike Phillips
RK Chain