Shane Watts? Paul Whibley? Garrett Edmisten? These are your front runners? What the heck happened to the Can-Am Grand National Cross Country Series? After one week and two rounds of racing in 2007, the tour looks completely different from the previous year (although it also looks a whole lot like the close, unpredictable series that it was before Juha Salminen showed up two years ago). With Juha back in Europe, many thought this would be a wide open season, but this is ridiculous!
Before the season, the main title hopes fell on four riders: The previous second, third and fourth placed riders in the series, Barry Hawk, Charlie Mullins and Glenn Kearney, and Europe's world dominator David Knight. But all four have struggled so far. Meanwhile, a bunch of underdogs, namely Watts, Whibley and Edmisten, have gotten the results.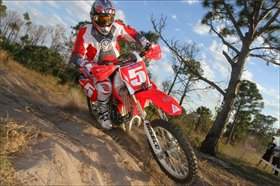 At round two in Georgia, Paul Whibley took his Parts Unlimited/Moose Honda to his first-ever GNCC win.

How crazy is that? Well, all three of those guys don't even have full factory status!
Watts
and Edmisten are 100 percent true blue privateers, and Whibley runs with some support from Honda, but really uses the resources of his mentor/team manager Scott Summers to get to the races. Watts won the season opener in
Florida
, Whibley won round two in
Georgia
, and Edmisten finished third and second to lead the series in the early going. A few weeks before the season, no one even knew if Edmisten was still going to race at all, and now he's leading
America
's largest off-road racing series. Plus he's a full privateer and this is his first full season in the XC1 pro class.
Watts, of course, is a former GNCC Champion, but he's had enough ups and downs during his career to rival that a roller coaster or even that Travis guy in motocross. Every year, the Watts rumors boil down to either A) he's back to his old form and he's going to dominate again or B) he's lost his ride and he's done. And this year was a combination of both! Watts was scheduled to ride for the Powersports GrafX KTM satellite squad, but his deal on that team didn't work out, and he ended up buying his own KTMs and going at it as a full privateer. He also started kicking some major butt at off-season races. Then at the sandy Florida opener, he completely dominated and won by nearly two minutes, which almost never happens at these races.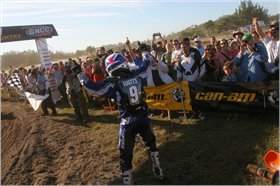 Watts has never lost popularity with the fans, and now he may have found his speed again.

"For all of you guys who buy your own parts, and buy your own bikes, this one is for you!" exclaimed Shane on the podium. Shane's always been an awesome sand rider, and pundits wanted to see him back it up in the
Georgia
clay before they truly believed. Unfortunately, he lost his rear brakes on the first lap there and had to spend some time in the pits fixing them. He turned in some blistering lap times trying to catch back up, and then lost his brakes again down the stretch. He salvaged top-ten points, but more importantly, he looked as fast on the clay as he did in the sand. Look out for Shane this year.
Whibley won the Georgia race. He's a New Zealander who rides for Summers on the Parts Unlimited/Moose Honda team. Last year was his first full GNCC season, and he was consistent en route to a fifth-place finish in the final standings. But he had yet to score a podium, and many were unsure of his abilities to win races. Wonder no more. Whibs finally rid himself of the chronic arm pump that had plagued him early in the races, and he rolled right to the front in Georgia and walked away with his first win.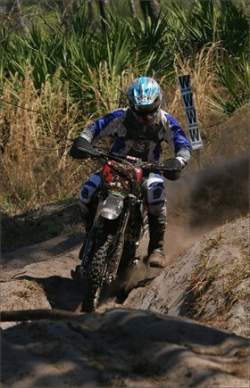 Edmisten was expected to be fast at his home town race in Vero Beach, but he strength in the Georgia race has him sitting as an unlikely points leader.

Then there's Edmisten. He was the home town favorite at the opener in
Vero Beach
, and he's always been a dark horse threat in the sandy
Florida
rounds of the series. Back in 2003, when he was just a 16-year-old 200A class rider, Edmisten finished an amazing fourth overall at the Palatka, Florida GNCC. He toiled on in relative obscurity from there, before reemerging last season on the KX450F. Garrett's a big guy, and he complimented the bike well on way to dominating the Four-Stroke A Open class. Once he locked up that title, he moved up to the XC1 pro class to ride under Fred Andrews' tutelage on the Monster/Pro Circuit/Kawasaki squad. It didn't go well. Edmisten had a knee injury and also suffered from some motivational problems, and ultimately after a few bad finishes, he found himself without much support heading into 2007. Edmisten has talent, but word is that he didn't train hard enough to reach his potential. This off-season, he buckled down and started working with a trainer, and he seems much stronger. He was third in the familiar sand in
Florida
and then second in the
Georgia
race. No one can even remember the last time a real rookie led the GNCC standings, but lo and behold, it has happened and he's a privateer.
Okay, so what of the favorites? Hawk struggled in the Florida sand, which is not his specialty. He then ran into bike troubles for Georgia. For whatever reason, his YZ250 was running too rich, and he got horrible mileage and ran out of gas. At the moment he and the Am-Pro Yamaha team are mystified as to what made his bike run that way, but they're sure to have it fixed by the North Carolina race next weekend.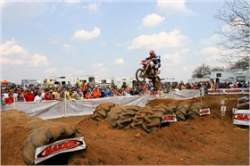 A hand injury has turned out more serious than it seems, and now Knighter is heading back home for some fast therapy.

While Hawk was sitting on the
Georgia
trail out of fuel, Knight came rumbling across and came to a stop. A few weeks ago, Knight broke his hand when he clipped a post during practice. He soldiered through
Florida
and managed second, but the choppy, rough
Georgia
trail was too much, and he was forced out of a points paying position.
"Knight came up to me and said "you know we're giving this away right now, don't you,'" said Hawk. "I told him I know."
Knight is heading back to the Isle of Man to get eight days of therapy on his hand, in hopes of healing in time to score some points in North Carolina's FMF Steele Creek GNCC in a few weeks.

Kearney is FMF Suzuki's main threat this year. The Australian is fast, consistent and in shape. But not right now. GK was bit by the flu before the Florida race, and after pulling the Racer X Holeshot, he faded after three hours in the sand until he was out of the top twenty overall and out of the points. He led early again in Georgia only to fade, but this time he hung onto sixth.
Finally there's Mullins, last year's wonder kid. He has been consistent at least with 4-5 finishes, but he's chasing his suspension setup right now, and he's not happy with his results. Mullins is going to work with Factory Connection for the next two weeks to get his bike dialed in and get a podium at the next round in North Carolina. But this year, that podium is looking awfully crowded.