Welcome to the Shift Number Cruncher. We have a cool number for you this week. I have actually been planning on running this one for a couple weeks now, but the man I am dedicating it to just can't seem to seal the deal. Thus, I am going to run his unique number this week in an effort to possibly spur him to get it done in Orlando this Saturday night. Also, it's one of my favorite numbers because seeing it takes me back to some really special memories.

Do you guys remember how cool it was when you got off a 60cc and moved up to an 80cc machine? That extra power and suspension made a kid feel like superman. What could be cooler than an 80? How about a 105? I'll never forget the time a friend of mine, Brent Peterson, let me take his DMC 105 out for practice at a local race at Ponca City. That oval silencer, those large wheels, that cool seat cover—the thing sounded like it was from outer space!

I was 13 years old and about 90 pounds. I took off from the grass starting line and the front wheel barely touched down till I was fifth gear and in the second corner. I had to pull over and straighten my goggles because the headshake was so violent when I finally let off! Those 105s used to be so awesome. Some of the kids back then would take the stickers off a KX125 and cut out the "2" and place the 0 from their 80cc machines in the middle. That kind of stuff was so neat to me! I used to stare at John Kitsch's DMC 105 in the pits like it was a motorcycle-shaped diamond. Jeff Emig always had super-trick hand-made ones as well. He used to go so fast on his 105s it was ridiculous! So anyways, seeing Darcy Lange bust out the 105 took me back. I am willing to bet I am not alone. More on that at the bottom, here are a couple other 105 guys.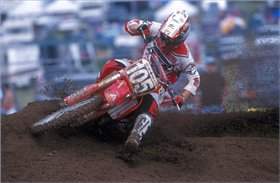 Scott Sheak
photo: Mario Marini
Here we have
Scott Sheak
testing out a nice loamy berm in 2001 riding for Plano Honda. Some of the things that stick out to me about Scott were his stalky stature (his thighs were enormous—Stefan Everts style!), the time he nailed the tree at
Southwick
with his head, and him winning in the mud at
High Point
in 1997.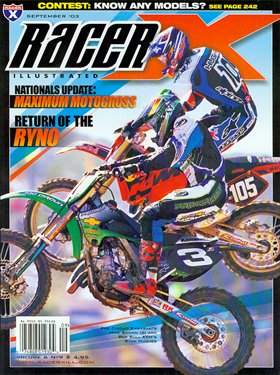 Ryan Hughes (105)
Ryan Hughes
could have won the title in 2003. It rained at the last national of the year (Kenworthy's) and he never had a chance to try. This bitchin' cover shot was taken on a really good day in American motocross. On this day Hughes and Brown went toe-to-toe and put on a show that people still talk about. The day also marked
Ricky Carmichael
's 90th career victory. It was also the day that helped save
High Point
from some folks at AMA Pro Racing who wanted to move the race somewhere else.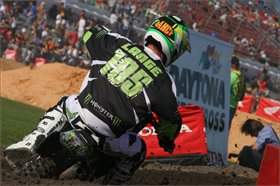 Darcy Lange
photo: Matt Ware
One of the best pieces of advice I ever received was this: "Make the most out of every opportunity you get." Arenacross legend
Darcy Lange
is certainly doing all he can with the opportunity Mitch Payton gave him. He has been the fastest guy on the track a lot of the time and he came two turns from winning at St. Louis. He's earned a win, so I would really like to see him get it done in Orlando.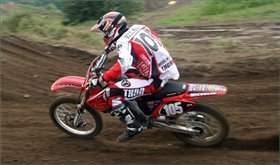 Randy Valade
photo: Brett Dailey
Blackfoot Honda hired Michigan's
Randy Valade
to contest the 2003 Canadian nationals. He had a tough battle with
Ryan Sipes
and defending champ Derrick Fisher, but his consistency paid off and he won the 125 East title for Blackfoot. Valade now handles rider support for MSR.
105 photos:
OK, I want this to be a special week for the Number Cruncher. I know I am not alone in my fetish for those super trick 105 machines of the mid to late 1980s. I just talked to Bad Billy and he said we can run a big redux on Saturday morning with any pictures you guys send in. I'd really like to see a shot of Kitch's bike! I know there is one out there! Make my day and I'll make your day.

Send them to me at andy@mxsports.com.