Bench Racing Ammo: Comparisons
This weekend is the final Amp'd Mobile Supercross race for Makita Suzuki's Ricky Carmichael…. Wow. That's a sentence that I never really thought I'd have to write, but it's finally here, and it brings some interesting coincidences with it.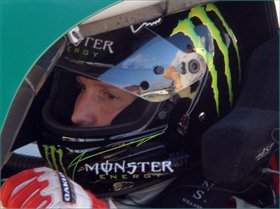 RC will soon be looking through a lens full time, rather than goggles.
photo: Scott Taylor
By now, everyone knows that Carmichael is departing the supercross series to focus on the next phase of his career—stock car racing. Ricky has already signed a multi-year deal with the upstart Ginn Motorsports team, who has experienced some incredible success thus far in the 2007 Nextel Cup series. Their main driver, Mark Martin, who is also RC's tutor, is off to one of the best start of his 20-year racing career, as he has three consecutive top-five finishes and is leading the Nextel Cup points. Martin has never won the Nextel Cup championship, but he has come very close, finishing second in the standings four times.
Yet this weekend's big race at Atlanta could mark the final full-time race of Martin's career. Prior to the season, he made up his mind to run an abbreviated schedule, similar to Carmichael's, so he can help out RC as well as his own son Matt, who is just beginning his car racing career—also on the Ginn team. Both RC and Matt Martin will be racing cars in Florida next weekend, and Mark Martin says he's skipping the Bristol race to be there.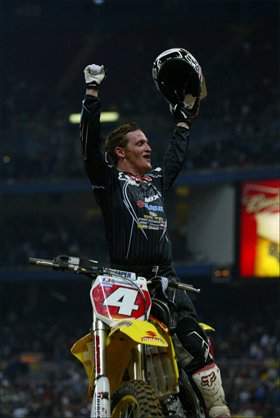 Was St. Louis the last SX win for RC?
photo: Steve Bruhn
But the coincidences don't stop there. Martin is currently in the points lead—he's ahead of Jeff Gordon by six points (495 to 489) and he's hoping to step back while still ranked on top. Carmichael hopes to leave the SX series as the leader as well. And if you tally up all of the World SXGP points for the top three riders in
ONLY
the races that RC has competed in, he'd be trailing
James Stewart
by just one point (186-185). So if Carmichael can beat Stewart one last time on a supercross track this weekend, one could argue that he'd be leaving the World SXGP series as the leader—just like Mark Martin hopes to do in Nextel Cup after this weekend.