Monday Conversation: James Stewart
Monster Kawasaki's James Stewart had one of those races that really test a championship points leader. Stewart wasn't the fastest in qualifying practice; Chad Reed set the fastest qualifying time, and Reed knows when you come here to win, you can. Stewart was also facing RC in his last Daytona. But the series leader "came out at night" with a good start and he lead every lap of the Daytona Supercross by Honda on Friday evening, winning the 450 race here for the first time.

When you are out front, people expect you to be. When you are not, people ask questions. Reed was on fire in the afternoon practices and set the fastest times even with a big crash that left him with a bruised forehead. Stewart was frustrated about that and went and took a nap. Whatever, something worked.

In the night show, the Monster Energy/Kawasaki rider won his heat, and didn't get a chance to tangle with RC because RC hit the ground just before the first turn. Then in the main, he got a start close enough to the front that he was leading at the end of lap one, and RC and Reed had work to do.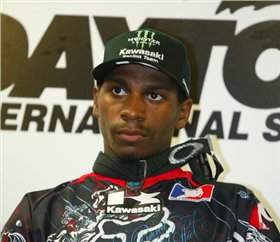 James had to get serious after his heat race

Racer X: After winning Daytona this time, what can you say to sum up the weekend?
James Stewart: Well, you know, I don't know what my weekend is going to be like—it's Friday night and it hasn't started yet! As far as here, I am super-stoked. I get my name on pit row for the first time. I am just happy. I give it up to the guys at Kawasaki and my mom and dad.

Did you do anything different because this is a different race, and you are up against two past winners?
Not really. I prepare myself really hard and train really hard for these longer races. I knew all I had to do was get a good start and ride. I knew I had 20 laps in me. I was super-pumped about how I rode, and I had consistent lap times. I put my head down and focused the whole time. It was a good race for sure.

What happened to your lap times in practice? You said in the press conference after Reed's times were faster you went back to the motor home to take a nap!
Yeah, I was really frustrated. I don't think I have ever done that in my career. I just went back and went to sleep. I was frustrated, but everyone told me—my mom, my dad, my friend Rado—that I come out at nighttime. I will show up and race the main event. I was even like "no, no," but I am super excited about that.

Someone said the other day that Ricky brings out the best in you, is that true?
Well, I think when racing the guy, you know he is always going to put his heart into it. It makes you put everything you have into it. It's been good. Chad has been really stepping it up lately. He is bringing out what I have to, and it's all good. I am excited about going to Orlando next week. I had a good race there last year. I like the dirt. Hopefully we can go there and just keep on chipping away.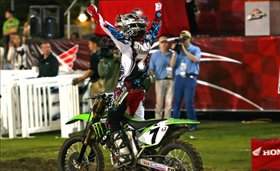 Stewart clelebrates his first 450-class win at Daytona

RC said you put on a clinic there last year. Are you going to do that again?
We will go back and prepare, we will see how the track is. I'm not saying anything but I just like that race.

Do you feel like this season is yours yet or are you waiting?
If you hand me a number 1 plate, then I will feel it is mine. Until I get that, it's all business when we get home. I don't take it lightly. When you do that, things will happen. We have a 24-point lead in the AMA and 23 in the World SX, but it's not over until it's over.

Are you going to go do some Daytona stuff?
I'm going home. This will be the first weekend off in a long time. I like spending it on my boat with my friends and family. I think we deserve some time together. We are always racing, always on the road, I want to go home and just be with the family.