I was ready for the big finale. Cell off, laptop down, never had a Blackberry—I was completely off the grid. It was Friday night and I had a front-row seat to the last Daytona battle ever between Ricky Carmichael and James Stewart. (Well, unless James joins his very, very distant cousin Tony Stewart in NASCAR racing, then we might see another RC-vs.-JBS @ DIS battle). I was in my living room, in Morgantown, WV, ready to see it all play out on the big screen, albeit on a slight delay.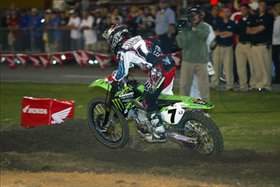 Stewart rode a masterful race at Daytona
Of course, it started late—then it never really happened. Stewart rode a masterful race, with good starts, great laps and he never seemed to even slow down. For his own part Carmichael looked strong, but his bad starts and an unrelenting opponent on the #7 Monster Energy Kawasaki spelled defeat for Carmichael at a race many guessed he would win.
But it really was no surprise that Stewart won. The wild-child is smoothing out and speeding up. He has still yet to lose an AMA Supercross main that he did not fall down in, and the falls are coming fewer and fewer between. And Ricky brings out the best in him, as he told TFS after the race: "I think when racing the guy, you know he is always going to put his heart into it. It makes you put everything you have into it."
The thing I've noticed in 2007 though—even from my living room on Friday night—is the fact that
Chad Reed
seems to bring out the best in
Ricky Carmichael
. In the races they've ridden together since January 1, Reed has finished third every single time. Carmichael's won two out of the six he's entered and finished second the other times; Stewart's won four times and gone second each time Ricky won. Reed's lone win—and Stewart's worst race—was San Diego, where Carmichael wasn't there and Stewart crashed while leading.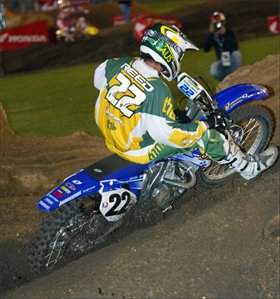 After setting the fastest lap time in practice, Reed could only muster a third in the main event.
his could go all the way back to 2004, when Reed won the AMA Supercross championship with RC on the sidelines with a knee problem. There were some whispers that Ricky might be ducking Chad because of the way 2003 ended, with six straight wins for Reed. Well, Ricky must have heard the catcalls, because he promptly went out and hung 24 straight moto wins on everyone in the outdoor nationals that summer, then piled up four more titles, SX and MX, over the two years that followed.
Now, even in his swan song, Carmichael seems to have an extra gear when it comes to racing Speey
Reedy
. The only AMA championship RC's lost since 2000 went to Chad, and even now, as he rides off into the sunset, Ricky seems intent on not letting up on #22. The big winner, of course, has been Stewart, who gets five points advantage per win rather than three points when Ricky's around.
So while this weekend will mark Ricky's last-ever supercross, it's probably safe to say that one person who won't be sorry to see him go is
Chad Reed
.