Kawasaki/Racer X Race Report: Daytona
Monster Kawasaki's James Stewart led the Daytona Supercross by Honda wire to wire, while Ricky Carmichael and Chad Reed messed up their starts just enough that Stewart would stay out of reach. Carmichael had an off night but still took second, and Reed, who shook up his rivals by setting the fastest qualifying practice times, was third again, but still on the podium.
Monster Pro Circuit's Ben Townley won Lites, his second in a row, but Ryan Morias, with no wins, has the points lead! Honda's Tommy Hahn was on the gas with a second (and a heat race win), and Mike Alessi rode a strong race as well for third. Alessi actually had a bad heat race and a bad gate pick, but he made up for it with an outside line in the first turn that worked, and put him in about 5th, and he fought his way to 3rd and his first podium of 2007.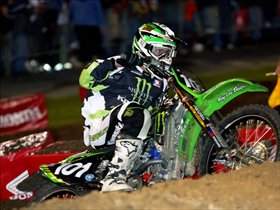 Townley is a quick learner in supercross
In a major bummer for Makita Suzuki, Ryan Dungey earned no points. His bike had a kill switch wire problem after a crash in his heat, the team said, then he fell again in his LCQ and missed qualifying by one spot. It was a pretty dissapointing night for the winner of round 1.
Orlando is round 11, and Kawasaki has won every Lites main, except Atlanta (Dungey), and every SX main except three - San Francisco, St Louis (RC) and San Diego (Reed). That's 16 races out of 20, so supercross in 2007 is pretty much green so far, except for the fact that Ryan Morais is leading points.
Carmichael said of his last Daytona on 2 wheels, "It wasn't as fun as I thought it would be. The track was probably the worst Daytona track I ever raced. I had a hard time tonight. I wasn't riding well. I was surprised I did that good in the main. James was on it."
How could something this pretty be unpopular?
The track was unpopular with the top riders. Stewart spoke about the same as RC in the post race press conference, and Reed smiled and declined to comment, saying the other two covered it. The main complaints were it was one-lined and had no flow. It looked really cool in pictures though.
Reed's night looked promising after qualifying practice, except the big bruise on his forehead from a hard practice spill. "It was pretty scary. That is probably the hardest I ever hit my head," he said.
But, he wasn't knocked out and still went out and set the fastest time – twice. This led RC to not like the afternoon and Stewart to just go take a nap. (Nice wheels outside too.) Reed then won his heat (RC and Stewart were in the other one), and all looked good, at least for a battle with Stewart.
RC's off night started early with him slow off the gate in his heat, and getting pinched going into the first turn. He got back up last but still qualified. In the main, he again just didn't get off the gate quick enough and got shut out, finishing lap 1 about 5th, right next to Reed.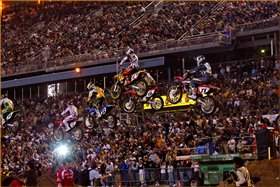 Reed and RC in traffic on lap 1, and Stewart is about to check out.
Stewart just had to pass Kyle Lewis on the first lap to check out. RC worked his way up and made some time on Stewart, but Stewart was in cruise and was watching for him. "I really don't think I had what it took tonight," said RC in the press conference.
Reed's main just didn't go as well as things did in the afternoon. "What I did tonight was not a lot of fun, he said, "It was a long 20 laps."
Kevin Windham had a great start but little mistakes cost him and he slid back to 5th after a good race with Tim Ferry, who was 4th. Tedesco also rode strong and ended up 6th, just ahead of Grant Langston, who is just returning from the injury he had from Anaheim 1. Vuillemin and Millsaps were next, and putting Moto XXX in the top ten was Josh Summey.
Stewart's supercross win was his 18th, which passes Mark Barnett and Jeff Stanton for 7th best career wins. Stewart joked about it after the race and said "Bomber is probably going to up the price of my track now!"
If Reed had a dominant afternoon and a bad night, Stewart's was the opposite. "In practice, I was off," said Stewart, "These guys made me go back to the motor home and go to sleep. I was struggling with the track all day long."
Townley has American supercross figured out. He's not the most aggressive, but he uses his head like RC. He should, he lives with him and trains there. So far the season has favored Yamaha or Troy's consistency, since so many of the top guys have had a bad night already, but Townley is making up for his first round DNF very quickly.
RC will finish up his "final 4" supercrosses next weekend at Orlando, that will wrap up his remarkable supercross career. After that, he just has a partial season of outdoors in the summer to go and the Motocross of Nations, and some racing in those car things.
Stewart gave a sand clinic at Orlando last year, and RC and Reed will have their hands full with Stewart on a roll, and on sand he really likes and goes fast on. Next week will for sure be a full house and a full on battle.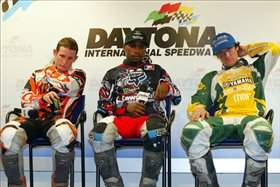 Hey you guys, we need someone to say something good about the track, who is in?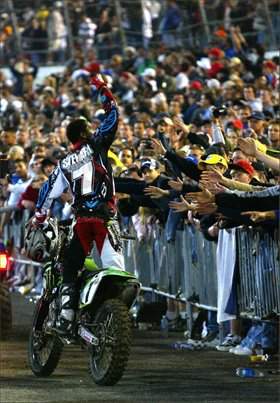 There is another sand race next weekend, and you people are going!