Privateer Profile: Kyle Tobin
The East Region Lites class has really brought a breath of fresh air in to the Amp'd Mobile Supercross Series. In two weeks we already have two different winners and 30 laps of insane action in the Lites class. We've also seen quite a few privateers step up and make the main event, one of those riders being 18-year-old Kyle Tobin of Georgia. Tobin is a member of the upstart Wonder Warthog MDK/Lucas Oil Yamaha squad, and he impressed everyone with his 13th-place finish in last weekend's Lites main event. We talked to Kyle today while he was on his way to Daytona for tomorrow night's race. Be sure to show Kyle and his sponsors support by clicking on the links at the bottom of the page.
Racer X: Kyle, what's going on?
Kyle Tobin: We're headed to Daytona. We live in Georgia, so it's not too far of a drive for us.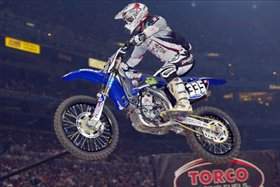 WWR-intern Kyle Tobin finished 13th in the STL

photo: Steve Bruhn

How old are you, Kyle?
I'm 18.
First of all, good job on your 13th-place finish last Saturday in the Supercross Lites class in St. Louis.
Thanks a lot, I appreciate that.
It seems like Scott Kandel and Darrle Saldana were very excited about your finish. How about you?
Yeah, I'm pretty happy with how the weekend went. At Atlanta I was just so nervous, and I was riding real tight because it was my first supercross. At St. Louis I just knew what to expect, so I just went out and did my thing. I was more relaxed and did a lot better.
What do you think of supercross so far?
Well, I kind of surprised myself, actually. The guys aren't as fast as I first thought, so that's good. But supercross is so awesome. All of the fans and Ricky and Stewart are there—it's really cool.
Are you intimidated by any of the riders in the Lites class?
Not really, because most of them are guys I raced in the amateurs.
Speaking of, how was your career as an amateur?
It was pretty good, but I didn't dominate or win tons of championships. I was always a top-three or top-five guy, and always did pretty well. I was always in classes with Alessi, Villopoto, Hill and all of those guys. And then the past two seasons I missed Loretta Lynn's because I got hurt right before it, so that put a big dent in to getting a ride for the pros. But I'm trying to jump in there and make a name for myself, and it seems to be going good.
What was your most memorable race as a amateur?
I'd probably have to say Loretta Lynn's in '04 in the Schoolboy class. I was winning most of the motos, and then my bike blew up once, and then I crashed a few times. It was the year me and Josh Hill was racing a lot, and I was beating him most of the time. I had so much speed that year, but I couldn't keep it on two wheels. I should've come away with a championship, but unfortunately I didn't
You proved back then you could run with Hill, and now he's in the factory Yamaha rig and you're in the Wonder Warthog Racing truck. Tell us how this opportunity came up.
Well, it started with Colleen Millsaps—she had told us about it, and you had to sign up online. So we did it, and Colleen put in a good recommendation for me. And then one day I got a call and they picked me to go to the tryout. So I did that and then not even a week later they called us back and said I got the ride, so I was pretty happy.
What are your thoughts on the program so far?
It's a really good deal. You get your bike transported, and I have a mechanic who works really hard. They flew me out to California for some testing, and just everything is taken care of.
How are the bikes?
The bikes are really good, and the suspension is phenomenal. Enzo does a really good job. The engine is really fast too.
Were you on Yamahas in the past?
No, I was on Hondas. I rode Suzukis before that, and this is my first year on the Yamaha. It turns a bit differently, but for the most part I like it.
If this deal with Wonder Warthog didn't come up, would you still be racing supercross?
No, I probably would've stayed back and rode amateurs. Bobby Hewitt and the Xtreme Team Green said they would've been able to help me out for the amateurs, but I really wanted to ride supercross. I had a backup plan if I would've stayed amateur, but I'm happy with the choice I made.
So do you have anyone helping you out with training and riding?
I have a trainer. His name is Larry Tobey, and he helps me with my diet and training. And then I get a lot of help from Colleen Millsaps, and I ride at MTF quite a bit.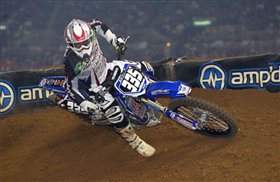 Tobin is looking forward to Daytona

photo: Steve Bruhn

What are your expectations for tomorrow night?
Just the same expectations as I had last weekend. I just want to make the main, and once I get in I just want to do my best and see what I can do. I'm still a rookie and I'm new at this, so I have a lot to learn.
Looking ahead, will we see you racing the AMA Toyota MX nationals?
We'll see how the rest of the supercross series goes, but maybe I'll get moved on to a bigger team and we'll see what I can do there. It's just a matter of getting the results and getting an opportunity.
Finally, who do you want to thank, Kyle?
I want to give a shout out to my parents for helping me out and driving me around; Dana Kellstrom, Scott Kandel and Darrel Saldana from Wonder Warthog Racing; my mechanic, Steve Stoyakovich, for putting in the late hours working on my bikes; O'Neal, Yamaha, Bob Hannah, Steve Bauer, Keith McCarty, and Todd Lachance—I just can't thank them all enough.
Kyle Tobin's sponsors:

www.mdkmoto.com
www.engineice.cc