Former privateer and factory mechanic Steve Matthes has been at every race this season in his new role with Parts Unlimited. We thought we would let him play Professor here by giving the major teams in supercross mid-season grades.
With 9 out of 16 races down in the Amp'd Mobile AMA Supercross Series, I thought it would be fun to give the teams some mid-season grades. Yes, I know usually these things are done at the halfway, but I wanted to wait for the East Coast guys to get settled in too. We talked to riders, team managers, truck drivers and other media in coming up with these grades. Remember, those teams that are doing badly, you can still graduate with a strong second half!
Here is our mid-season grades, with an A being exceptional, B meaning they've at least been meeting preseason expectations, C putting them right about in the middle of the pack, D means they need to improve, and F means failing so far:
Let me add that Wonder Warthog Racing, with its revolving door of privateer talent, deserves an A for effort.
Monster Energy/Pro Circuit Kawasaki
Ryan Villopoto, Ben Townley, Chris Gosselaar, Brett Metcalfe, Christopher Pourcel, Darcy Lange
Team Manager: Mitch Payton
Grade A+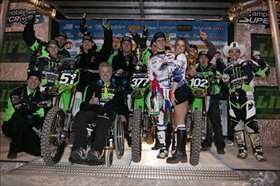 A+ for these guys!
photo: Steve Bruhn
Is it the team, or is it the riders? The PC machine consistently produces winners and this year is no different. If you build it (the bikes), they (the riders) will come, it seems. RV has just about swept the series and already clinched the title. The race he lost—oh yeah, that was won by Mitch's imported rider Pourcel. The East guys have performed as well. Lange is a late pick-up that maybe should have won both Atlanta and St. Louis, and Townley had a DNF (after his own shot to win Atlanta) and a win to start the series. The only downsides are Lil' Goose hasn't been quite as good as last year and
Brett Metcalfe
has been hurt.
Monster Energy/Factory Kawasaki
James Stewart, Tim Ferry
Team Manager: Mike Fisher
Grade A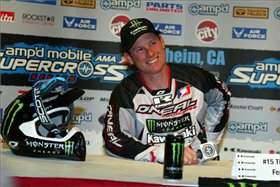 Tim Ferry has been a pleasant surprise in '07
photo: Steve Bruhn
What can you say about these guys?
James Stewart
has pretty much done what everyone thought he was going to do. I would say that he has even calmed down a bit (just a bit!) and rode some smart races. He just has to keep on keeping on and the only way he loses the title is an injury or multiple crashes. Also, Mike Fisher looks like a genius for signing
Timmy Ferry
. There were eyebrows raised when it was announced that "
Red Dog
" was hired for the spot, but Mike saw something that most missed. He is the surprise of the SX season with multiple podiums.
Boost Mobile/Yamaha of Troy
Kyle Cunningham, Jason Lawrence, Matt Goerke, Ryan Morais Team Manager: Chris McAvoy
Grade A-
This team has exceeded expectations with riders that were picked off the scrap heap; Jason Lawrence was considered a HUGE question mark coming in, Cunningham a first-year pro, Morais very injury prone, and Goerke has limited SX experience. So J-law has been the second best guy on the West, with Cunningham ranking tenth in points in his rookie year, despite missing a race. On the East, incredibly Goerke and Morais are tied for the series lead after two rounds! I think some of the credit has to go to deposed team manager Dave Osterman, as he did take some risks with these guys and it has paid off. The bikes look fast and are working great also.
Cernics/Moose racing Kawasaki
Jeff Gibson, Paul Carpenter
Team Manager: Derek Sorensen
Grade B+
These guys have been better then expected with both riders making all the main events. This is a team that had a big makeover from last year and has come through looking like a super model. Paul Carpenter has four top tens and I think it's safe to say that is unexpected; Gibson has been steady and right in that 10th-to-15th range every race. Whatever support they get from Kawasaki should be increased next year as their future looks bright.
Voss Racing
Heath Voss
Team Manager: Sarah Voss
Grade B+
Heath has been very quietly putting together a good season. If I would've asked you at the beginning of the season that halfway through he would be ahead of Vuillemin, Ramsey and Tedesco, would you have believed me? Probably not, but guess what? He sits seventh in the points continues to be underrated by many.
Makita Factory Suzuki
Ricky Carmicheal, Ivan Tedesco, Ryan Dungey
Team Manager: Roger DeCoster
Grade B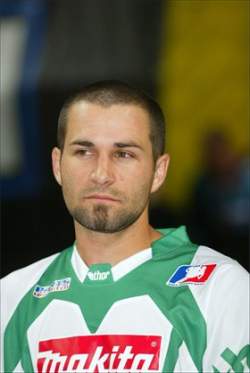 What's eating Ivan?
photo: Steve Bruhn
RC has been, well, RC. He won two races and is contention for every win. This despite a limited schedule! If he was doing the whole season you have to figure that he would be right there with a few more wins and surely a sixth title run. Heck, the guy was still second-fastest (and not behind
Bubba
by much) after taking three weeks off… Amazing!
The gamble they took on
Ryan Dungey
, based on what Suzuki Support boss Cole Gress and Answer Racing's Big E. told The Man, has rewarded the team with a surprise win and some serious speed. The downside here is Tedesco's performance. He came into the series off of an injury and though he has been better lately, with an average finish of ninth, more is expected off him.
Sobe/No Fear Samsung Honda 450
Kevin Windham, Travis Preston
Team Manager: J.C Waterhouse
Grade B-
They started off with KW struggling but Preston picking up the slack to win the "B" mains the first two races, but then Travis got hurt, and things looked bleak for the season. But now Kevin has turned a corner, going from an average finish of eighth the first four races to fifth the last five. The team needs to get both guys consistently in the top five; they have the talent to do it.
Motoworld.com/PPG Yamaha
Branden Jesseman, Michael LaPaglia, Justin Brayton, Sean Hackley
Team Manager: Paul Lindsey
Grade: B-
This team is on the rise. After a few down years they have regrouped and, with some solid signings from Lindsey, are looking pretty good. LaPaglia made every main event on the west side and the East Coast guys showed they can ride, with two top fives in the opening round. Brayton is finally rewarding these guys for the trust they had in him two years ago. All Paul needs to find a time machine and show Jesseman that he once won a championship. The downside has been Hackley getting hurt and not showing what he can do.
San Manuel Band of Mission Indians Yamaha
Chad Reed, Nathan Ramsey
Team manager: Larry Brooks
Grade: C+
These guys have been the most drastic in performance. Reed has come out with a lot of moxie, showing heart fighting through injury and basically not giving up. His corner speed is back and he won San Diego. Obviously, after watching St. Louis, one can see he is not conceding this title and will be there if James makes any mistakes. Ramsey has been a disappointment this year, not making two main events is unforgivable for the team and bike he has. His average finish in the mains he did make has been thirteenth, not good for a former main event winner. Now he's likely lost for the season with a broken wrist.
Rockstar Suzuki
Micheal Byrne, Tyler Evans, Troy Adams, Kelly Smith, Andrew McFarlane
Team Manager: Tony Sulek
Grade: C+
They have done just about what you should expect: Burner has been good, he sits fifth in the points and has shown that losing his ride hasn't bummed him out, as he right about where he was at Kawasaki. Evans has been ok, missing two mains and his average finish being 14th. Troy Adams should do better then what he's done; he should never be out of the top ten. Kelly Smith has started slow but again, he should never be out of the top ten either.
MDK/Xyience Honda
David Vuillemin, Nick Wey
Team Manager: Steve Lamson
Grade C+
They are below expectations as DV had a bad crash that seems to have hurt his surprising speed early in the season; he needs to regroup and improve on his average finish of tenth. He looked like the old Cobra to start the season and has to get back to that to recover. Nick was fighting an injury early on and rounding into form before hurting his thumb at Houston and missing four races. This grade can improve immensely if Lamson breaks top ten at Hangtown on a CR125!
DNA/BTO Sports/Butler Brothers MX
Jason Thomas, Doug Dehaan, Bryan Johnson, Shaun Skinner, Brandon Butler
Team Manager: Forrest Butler
Grade C

They should be doing better. JT$ missing five mains and sitting 22nd in points is a shocker, yes. He's had bad luck but some say you make your own luck. DeHaan has not made a main and has not looked like his old self. Skinner has yet to prove that he can ride indoors like he rides outside. The good thing is Bryan Johnson has had a career best seventh-place and has been riding very well this year before getting hurt. The team also stepped it up and has a professional looking appearance.
Lucas Oil/Star Racing Yamaha
Sean Collier, Matt Lemoine, Dusty Klatt, Broc Tickle
Team Manager: Bobby Reagan
Grade C
Good rides by Lemoine have him eighth in the points with a very surprising fourth at Phoenix. He looks to have a bright future. Klatt has done okay this year, but a few top tens should be expected—he no longer can say that he's a rookie at this supercross thing. Sean Collier is around a 10th-place guy who can show flashes of brilliance, and after Tickle making the podium in Canada, his DNQ-5 is just really bad and really good, though you have to put it in the main every week on this kind of team.
Motosport Outlet Kawasaki
Steve Boniface, Kyle Chisholm, Matt Boni, Joaquim Rodrigues, Bobby Kiniry
Team Manager: Bill Keefe
Grade C
This team has struggled a bit with better things expected of Boniface before he got hurt. Chisholm has a bright future but hurt himself in Phoenix. The team quickly snatched up J-Rod to fill in but he didn't have a lot of time and didn't show much. On the East, Kiniry and Boni need to step up and perform. They have good bikes and are doing it the right way though.
Moto XXX
Josh Summey, Kyle Lewis, Yoshihide Fukudome
Team Manager: Alan Brown
Grade C-

This long standing privateer team is one that you should pull for—they always post good results despite a shoe-string budget. Not this year, however. Summey posts top ten times practice after practice but yet has missed four mains. He has a bright future in the sport, but just needs to add some consistency and he will be right there. Lewis is on the backside of an underrated career and has missed more mains then he has made, and hasn't got one of famous holeshots for a while. Japanese champion Fukudome has made one night shows in East Coast lites class but his true calling is the outdoors.
Factory Yamaha
Grant Langston, Broc Hepler, Josh Hill
Team Manager: Jim Perry
Grade C-
Yamaha's decision to attach its apple cart to an oft-injured Grant Langston bit them at the opening round as GL crashed and DNF'd. To make things worse he broke his collarbone that next week and has missed every race since. When healthy—which he is now—he can be a top ten guy, but needs to stay upright. Broc Hepler crashed before the season begun and probably won't be back until outdoors, and Josh Hill has impressed, but he hasn't exactly exploded on the scene. Still, he has a great future and looks to be one of the favorites in '08.
SoBe No Fear/Samsung Honda 250F
Josh Grant, Jake Weimer, Ryan Sipes, Billy Laninovich
Team Manager: J C Waterhouse
Grade C-
They just haven't been there every week like we're used to seeing. Josh Grant struggled with a nasty crash in the opening practice at the first round and has never really been the guy to challenge RV like we all thought he would; Weimer has been as low as fourteenth and as high as third. In the East, Sipes is coming off a nasty crash and is toughing it out, while Lano hasn't done much yet. Better things lie ahead for these guys.
Team Solitaire
Ryan Clark, Brady Sheren, Ricky Renner
Team Manager: Ryan Clark
Grade D+
Ryan has been one of the more disappointing riders this season; he finished a very impressive ninth last year in points. He seems to find the ground in the first turn a lot and missing four mains is unbelievable for this guy. Brady Sheren got picked up late and made a main for them; the bright light has been the riding of Ricky Renner. With not much hype he has posted finishes of fifteenth and a twelfth.
Red Bull KTM
Josh Hansen, Martin Davalos, Mike Alessi, Jeff Alessi, Zach Osborne
Team Manager: Casey Lytle
Grade D+
They have had a rough year. Hansen has again been a let down: He has the talent but with an average finish of ninth he isn't getting it done for the team. Davalos was impressive in Canada and looks like he can be a contender in every race but yet he is eleventh in points. He needs to find his Canadian mojo somehow. Mike Alessi crashed out of the opener but was going backwards when it happened. Jeff Alessi has shown raw speed and with two races under him he has gone from 13th to seventh. Osborne has maybe shown the most improvement on the team and continues to bide his time.
Team Honda
Davi Millsaps, Andrew Short, Tommy Hahn
Team Manager: Erik Kehoe
Grade D (maybe even incomplete)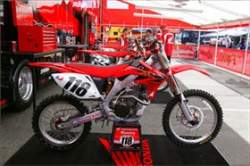 D for Big Red
photo: Steve Bruhn
Team Honda has had injured riders for most of the year. Atlanta marked the first time they showed up, but they only managed a pair of 18ths! Millsaps is still lacking speed and endurance but after a long layoff will get better and better. Hahn looked stiff in the opener and didn't qualify at the second round after crashing in the sand section. He has to do better with this ride then that. The coolest thing was them bringing out the old works bikes at the Anaheim races. All of these guys are better than they've been able to show; here's hoping their outdoor tour goes much, much better.