Monday Conversation: Ricky Carmichael
Ricky Carmichael is halfway through his "Final Four" supercross races and halfway to his goal of winning two of them. The Makita Suzuki rider won St. Louis, even though he blew the start and thought he handed the win to James Stewart or Chad Reed before even a lap was done. As it turned out, Reed ran into Stewart in a turn and the two went down, giving RC an open shot. Carmichael soon took the lead and just had to watch Reed's and Stewart's lap times to stay out front.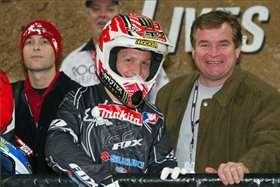 RC with auto racing star (and supercross fan) Joe Nemechek.

Racer X: Ricky, let's start with the start. What happened?
Ricky Carmichael: I'm so ticked off at my start, you guys have no idea! As fast as we're all going right now, I can't spot them. I knew when Ivan was on the inside of me, I was in trouble. I really did. I wasn't ready for the gate. It dropped fast. That's what I get for not paying attention. I got going, I came up over the first triple, and I looked up and those guys were already in the turn making the exit from the second hoops. I had to at least get up there and try to salvage maybe a second, because I knew if James got out front there was no catching him, and he was on his way to doing that. I came out of the mechanic's turn and I heard the fans going crazy, so I knew one of the two guys fell. I looked over, and damn if they both weren't laying down! I said, "All right, we're back to normal now."
That's quite a gift, as they say.
Yeah, but at the same time, I wouldn't say it was too much of a gift. There are a couple ways of looking at it. Me getting a [bad start] is a gift to them, so … it kind of equaled back out. I felt good in the main event. I felt like I rode strong. I was doing that triple-triple section, and I think I could have caught up to one of the guys at least.
Did you have some trouble avoiding both of them when they were on the ground?
Yeah, I did. When I got into the turn, I looked over and I saw James. I was going to go around the outside, but he got his bike picked up and it was pitched off [my line] right in between there, and I was like, Shoot, man, this is another U.S. Open deal right here. I tried to squirt through them both, and the rest was history.
Were you making a statement with the section you were jumping, considering last week and the section you didn't jump and James did?
No, I wasn't. I don't want to take any unnecessary risks. I want to get out of here healthy. That's why I didn't do the thing last week. Could I have done it? Yeah, but the penalty wasn't worth it. I felt comfortable doing it. That's why I was doing it. It made up a lot of time. I don't know if Reed ever did it. The last two weeks, I think that really helped James and I open our time up between us two and Chad, because we're making up some serious time.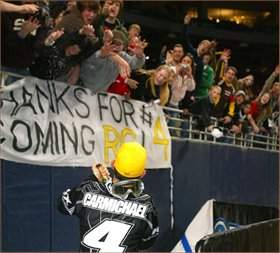 RC knows how to celebrate

How were you monitoring James and Chad's progress behind you?
About the third lap, I looked back and, dude, Reed was right there. There was only one guy between us! I was like, Damn, he got up quick—all right, we're going to see what it's all about. I was putting my head down and I was pulling away from him big time. The only guy I was concerned about was James. Goose put his lap times on the board and I had to pick it up even more than I was just trying to get a little gap on Chad. I started racing James on the track and marking him. That's when I really started putting in some good laps.
That was about lap 8 or 9 when Goose gave me a pit board that said #7, and he was pointing at his lap times and I saw mine. About the tenth lap, once he got past Reed, I don't know if he just slowed down and he knew he was good where he was at or if he got tired or what happened, but I started keeping the same distance. I pulled a little bit from him, but it was over after that.
How did you like the sand section?
I felt all right in the sand. It got kind of beat out. The only thing about the sand is it was one-lined. One thing for track building, I don't think the sand is a good spot to have right after the start. Look what happened to Ivan—it's so deep, and there are lines going everywhere. It's a bad place to put the sand. They know now, and we don't need to see that happen again.
Hey, what about Joe Nemechek visiting this race?
Yeah it was cool to see Joe come out. Those guys only have three weekends off in 36 races, so it was cool. The guy is a super huge fan, and it's a good bunch of guys, that whole car racing crew. We';ve become good friends, and his son races too, so it was cool. They just love the sport.
Is this Daytona coming up going to be a strongman contest or "lines and bike setup?"
The way it's getting now, unless it's a true outdoor, the bike setup has a lot to do with it. I hope they make it similar to the traditional Daytona. It will never be what it used to be with it running at night, but if they could just roll it out a little bit and not make it so peaked, it's going to be a tough man's race like it always is. I feel way more comfortable going there next weekend than here, for sure.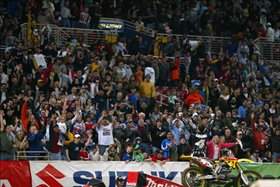 Two more races left for RC

You said you wanted to win two of these last four, and you have one of them, with just Daytona and Orlando left. Are your chances better at Daytona?
I wanted to win two out of the last four, and three would be icing on the cake. James comes alive all the time, and he put a clinic on at Orlando last year on all of us. I'm expecting him to really be at his best at Orlando. I feel like I have something in the tank at Daytona.
Have you been riding your own Daytona track at home, or are you going to get ready at Bithlo?
[Laughs] That's the thing, you never know about Daytona anymore—what to ride or what to build! I have built a little bit of sand with some whoops and stuff like that, and a little bit of rutty turns. Hopefully it will be good. With us racing on Friday, it's hard to get much done anymore. It's going to be a short week. But this was a good weekend. I like this place a lot. The dirt here at St. Louis is really good. We'll go on and test this week and try to get Ivan back and see what Ryan [Dungey] is made of. He's had a bad weekend, and he needs to rebound. Daytona is going to be interesting.