The champion has left the building, so a bunch of contenders are looking to move into his office. After Juha Salminen dominated the Can-Am Grand National Cross Country Series for the past two seasons, the friendly Finn decided to return to Europe and rejoin the World Enduro Championship that launched his career. He took two titles and 17 GNCC wins during his 24 months in the States, so the mere fact that he is gone will give the GNCC field a huge boost of confidence heading into the 2007 campaign, which opens Tuesday, March 6, with the Parts Unlimited Triton GNCC in Vero Beach, Florida, part of Daytona Bike Week.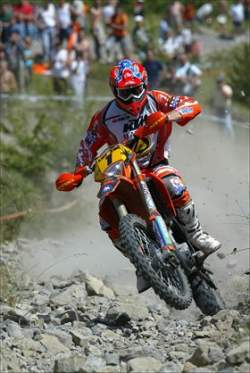 David Knight.
Jonty Edmunds photo


With Salminen out, a potent field of contenders now has sights firmly settled on the GNCC Championship, a fact which promises to present one of the best GNCC title fights of all time. You will have the typical GNCC elite—riders like Barry Hawk, Charlie Mullins and Glenn Kearney, all fired up over the chance to battle without Juha—tangling with Salminen's KTM replacement, off-road world beater David Knight. Adding more intrigue is the invention of a new class, the XC2 Pro Lites class, which is a 250F class designed to launch the next generation of GNCC stars. Add it all up and you've got a lot of questions to answer heading into the series kickoff in the Florida sand.

The Knight factor is literally the biggest of them all. The big man from the Isle of Man has won everything in sight during the last two years, including two World Enduro Championships (including a perfect season last year), and overall win at the ISDE, two wins at the Red Bull Last Man Standing, a Maxxis EnduroCross triumph, and even a win in a beach race over Stefan Everts a few months ago. Knight has been almost unstoppable over the last two years, as his combination of strength and size (he stands 6 feet 4 inches) as well as skill (he grew up as a trials rider and possesses alien-like talent and technique in technical terrain) make him hard to stop. As big of a gap that Salminen has left, it's not hard to imagine Knight being able to fill it. At the very least, the Red Bull KTM team is counting on it. Knight broke a bone in his hand a few weeks ago which has hampered his training, but reports from those who have seen him testing indicate he'll still be plenty fast even when he's not 100 percent.


Knight did race a GNCC last year to get a feel for the series, and he ended up with an unheard of (for him) fourth place finish. Many think Knight took the race too lightly, especially when he took the early lead and started pulling away. But a lot can happen in a three-hour GNCC, and assorted bike troubles and other issues sent him back into the pack. Did he dig down deep enough? Was he caught by surprise? The mental side of that one race in Ohio will tell a lot about the '07 GNCC season.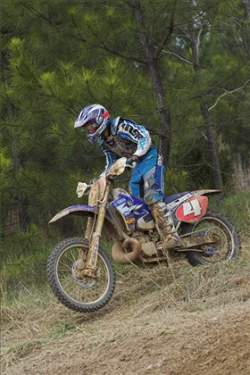 Charlie Mullins is hoping to avoid the sophomore slump.
Ray Gundy photo

That
Ohio
round was billed as the "race of champions" since Salminen and Knighter were finally getting to face off. But the rest of the GNCC pack wasn't happy about taking a back seat, and indeed Hawk, Kearney and Mullins rode as hard as they ever have holding the KTM duo off. Ultimately they swept the podium and left Knight and Salminen in fourth and fifth. Clearly, the Hawk-Kearney-Mullins trio is motivated for this year's series, and they won't be caught by surprise like they were when Salminen entered the game in 2005.
Hawk and Mullins have spent the last few months training at Randy Hawkins' ranch in South Carolina. The H-Ranch is a frequent stop for off-road travelers, but this year it featured a new tool with two-time AMA National Hare Scramble Champion Jason Raines acting as the resident trainer. Raines should be a GNCC title contender himself, but the 28-year-old has re-broken his leg three times in the last two years, and won't be able to race until the fall. In the meantime, he's transferred his infamous training regimen over to Hawk and Mullins.
"It's pretty intense," says the super-talented Mullins, who completed the best rookie season in GNCC history last year. "We've been working a lot harder than the past few years we were down here. My conditioning now, it's nowhere near compared to last year. At this point, it's pretty much all mental, really. Just to know you can ride that hard and that strong. I've been sand riding a few times, and pounding down the laps, I don't get nearly as tired as I did last year."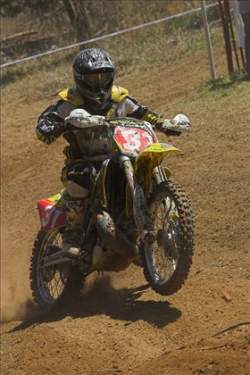 GNCC legend Rodney Smith has moved on to part time racer status like fellow Suzuki rider Ricky Carmichael. He'll race Florida in the XC2 Lites class to help develop the RM-Z250 for off-road racing.
Ray Gundy Photo

Mullins' talent and speed has never been in doubt, but many have wondered about his conditioning. This year they should wonder no more.
Kearney, meanwhile, has been staying in California with Rodney Smith, who certainly knows a thing or two about preparing for GNCC title runs. Smith himself is down to part-time racer status this year, in fact, many in the Suzuki off-road camp compare his presence to that of Jeremy McGrath with Team Honda's supercross crew in 2005-2006. Suzuki is also employing two other riders, veteran contender Jimmy Jarrett and Australian rookie Josh Strang. But Kearney is the leader of the group. He has quietly grown into major contender, and should have won that Ohio race last year had he not yielded to Hawk in the final mile when he failed to realize it was the final lap.
But Knight is still the big factor. There are many—including Hawk—that believe the loss in Ohio last year will only give him more motivation for the coming year. "Juha came over for a race in '04, and he finished second behind Jason (Raines)," says Hawk. "He probably realized he would have to go home and do some work to be ready to win when he started racing here full time. With Knight, he might feel the same way."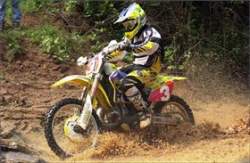 After third and fourth place finishes in the series in his first two seasons here, Australian Glenn Kearney is a serious title threat.
Ray Gundy photo

The series starts in the
Florida
sand in
Vero Beach
, an hour south of Daytona off of I-95. This is a new facility for the GNCC tour, and rumor has it that the track will offer more woods and tight terrain than last year's
Florida
opener, which featured nothing but sand whoops. Still, the track will be different than the hard woods, mud, rocks and hills that define most GNCC events, so the one can only take so much stock in Tuesday's results. But several privateers have spotted Knight training down in
Florida
, and he's reported to be absolutely flying. And remember, he beat Everts at that sand race a few months ago….
But the rest of the GNCC pack won't let him have it easy. When asked if he will be happy with another solid season with a few wins and second in the series standings again, Hawk says: "No. No way. Second place is first loser."