Privateer Profile: Bryan Johnson
It's been a bittersweet week for DNA Energy/BTOSports/Butler Brothers MX's Bryan Johnson. The Supercross-class rookie had the best race of his career last weekend in front of his hometown crowd in Atlanta, where he finished seventh in the main event, beating veterans like David Vuillemin and Heath Voss. But less than a week later, Johnson suffered a hard get-off while practicing and fractured his kneecap. It's just a freak accident, but Johnson remains confident in a quick return to action. We talked to him for today's Sponsorhouse.com Privateer Profile. Be sure to show Bryan and his sponsors some support by clicking on the links below, or by picking up a can of DNA Energy Drink.
Racer X: Bryan, a seventh-place in front of your hometown crowd in the Supercross class, you have to be on cloud nine. But then again, we just received the press release saying you broke you kneecap! What a bummer!
Bryan Johnson: Yeah, I was just practicing yesterday, and in a rhythm section, my bike locked up on the face of a triple, so I had to jump off. I cracked my kneecap. My knee and ankle was bothering me after that, but it didn't really swell till like after an hour. I went right to my doctor and got it checked out. Now it's really swollen!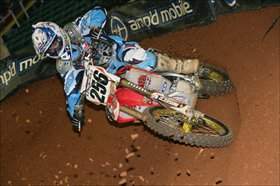 Bryan Johnson finished seventh in Atlanta

What's the recovery process—just stay off of your leg?
Yeah, just stay off of it. I'm going to get an MRI just to make sure there's nothing else. My doctor just wants to get a really good look at it. But he said it'll probably take four weeks, maybe a little bit sooner. He gave me a bone stimulator to increase the healing.
Well, enough of the depressing injury talk. Man, how stoked were you on finishing seventh last weekend?
Yeah, finally, it went pretty good. The start of the season on big bikes started out well, but I did have some bad luck. I was running ninth and got a flat tire, and then the next world round my bike blew up. And then in San Francisco I was running seventh and crashed out. So just to put it all together was really good.
Where does that race rank on your all-time list of best races?
Oh, I consider that the best one. I've won some heat races, and a sixth-place is my best in the Lites class, but I consider this the main class. And the guys who finished in front of me are amazing.
Was that a difficult race for you, or did you feel pretty comfortable?
I felt really good. I got an okay start, and a few guys went down on the first lap, and I just rode my own race. My mechanic, Willie, gave me my lap times every lap, and I just tried to keep them consistent.
What did you think of the track?
I thought it was one of the more difficult one, just with it being so rutted.
What made you decided to ride the Supercross class this year, opposed to the Lites class?
It was just something that was put on the table. I wanted to change bike brands just to try something different, and this is what was offered. The Butlers and I have been really good friends through the years, and they approached me and asked if I wanted to ride 450s. I wanted to ride 250Fs, but I like the 450 a lot too.
I bet everyone on the Butler Brothers team was pretty excited.
Yeah, all of the DNA Energy Drink guys were there, and that's the main sponsor, along with BTO sports, so it was really good to do well for them.
Your preparation this season looks to be the best that it's been. Are you doing anything differently?
Just being healthy. I've put in a lot of laps over the off-season with Colleen, my dad and my trainer. We all focus on everything from nutrition to riding and training. So being able to come to the races with the confidence that you're not going to get tired makes everything a lot better.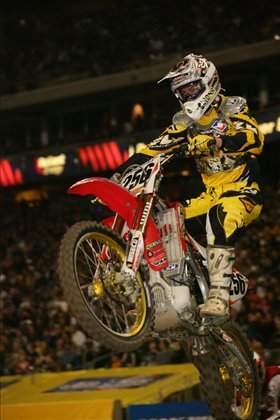 Johnson is out now with a broken knee cap

For readers who don't know, you actually live near Davi Millsaps, and you guys are almost like brothers. Is it nice to have someone like that to ride and train with?
Yes, Davi is an amazing rider. I consider him to have just as much talent as James and those guys. He's still recovering from his broken femur, but he teaches me a lot, especially in the whoops.
Atlanta was Davi's first race back, and you beat him. Did you rub that in?
No, he's beat me so many times. But I lapped him, so everybody said something to him about that! But I knew he got tired and wasn't up to speed. It's good to beat him, but I'd rather beat him when he's 100 percent.
Is this injury a blow to your confidence now?
No, not really. It's just a freak thing that happened. I'll be back in four weeks, hopefully a little sooner. I want to return to the Indy or Orlando—it just depends. We have to wait till the swelling goes down before we could tell. Heck, I can be back in two weeks.
Are you going to St. Louis with the team this weekend?
No, I'm just going to stay home this weekend.
Well, I'll let you get back to rehabbing your knee. You have anyone you want to thank, Bryan?
I'd like to thank everyone at the DNA Energy Drink/BTOSports/BBMX team. Also, Rick Case Honda and Fly Racing, my dad, Colleen Millsaps, and my mechanic, Willie Manning from WMI.
Bryan Johnson's sponsors:
www.seminoletribemotocross.com