Welcome to the Shift Number Cruncher. I had a whole slew of numbers ready to roll for when the series made the East Coast swing. I tried to get ahead of the game and do some research on some numbers I thought would be cleaning up inside the Georgia Dome. Hell, I had a pile of #60 stuff, #800 stuff, #101, and after seeing the practice times, Bad Billy called me and told me I had better get a short stack of #105s at the ready! I was ready for anything…

Except number 62! People were talking about how well
Ryan Dungey
was riding on the Suzuki factory track, but I don't think anybody had a clue he would show up at his first professional supercross race looking like a wily veteran. Young Dungey produced smooth, methodic practice laps and displayed unshakable confidence on and off the track. The man more than deserves to steal the spotlight for this week's Number Cruncher.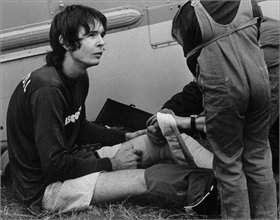 Mark Blackwell
photo: Dick Miller Archives
This is the earliest picture of a guy that raced with #62 we could find. We aren't sure if this was the year exactly, but we think it's pretty close. This is
Mark Blackwell
and he wore number 62 in the 1971 Trans-AMA series. He was 500cc national champion based on being top American in the series before they had a designated series.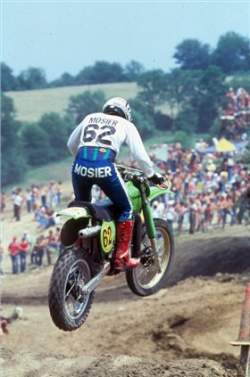 Gaylon Mosier
photo: Dick Miller Archives
Here we have the late
Gaylon Mosier
. This photo is from 1978 at
High Point
Raceway when he was riding for the Kawasaki factory team in the 500cc class. Mosier was a well-respect rider from Huntington Beach, CA, who rode for Wheelsmith Maico, Team Honda, factory Kawasaki and more during his versatile career. Tragically, his life would be over less than two years after this photo was taken: Gaylon was training on a bicycle near
Unadilla
when he was hit by a truck and thrown off the road.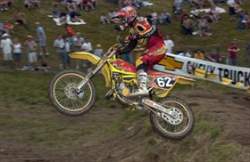 Josh Woods
photo: Steve Bruhn
At one point in time,
Josh Woods
was on his way to the top. Woods enjoyed an amateur career that boasted two Lorreta Lynn's championships. His second title in the 2001 250 A Pro Sport class propelled him into the fire of professional racing as hot property and a hopeful contender for 125 supercross championships. But Josh has had a rough road since then. Though he did manage to reach factory status as a member of the Red Bull KTM team at one point. Josh is still digging and just completed the 2007 BooKoo Arenacross series where he is making a good living for himself.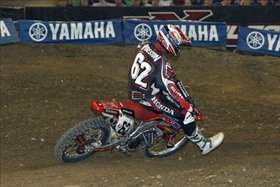 photo: Steve Bruhn
It's cool to look at this 2004 picture of
Travis Preston
riding the 450 for Factory Connection. While he was unable to reach new heights when he was moved under the factory Honda awning, it is easy to see why a personality such as his would enjoy the lower key vibe of a satellite team. Now it's good to see Mr. T back with the team he won the 2002 West Coast Lites championship with and back in the top five at the beginning of the 2007 Amp'd Mobile Supercross series. Here's hoping to a few more good years from Preston.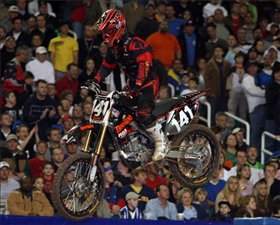 photo: Steve Bruhn
The French must not be very big on number 62, because in the past two seasons a French-born supercrosser has earned the six-two, only to choose to race with their more familiar three digit.
Steve Boniface
put in some good rides in 2006 but could never meet his full potential. Boniface is one of those guys that have blinding speed, but can't quite put it together.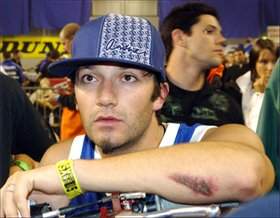 Eric Sorby
photo: Steve Bruhn
Man, this cat always seems to be shrouded in controversy. Remember in 2003 when he would fade in the 125cc main events and start blocking like it was his job? He actually ran
Travis Preston
directly into the iron finish line stand at San Francisco that year too. The bay air must not mix well with his system because he performed a similar move on
Chad Reed
a couple weeks ago (though he did look like he was just trying to get out of the way). Well, in 2005
Eric Sorby
earned #62 but he moved back to France where he rode a privateer CRF450. Sadly, the highlight of his year was wrestling
Jeff Alessi
at the Bercy supercross.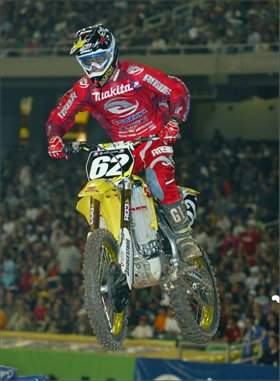 photo: Steve Bruhn
Minnesota's
Ryan Dungey
came in way under the radar and shocked the world by dominating the Lites class in ATL last weekend. The world might not have been listening when he won the 125cc Schoolboy class at Loretta's in 2005, but I promise you he was heard when he stood arms up on the podium last Saturday night. A silent killer, Dungey came into 2007 with no hype, no drama; just hard work and sharp focus. Man, kind of sounds like the cat stomping a mudhole in the comp out west? You kids listening out there? There is a lot more to this sport than 22s, tattoos, and an entourage. One thing is for sure, the only man that might have been as happy as Ryan last Saturday night was Roger DeCoster.
Here's some other 62's:
New England's Scott Carter wore it twice: 1998, 1996
Earl "The Pearl" May: 1994
Ohio's Hayden Richards: 1993
All-around good guy Bruce Stratton: 1992
Jay Wentzel: 1991
Missouri's Mike Stahlman: 1990 (two-time Loretta Lynn's champion)
California's Robert Naughton: 1989
New York legend Carlo Coen: '88
Illinois-born Jeff Surwall: 1983

OK, folks, now it's your turn. Show us any other #62s you have out there and we'll get you in on the redux. Send them to me at andy@mxsports.com.