Monday Conversation: James Stewart
James Stewart said he didn't change anything after San Diego, when a mistake cost him nine points on Chad Reed just before Amp'd Mobile Supercross made its way east to the rutted and sticky tracks. He regained five of those in an exciting main event at Atlanta when he held off a challenge from Ricky Carmichael and Reed dropped to third because of a mistake.
Reed, Stewart and RC all rounded the first lap in a tight group, setting up a crowd-pleasing main event in front of about 70,000 Georgia fans. Stewart battled with Reed until Reed fell on his own, and then James put in the rest of 20 solid laps. RC surged when Stewart got snagged in some lappers, but he got away again and won, with RC still looking at his rear fender.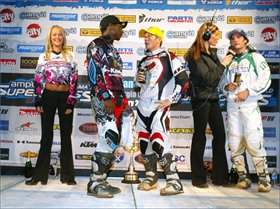 RC and James together on the podium again

Racer X: James, what happened out there? Was that one easy?
James Stewart: It definitely wasn't easy. I just had to regroup from last weekend. I came back. I knew I could make up some points in these races. I felt good. I just got caught up in lappers a little bit and RC closed the gap, but I was able to draw on my inner strength and pull it out.
He did put some pressure on you with about six laps to go. Yeah, he felt like he had a chance, and he was riding super good. I was able to dig deep and just pull back out. I knew the reasons he was catching me, and he was riding really good. I knew I had to put some good laps in and run it to the finish.
Where did you think he was making up that time?
A lot of places. I got caught up with some lappers, but he just dropped the hammer and put some good laps in. I knew I had to pick up my pace. He said he was doing this finish-line corner a little better, and he was sweeping it out and making up a little time. That's pretty cool: I just raced the guy and he's already giving me advice about the corners where he was making up time! We'll work on that this week and see what happens.
On a week like the last one, where you don't win, what changes during the week for you?
Nothing. Nothing, because last weekend was my fault. I knew I had a lot of good races this year. There's no need to go back and change my whole program over one weekend. I say it's about building that pyramid, and last weekend was one of those days we didn't go any higher. We just have to regroup and keep on building this weekend.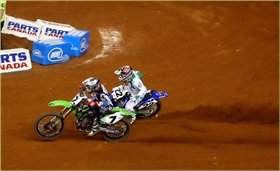 Stewart and Reed go at it in the main. Reed has plenty of fight in him until he tips over.

Do feel like all the pieces of a championship are together for you right now?
All I can do is do my best. I feel like I always had the skill and the determination to do it, and I just have to put it together. After last week, I had to come back and regroup. I try to show myself, but I'm not proving myself to anybody. I'm doing this for me and my team and my family and fans. I'll do what it takes.
Is RC riding any different since he's not out there without the title pressure on him? Is he hanging it out more?
Yeah, he's riding really good. One thing that's good about RC is he's always giving 100 percent every time he rides. He always tries. You know when you're in front of him that he's going for it. It was good. I knew he was going to be there for 20 laps, and I had to be on my game. I got it done tonight.