The stage was set for one of the great sunsets in the history of supercross. Ricky Carmichael was in the building where he won his first professional race a decade ago, the stadium was literally packed to the rafters, and he was riding with an intensity that belied the fact that he's been hanging around the stock car track for most of the last month. RC wanted to win badly, most of the fans wanted him to win, and probably a few folks down on the starting gate with him wouldn't mind seeing him ride off into the sunset with another checkered flag from the Georgia Dome.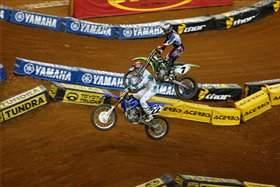 Stewart leaps past Reed early in the race
photo: Steve Bruhn
Of course, no one asked James Stewart if he wanted Ricky to win, because they would not have liked his answer! The heir-apparent had his own script he was working off of, and it didn't say anything about a super-happy ending along the lines of how Roger DeCoster won his last Grand Prix, Broc Glover won his last supercross, or Stefan Everts beat Stewart and the rest of the world at his last Motocross des Nations.

What Stewart did have in mind was this r-i-d-c-u-l-o-u-s triple leap through a rhythm section that ran the length of the stadium. He tried it once at the end of the first practice, then put that move away until he needed it—right about halfway through the main event with Carmichael inching up on him. The crowd was blown away by the sheer amplitude of Stewart's jump, and even Ricky just shook his head afterwards and said he was wearing a skirt when it came to that route down the straight. "I've got twins on the way!" he joked, signaling that he was not prepared to take the risk that Stewart was.

Carmichael shouldn't feel bad—nobody else tried it either. It was another example of Stewart's next-level skill and athleticism, and he looked as comfortable jumping down the stretch as he did riding out for opening ceremonies.

The jump was just one section where he shined. Almost as impressive was his jump-in, jump-out of the whoop section that followed. James was picking up so much speed through the whoops that he had to slow down to hit the triple that followed!

With Carmichael on hand, Stewart also picked up 5 of the 9 points he lost when he threw a win away last weekend in San Diego, so it was almost like winning two races on Chad Reed. With Carmichael's real supercross sunset three more races away, the next three weeks could get ugly for Reed's title hopes if he doesn't get right back up there.

Oh, there was one thing that Stewart did lose in Atlanta: The parade lap whip contest with Carmichael. If you were there, you know what I mean; if you weren't, think Ronnie Renner—or maybe even RC at Pontiac '98 on the 125. It was quite a trick for the old goat!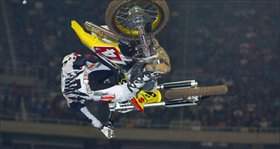 RC still can whip it with the best of them.
photo: Steve Bruhn