Kawasaki/Racer X Race Report: Atlanta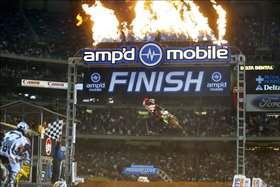 Stewart wins just a couple of seconds ahead of RC.
Ricky Carmichael returned, the East Region Supercross Lites chase began, and 70,000 fans showed up to watch it all at the Georgia Dome. Yes, it was a big night for supercross in Atlanta, and there was action to match the hype, too. But in the end, despite Carmichael's best efforts, James Stewart came out on top just like he has done so many times this year out West. The Lites class was a bit of a surprise, though, as true freshman Ryan Dungey exceeded whatever hype had been built around him when he jetted off with the victory.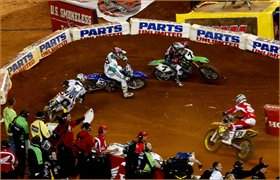 The race Atlanta wanted to see!
Carmichael's return to the series after a three-race absence was the big story coming into the event. Not only did the typically huge Georgia crowd show up to watch, but the Makita Suzuki rider showed he hadn't lost a step through his weeks off, as he was immediately fast on the track in practice. This meant that RC could easily become the spoiler in the title chase by getting in between Stewart and Chad Reed at the finish of the main. And RC was of course "super pumped" to be here and furthermore said the race would begin around lap ten of the main, which meant the big crowd was in store for a long, close, exciting battle for the win.
Reed grabbed the holeshot with Monster Kawasaki's Stewart and Carmichael right behind him, and Stewart put a hard pass on Reed to get into the lead. Reed tried to pass Stewart back to no avail, and then soon he had Carmichael all over his rear wheel. Under heavy pressure, Reed went down when he lost the front end in a corner, setting up the one-on-one battle with Carmichael and Stewart that everyone wanted to see.
By the time Carmichael had gotten into second, Stewart already had about three seconds on him, but RC buckled down and kept it close, and then when lapped traffic showed up, he moved in. Lo and behold by lap ten the fans had a race on their hands.
Stewart's best move came in the first rhythm lane on the track, as he jumped over a double and a tabletop to start through the section. Carmichael and everyone else would jump the double but land on top of the table, which meant they wouldn't catch the backside of it and thus lose time.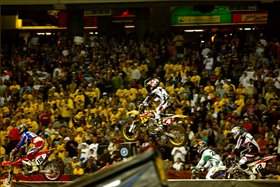 Who do you think the yellow shirt people were there to see?
"I needed to take my skirt off through that section," said Carmichael. "I just couldn't get that dang rhythm lane."
At one point Carmichael got the lead down to a second, but Stewart showed heart and strength by stepping up late and even jumping over the tabletop on the last lap to seal the win. And with Carmichael second, the spoiler was in effect, as RC helped Stewart pas his points lead.
"It took me all the way to the main event to jump that," said Stewart. "Up until maybe the fourth lap. But I knew I had to do it. That guy, I give him credit, he's always there racing you hard for it."
As for Reed, his early crash put him in a precarious position, as Carmichael's Makita Suzuki teammate Ivan Tedesco was running third and looking much better than he had earlier in the season. Reed worked hard to catch him and eventually did, and the two spent a lap bumping and banging and battling for the third place spot, which eventually went to Reed.
"I was behind James, and I just wanted to follow him and learn his lines, and see what went down, and then I went down," said Reed.
Tedesco was fourth for the second-straight week, but the ride was a breakthrough of sorts, as he finally did battle with the front runners. Sobe No Fear/Samsung Honda's Kevin Windham finished fifth, Monster Kawasaki's Tim Ferry overcame a horrible start and a crash to finish sixth, and DNA Energy/Butlerbrothersmx.com's Bryan Johnson put in the race of his life to net seventh.
Johnson's training partner, Davi Millsaps, finally made his Supercross Class debut, but it was a rough one, as crashes and obvious racing rust left him in 18th.
Millsaps was last year's East Region Lites champ, so his graduation led to a wide-open '07 title chase. With favorites like Broc Hepler and Brett Metcalfe out, too, the series was even more mixed up. In the end, Makita Suzuki's rookie Ryan Dungey came out on top, and impressive performance that backed up many of the good things people had been saying about him over the last few months. There will be competition, though, as Dungey had to deal with a slew of riders, and it should make the east exciting to watch.
Red Bull KTM's Mike Alessi grabbed his typical holeshot, but he soon had a pack all over him including Dungey who jumped to the inside in a rhythm lane and took the lead. Then Monster Energy/Pro Circuit/Kawasaki's Ben Townley was up to second and trying to put pressure on Dungey, until the halfway mark when his engine expired, leaving him with a long walk back to the pits in his first real AMA supercross. This left Dungey with a big lead, and he cruised to the win, not looking at all like the nervous rookie he should have been.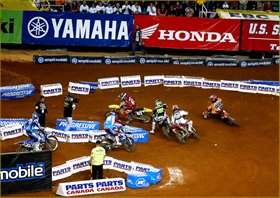 Dungey won an intense Lites main.
"I really wasn't that nervous," he said. "I just want to thank Roger DeCoster and everyone at Suzuki for the opportunity."
Certainly, they want to thank him, too.
When Townley went out, a battle erupted for the next podium spots, and eventually BT's teammate Darcy Lange rolled up to second with Boost Mobile/Yamaha of Troy's Matt Goerke right behind, and Goerke's teammate Ryan Morias in fourth, and former East champion Brandon Jesseman in fifth on the Motoworldracing.com Yamaha. Mike Alessi and his brother Jeff had rough nights, with Mike eventually having to pull off when he crashed and tweaked his shoulder.
Can the rookie Dungey tame the wild, wild east? Round two is up next week in St. Louis.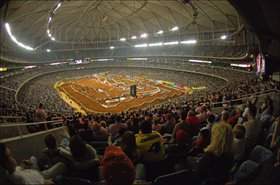 Atlanta loves supercross. The Georgia Dome packs them in.
PK Photo