Where Are They Now? Bader Manneh
"You know the guy racing that bike? He's 40 years old!" shouted the kid standing near Bader Manneh's # 987 KTM 250 SX-F in the Anaheim 3 privateer pits. It had been 22 years almost to the day that Bader won the 1985 Seattle 125 Supercross. It seemed that was the start of a brilliant American racing career, but destiny intervened and took him to Europe for the beginning of a long race career. Residing in Italy, Bader went on to marry an Italian woman and father two daughters. Now back in America for a brief stay, he has been competing at several West Region Lites supercross events.
Racer X: Bader, let's hear about your first supercross.
Bader Manneh: Sure. The first supercross I raced was in 1985, which I won. I did win another supercross in 1987, but the whole race was docked a lap. In the final standings they put me on the scoreboard as second, but actually I went over the finish line first.
Shortly after that was when you went to Europe?
Yes, it was in 1987. I had a ride lined up with Kawasaki in America for 1988, but it never went through. Then I got a call from Europe and I took the offer. It was just for a one-race deal where they said, "You want to come here and try an international race? We'll pay you some start money." So I jumped on the first airplane and did the race. I won one of the heat races, got second in another one, and then some guy crashed me out in the third; so the company was happy and I stayed. I then won one race after another - I just never left. Every year I would have offers over there. It was difficult the first few months, but after a while I got used to it and started talking Italian fluently. In America they didn't really have many rides back then, it was just the main factory teams - all the other guys were pedaling to the races.
What were some of the highlights from your European racing career?
Well, I won a couple of motocross GPs, one in 1992 and one in 1994 – and I also took a lot of seconds. But one of the real highlights was winning the Saporiti Fast Cross; that's the race where all the factory guys from America used to come over and do. LaRocco, McGrath, Bowen, and another handful of other American factory riders would always get supported to race this one-off international race. I won it one year when they were there. I was the underdog back then; when I won the race, the organizer was sad. Here he's calling all the best riders from America, and here's some nobody that comes out and wins. He told me, "Man, I knew I shouldn't have had you come to this race." He wanted a popular name to win it! So that was a real highlight. Then I won three Italian Supercross Championships and one Outdoor Italian Championship. That was in 1991 through 1993.
I first saw you race here last summer at Glen Helen, the final round of the AMA Toyota Motocross Championships. How did that go?
I was doing races in Italy, and I just got a little bit of confidence up, so I thought, Man, maybe I ought to go try a national to see how it goes. I really didn't go about it the right way. I got out here Friday night and went straight to the track, so I was dead. Saturday morning I did the qualifying session, was able to qualify, and Sunday did the race. I was disoriented the whole weekend and couldn't believe I even qualified! I had fun. I didn't feel I rode up to par, but I can't really ask much at this age - whatever I do is good for me.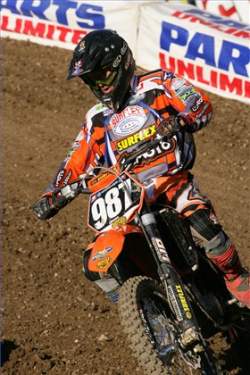 Manneh in practice at Anaheim 2

Speaking of age, do you think age is such a deterrent as it used to be?
I don't think so. The thing I notice is that when I'm training, I really have to concentrate and act like it's 20 years ago, when you only thought about training and resting right. I think that now, the only difference is that I would need more rest than a younger guy. Instead of doing all your stuff in one day, I go every other day. I believe that if you concentrated 110 percent and put everything into it, an older rider can still do it – but when you get older, you have other things on your mind. It's different for every rider. I don't know where the age limit cutoff is, but I do think a lot of riders have quit before their time.
Tell us about your family.
I got married in Italy, and I have a daughter who's 10 and one who's 17. Now that they're grown, I would like to make a future in America, because I've been living in Europe the last 20 years. I would like to do something out here. I still have a house back in Europe, where I've actually got a race lined up right when I get back. I also teach riding schools during the week, so I'm really just a part-time racer. My main job is teaching, and racing is just for fun.
What prompted you to race the West Coast supercross series?
Well, I had been racing the Italian Supercross Championship, where the tracks are real mellow. Still, I was feeling pretty confident in my riding. I said, "Hey, I think that would be neat: if I can go back and ride a supercross. Because I know how difficult the American tracks are." I just had a desire in me to do it; it was a personal challenge. I practiced as much as I could riding supercross and started feeling comfortable - that's when I made the decision. I came out here, looked at a couple tracks, and thought I could ride them. But it's actually a little bit harder than what I thought, because I was riding practice tracks, not the actual race tracks. I got out to the first supercross and everything was much bigger than the supercross practice tracks I was riding, so I was running into difficulties. I came out three weeks before the first race, and realize now that it was necessary to come out at least two months in advance. I'm just starting to break the ice now. I'm already thinking that next year I would like to do it again, just prepare myself a little better, then eventually get my wife used to America and spend a few months here feeling out America for the family. I'd like to get into some kind of job with a company where I feel helpful and use all of my abilities and experience to help them in some way. I just want to stay in the sport - I love it.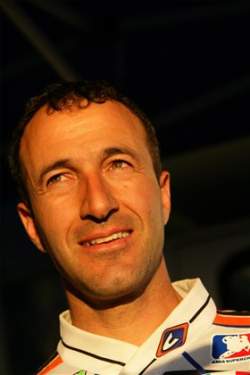 Bader Manneh won the first supercross that he ever raced back in 1985.

What's changed in supercross over the past 20 years?
I would say that the tracks have really changed. Twenty years ago, you could be an outdoor rider, race a supercross, and still do well - now you really have to be specialized. I don't think a regular outdoor rider could simply jump on a supercross track and succeed. Now it's all timing; there's no over-jumping or under-jumping anything. Everything is just a lot tighter and more technical. The teams have changed too. You've got your factory teams, satellite teams, and privateer teams - it was never this way when I started. Before, you had your four factory teams, who each had had maybe three riders. That was it; all the other guys came in pickup trucks. Now it's just a completely different story – it's really professional.
Have you found that there's been a lot of people finding you in the pits and talking to you?
It's all the old-timers; the really new guys don't know who I am. Some guys come up to me and say things like, "Hey, remember me at Barona Oaks, 25 years ago? We used to race together!" They just look at me and smile. It's good for the old boys!