(Author's note: Pro Pain is also one of my all-time favorite bands. Their single, Pound for Pound, is all about hometown ass kicking. If you've seen the timeless Fox Racing video Air Raid, you've heard it. On this, the eve of Ricky Carmichael's last dance in the Georgia dome, the title of this week's column could only be Pound for Pound.)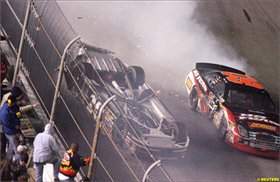 Clint Bowyer crossed the finish line on his roof
photo: Courtesy of Autosport
Hello, everyone, and welcome to the Rev Up. Last Sunday had to be the most astonishing 24 hours of motorsports coverage I have ever witnessed. The results of which had me in a zombie-like state on the flight home from Daytona. With the thought of
Chad Reed
tightening up the points lead with another win at San Diego numbing my mind, I glanced over and saw that the passenger next me was reading the sports section in
USA Today
and looking at a picture of my little brother sliding on his roof across the finish line of the Daytona 500 - on fire. He must have felt my stare because he looked over and asked me, "Man, can you imagine?" As he stared at my stone-faced expression and weary, bloodshot eyes, he just raised an eyebrow at me and looked away. Good lord, guys, I don't think there's a chance in hell that we can possibly see a weekend such as last.
Bubba
over the bars not once, but twice?
Reedy
now only 12 points out of the points lead? Can it get any hotter than that? Your damn right it can. We all know who is coming back this weekend as the 2007 Amp'd Mobile AMA Supercross Series finally heads east. We can also take into account that a new crop of Lites competitors will be taking to the track. And let me tell you, we're going to see some serious sparks fly from this bunch! I'm going to cut the bullshit. This is the biggest supercross of the year. 71,000 screaming southern supercross fans will rock the Georgia Dome this Saturday night. And it's the hometown of The GOAT. Let's get it out, enough with the small talk!
Supercross Lites
Mike Alessi basically has to show up and blow up if he wants to get back in contention in the decade-long grudge match between himself and Ryan Villopoto. As it stands now, Mikey Boy has lost the draft while RV Park is wearing his gloves out chopping wood. Not touted as a supercross specialist, #800 is a gamer, and the KTM250SX-F is a much better machine this year. Ask Zack Osborne; he nailed down two podiums riding it in Canada a couple months ago. Keep an eye out on Ozzy; this kid knows which side the throttle is on and he doesn't take any crap. Ah, but the man that will be bringing the steam in a big way is Tommy Hahn. The word on the streets is he has been flying. (Hard to believe it will be the first race of 2007 that factory Honda has a man racing in) I heard from The GOAT himself last weekend that Ryan "Tony" Dungey is on it. Ricky doesn't give undue praise, so I'd be keeping a trained eye on this cat. Ben Townley, Jeff Alessi, Matt Goerke, Billy Laninovich – look out! This class is going to be nasty.
Supercross
The key to the next open chapter in this book of motocross warfare is the entry of one
Ricky Carmichael
for his last appearance at his hometown race. That has never been and never will be an athlete like RC. In any sport. Ah, but hey, the coolest thing about him racing this weekend is the fact that James and Chad are lining up next to him. They are the catalysts that complete the equation. After seven rounds, those two are only separated by a dozen points. Chad has finally shaken the effects of his pre-season injury while Stewart cannot seem to shake his chronic case of crashitis. Remember that old sticker that read, "Caution: rider may bail at anytime?" It seems to apply to James, especially around the finish line. That step off at San Diego could have been the end of his 2007 SX season. What is it with his tendency to crash on the finish line? Remember Anaheim1? How about Toronto? Or what about that spread-eagle job at Seattle last year? Remember his collarbone bone crushing crash on the finsh line triple at Vegas 2003? Talk about an eerie coincidence. The good thing is he didn't get hurt, and his spirits seems unfazed. And everytime he has an off weekend, he seems to come back with a vengeance. He'll need to come back with great vengeance and furious anger if he wants to win in the ATL this Saturday night because # 4 wants this one really, really, badly.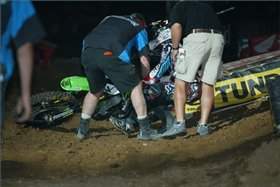 Will Bubba shake the crashitis?
photo: Steve Bruhn
As I glance over to the Racer X Power Rankings I can only scoff as I see The GOAT ranked third. You know what he's been doing on these off weeks? Riding. Training. Watching. He's been shadow boxing over the notion that this is his last charge for his hometown crowd. Grab a knee and listen! He'll go out and be within a half second of the fastest time in practice, win his heat race and the main event. Get ready folks; 5'6" and 155 pounds of pit bull is coming your way. Pound for pound let's hear it for the hometown!
Thanks for reading, see you next week.