Between The Motos: Mike Buckley
This weekend at the Indy Trade Show, Dunlop Tires presented the latest of their popular "Legends" posters, this one featuring American off-road icon Malcolm Smith of On Any Sunday fame. Dunlop's own Mike Buckley was there to unveil the new poster, placing Smith with the likes of Kenny Roberts, Bob Hannah, Ricky Johnson and Broc Glover. The proceeds for the sale of all of the posters go to the Clayton Foundation, which assists professional riders in need. This afternoon, we talked with Buckley, the Vice President of Motorcycles, about the whole program.
Racer X: Mike, it was a busy weekend with the Indy Trade Show. How stoked were you to get out of Peyton Manning territory finally?
Mike Buckley: [Laughs] Well, it was the first time for the Colts in a long time in the Super Bowl, and they win it. We have to come home to Buffalo, where we've been there four times and came home the bridesmaid, so it makes it a little more difficult.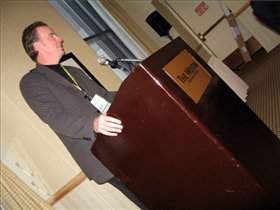 Dunlop's Mike Buckley at the podium in Indy

Well, one of the things that I got a kick out of was the presentation of the latest offering from the Dunlop Legends poster series, which benefits the Clayton Foundation. It was a pretty big deal to add Malcolm Smith to your collection, wasn't it?
It's huge. It's been a while since we brought out a new poster, and Malcolm was an obvious choice, although the type of racing he has done in his career isn't as glamorous as some of the heroes we have previously in the legend series. It certainly is an very important part of what our sport is about and what our industry is based on. So it was pretty exciting to put Malcolm in to the series.
Tell us a little bit about the genesis of the whole program. I remember Ken Vreeke saying that he just wanted to bring out some of the Dunlop legacy over the years, but when people saw some of the original posters, that led you to think 'Hey, we can do something good with this.'
Yes, I think about four years ago we started to see a bit of nostalgic resurgence in some companies approach to marketing, and it actually at the Indy Trade Show where Ken saw a lot of old photos being used, and it just sparked an idea with Ken that it would be pretty cool to embark on more of a branding exercise, rather than product-specific advertising. To dig up some old photos, and bring them back and just tie it to people who have a heritage or a relationship with Dunlop, and bring it out as more of an image-type campaign. So we did that, and yeah, the response has been phenomenal. People are blown away by the imagery, but they're also blown away by the fact that we would do that. And it just led us all to sit there one day and say, 'Hey, this is something we could probably do some good with.' Because the requests for the artwork is staggering, so we decided to make this stuff available and work with a charity, such as the Clayton Foundation, which was a logical choice.
So we worked with the Clayton Foundation to get it structured properly and how we would roll this thing out, and we started selling posters, and two years after we started we're $45,000 to the good of the Clayton Foundation.
That's fantastic. I know that as far as the actual legends go, you have everyone from Kenny Roberts to Yvonne Duhamel, from Kent Howerton to Broc Glover…. Isn't Jeremy McGrath a life-long Dunlop guy?
Yeah, I think we have to find black and white photography of that guy, though.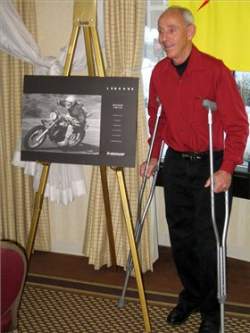 Although he broke his hip less than a week prior to the show, motorcycle legend Malcolm Smith still made a point to attend Dunlop's presentation.

I got it! I'm the first one who took the first photo of his nac-nac.
Wow, I think that's a no-brainer for what you'd want to put out there for Jeremy. Really?
Yeah, I will dig it up. It was at Houston in '94—the second round of the AMA Supercross Series. The one he did in Orlando at the opener caught every photographer—including myself—off guard. But we were all ready the next week; I was just the one who got lucky picked the right jump he was going to try it on.
You know, I was in Orlando for that first one, and I was one of those guys whose heart fell to the floor when he did that. I had no clue what he was doing!
It looked like he was falling off the bike. Anyway, as far as the posters go, I have my personal favorite: I really like the RJ photo, where he has the checkered flag in his mouth from the '87 des Nations. I believe that is a Paul Buckley photo. But the new one of Malcolm—what a bitchin' photo that is. And Malcolm knew exactly where it was, when, how and why he was riding with that big oversized front tire.
I guess that was just a lucky tie-in that it ended up having. Most of the imagery, we're not selling product with this stuff, but it was interesting to hear Malcolm relay the story about going with that bigger front tire to make sure he could make it through that event (the '71 Baja 1000). But you're right, it's an absolutely remarkable shot of him, with that helmet being practically sucked off his head. That is determination, personified.
It was also really cool when he got up to unveil the poster himself, because the man broke his hip six days ago!
Yeah, I called him and told him not to bother coming, and that we could find another time to do this. But he wasn't going to miss it. Just like the photo, he's all grit and determination. I saw him on Sunday afternoon in the show, and he done some time in the MSR apparel area, and he was on the crutches still, and he said, "It's my time now. I'm going to go see the show." And I said he could probably get a motorized cart to go around on, and he just looked at me as if he was saying there is no way he's going to do that. He then hobbled off on his crutches to see the show.
For the people who don't know, Mike, where can people find the catalog of posters online—including this new one of Malcolm?
You can go to the Cycle News website, and there is a link on the front page at all times to get to the library of photos. That's the simplest way to view and purchase the posters.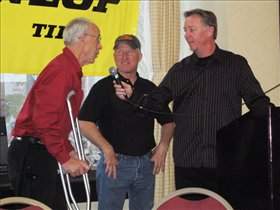 Malcolm Smith, Kenny Roberts and Ken Vreeke

Well, I appreciate you inviting us along, and I think that this one of Malcolm may challenge the one that I think is the leader, which may be the Kenny Roberts start photo.
Yeah, the Roberts one has been the biggest seller. That's why it was really cool to have KR there for the event. We're certainly hoping that the Malcolm poster brings a little renewed interest to the series. But I agree with you. As much time as Malcolm has spent out there in the industry, working with dealers, I got to believe that he's everybody's hero, and hopefully this thing will challenge the Roberts poster. Thank you guys for coming out. We really appreciate you guys giving this thing the publicity so we can all help to take care of injured riders.
It's a great cause, and they're some pretty cool posters. It's a win-win situation.
Thank you, Davey. Take care.