Bench Racing Ammo: Fast Foreigners
With Chad Reed's win this past weekend in San Diego, it solidifies the young Aussie as one of the most successful foreign riders to ever race supercross on American soil. And that's saying something, considering some of the talented foreign-born racers that we've seen in the past.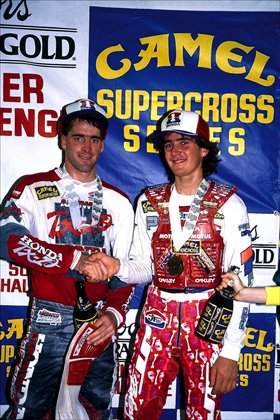 Jeff Stanton (left) and Jean-Michel Bayle were teammates and fierce competitors in the early '90s
photo: Courtesy of Moto Verte
Jean-Michel Bayle will always be known as amazing success story here in the United States. The enigmatic French racer set the supercross world on fire in the early '90s, winning races every season from '90 through '92, for a total of 16 250cc victories. He beat his Honda teammate Jeff Stanton for the 1991 250cc SX championship, and then turned his focus to road racing and said goodbye.
Another Frenchman who has had some impressive runs in American supercross is David Vuillemin. A decade following Bayle's success, it was Vuillemin who was winning 250cc SX races on a factory Yamaha. Although he didn't win races in consecutive seasons, Vuillemin did win four 250cc main events in 2000, and three more in 2002.
And looking back at some of the other international racers, there is a small list of riders who were able to win a 250cc supercross main event, but nothing more inside the stadiums. In 1997, South Africa's Greg Albertyn won the opener in the Los Angeles Coliseum, and France's Sebastien Tortelli did the same the following season. Both are multi-time world champions, but neither won another SX race in the states. Same goes for Belgium's Roger DeCoster, who won the '74 Daytona 500cc Supercross, but that was all indoors.
Pierre Karsmakers won the '74 AMA Supercross title with a single win along the way at Daytona—the same day DeCoster was his only SX. And Jaroslav Falta from Czechoslovakia won the '74 Superbowl of Motocross at the L.A. Coliseum.
There have been other riders with 125 SX wins—Mickael Pichon, Stephane Roncada, Pedro Gonzalez,
Chris Pourcel
—but they did not (or have yet to) transfer that success to the AMA Supercross class.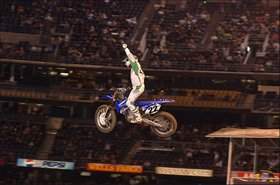 Chad Reed's San Diego win marks his fifth consecutive season winning at least one SX main event. That's a record that even RC doesn't have!
photo: Carl Stone
So that brings us back to San Manuel Band of Mission Indians'
Chad Reed
. Every year since his rookie season in the States in 2002,
Chad Reed
has managed to win races. More impressively, Reed has managed to at least win one 250cc or Supercross main event every year since 2003—that's five consecutive seasons, which is a record that even
Ricky Carmichael
doesn't have! His victory in Qualcomm Stadium last Saturday night brings his SX win total to 26, which ranks him fifth on the all-time list:
Jeremy McGrath (72)
Ricky Carmichael (46)
Rick Johnson (28)
Bob Hannah (27)
Chad Reed (26)