It's been repeated so many times that it's hard to believe it's only been going on for three years:
James Stewart
is the fastest guy on the track, but he needs to learn to slow down and limit his mistakes. This has been the analysis out of the premier class in supercross time and time again, and every time you think it's "finally" time for James to settle down and become completely invincible, he makes one more mistake and the cycle begins anew.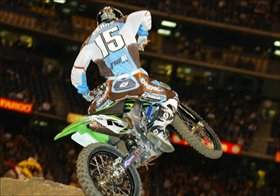 Is a win in Tim Ferry's future?
photo: Steve Bruhn
However, it's really only fair to say that Stewart's high profile puts him under the microscope and magnifies his mistakes. For a 21-year-old rider in his third year in the big class, Stewart's ride hasn't really been as rocky as it seems. He already holds a World SX title, and he's rarely ever finished off the podium, making him much more successful in his early years than, say,
Ricky Carmichael
. But when you're as good as James, the expectations are high, the analysis is deep, and the consequences of mistakes are larger
So once again
Chad Reed
has taken advantage of a Stewart mistake to win an Amp'd Mobile Supercross. Stewart had taken the lead from Reed a few laps into the San Diego main event and appeared to be working on another win when he clipped a Tuff Block and crashed taking off from the finish-line jump. Reed barely missed him on the landing, and then Stewart had to rescue his damaged motorcycle from between the doubles and stop in the pits to get his bike straightened out. Stewart was able to claw back to fifth, but it could have been so much worse. Every time he has an incident like that, he is inches away from a season-ender.
He is safe for the moment, though, and he is still 12 points up in AMA Supercross. James is in control of the championship, but to hold onto it, he's going to have to settle down and limit his mistakes. Sound familiar?
Tim Ferry
didn't give up when he was way down in the career doldrums a few years ago after countless injuries. He's getting rewarded big-time now. Timmy collected his third podium in a row with his runner-up finish. Is a win a possibility if the circumstances are right? You bet.
Finally,
Kevin Windham
is working his way back as well, finally getting on the podium in what has been a trying year. And he finished there while wearing the Leatt neck brace, which may become a trivia question somewhere down the road.