Monday Conversation: Chad Reed
Just when everyone gets done saying "Supercross will be boring now," it gets more interesting! Chad Reed won San Diego, and James Stewart finished fifth. Never count Chad Reed out.
Reed made up nine points on Stewart at San Diego when James took a big spill over the finish-line double. Reed was riding a strong race before that anyway, battling with Stewart for a few laps, then he got passed and made a mistake he was starting to make up for.
Reed's win was his first since Toronto, and it just made the season more interesting. Now it's an 11-point spread. Stewart leads, and there are 9 rounds to go.
Racer X: How do you feel after winning San Diego tonight?
Chad Reed: Relieved, more than anything. St. Louis was probably the most emotional I've felt. Tonight I feel just relieved. I knew I could win. We've been working hard with this team that got me here. Wednesday I rode from 10 to 6:20 at night. Then they pulled me off the track and said, "All right, we can't see the track anymore." We're just trying to put the hard work in to make things easier for us.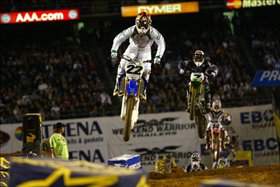 Reed led some exciting laps early in the main at San Diego.

How did the main go?
I got a great start. I would have had the holeshot, but I just got excited and went a little wide and Ivan snuck around. I'm so happy with the way things are starting. My starts are on, in the top three every weekend, and that helps a lot. I felt that I had a good pace and made a little mistake and James got by, and I saw his lines and there were some sections on the track where I was a little better. Then he just made one big mistake. He went around one of the turns and hit a Tuff Block and kind of put it out. I had to roll the table instead of going step-on-step-off. I had to roll it and he got that gap. I was just trying to keep that gap as small as possible. The next minute, I was going over the finish line and he's eyeballing me, the wrong way [on the track]. It was pretty scary.
Did you see him tumble?
I didn't. All I saw was the aftermath of the Tuff Blox in the track, and I had to veer off to the left. I didn't really know what happened, and when I did, my heart just dropped. I see his bike, and I see him just arms up just going left-right-left-right. I was leaning and he was moving, and I was like, Stay where you're at and I'll miss you! It was kind of slow but fast. I had a lot of time to think about which way to go. I didn't want to hit him. That would have been a bad deal.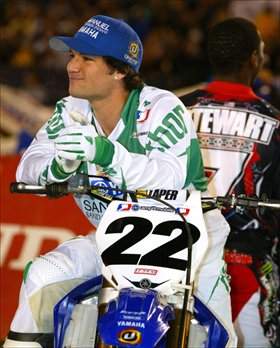 If you could sum up Reed's attitude right now, it would probably be "bring it on."

Before that happened, what was your race plan? Did you have a spot or a strategy to make a move?
At that point, he had pulled a little bit of a gap. He was just trying to keep that gap as minimal as possible and get back up there. Some sections in the back, I felt like I had a better line. I really felt good. I really felt that in twenty laps, it was going to come down. I didn't feel that he was going to ride away this weekend. That was a good feeling.
After how the practice lap times went, did you start the night show thinking about lap times?
The heat race was great. I had some good times. We changed a lot on the bike today. Even before the main event, we gambled and went with some different things. We changed out the geometry a little bit, not things that you should be changing at the race. I'm confident in the team, and we made some good choices. It made a good race bike.
How was this track?
The track was pathetic for a San Diego. San Diego normally has an awesome track and awesome dirt. It was really hard-packed, more like an Anaheim. It seems like we have such a big space in there, and it was kind of a small, tight track. It was tough to go fast on. I knew mistakes were going to play a role. I was hoping that it wasn't me making them.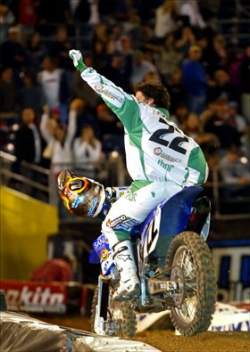 Reed waving to a full crowd at Qualcomm stadium.

What about the Leatt Brace? Everyone's talking about them.
I haven't tried it yet. I'm having one sent to Florida. We'll try it this week. It's something you need to try and see if it's good and if you can race with it. I believe in it, I really do. If I had a kid, I would want my kid to wear it. If I'm preaching it, then I need to be a good preacher and do it too. I heard something this week that I said I wasn't going to try it for the rest of supercross, and that's not true. I never said that.
You sure have a big family here tonight.
Yeah, my American family is all here!
Thanks, and see you in the East.
Yeah, I'm excited and looking forward to next week!