Kawasaki/Racer X Race Report: San Diego
February 17, 2007 11:29pm
It only takes a moment for momentum to change in supercross. Tonight 60,500+ Amp'd Mobile Supercross fans witnessed a wild night of racing at
San Diego
's Qualcomm Stadium, as Monster/Kawasaki's
James Stewart
threw away the lead after crashing over the finish-line jump, and
Chad Reed
inherited the spot and the win. It was the mistake that Reed and his Team San Manuel Yamaha team had been hoping for all season, as Stewart could only rally back to fifth at the finish, allowing Reed to pick up nine valuable points in the series.
Moments before Stewart's crash, all seemed fairly normal. Makita Suzuki's Ivan Tedesco grabbed the Progressive Direct Holeshot, but Reed soon snaked into the lead with Stewart on his tail. Then Stewart executed a pass with his patented stay-low jumping technique and looked to check out. Reed hung close until Stewart made a mistake and clipped a tough block that bounced right in front of him, causing him to mis-time a step-on jump and lose time. Then Stewart stepped on it and started pulling away, and it looked like business as usual: Stewart up front and polishing off another big trophy.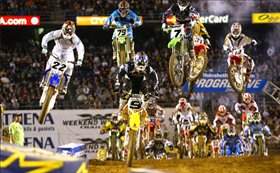 Tedesco got the holeshot!
Then he clipped another tough block on the face of the finish-line jump. He lost momentum and went flipping over the bars in between the jumps of the finish-line double. Reed almost clipped Stewart when he landed from the jump, and suddenly he had the lead and the opportunity he had been looking for during the last seven weeks.
Stewart was in a precarious spot in between the jumps, and by the time he finally got back on his bike, he had lost plenty of spots. He rode back into the mechanics' area to get his bike straightened out, and was outside the top ten. Then the charge was on to try to make up as many points as possible.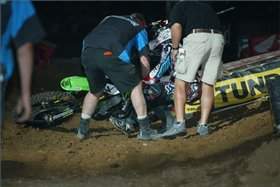 Stewart actually wadded in the show opening, and his main was worse!
Meanwhile
Tim Ferry
and Sobe No Fear/Samsung Honda's
Kevin Windham
were battling for third, and then second after Stewart crashed. For the second week in a row, Ferry edged
Windham
, but KW was pumped to finally bag a podium. Tedesco, who has struggled mightily lately, held on for fourth, and Stewart made it back to fifth. The finishes of the entire top five could be credited to the spirit of never giving up.
"I'm telling you all right here, no matter what happens I'll be back racing here next year," said Windham, who will turn 29 this month but is not at all giving up on racing at the front of the pack. And Ferry admitted that a win is getting "more and more realistic right now. I wish I had gotten the start I had last week, I think I was able to match Chad's pace at the end of the race and maybe even close in a little bit."
Reed, however, had the best mood of them all. "I love this place," said Reed. "I have had so many great races here, and this is huge for me. Second place was getting really old. It's a shame to see James crash like that, but this is a big relief for me because I know I can win."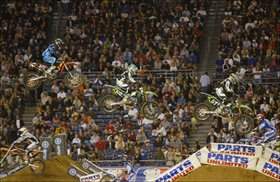 The Amp'd Mobile AMA Supercross Series heads to Atlanta next week.

History was made in the Lites class when Ryan Villopoto jetted away with another win, and clinched the West Region Lites Championship. Yes, the kid earned a number-one plate in mid-February. Villopoto's teammate Chris Gosselaar grabbed the holeshot, but soon Villopoto worked around him to take the lead, and the title, basically. A great battle broke out behind that, with Gosselaar, the Red Bull KTM tandem of Martin Davalos and Josh Hansen, and the Yamahas of Jason Lawrence and Josh Hill all going at it. Lawrence rolled through them all to take second with Gosselaar holding off Hill by a bike length to get the final podium spot.
The West boys are done for ten weeks with the East Lites riders starting their series next week in Atlanta. And that Ricky Carmichael guy is scheduled to return. Yup, things can change really quickly in this game.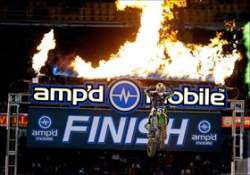 Villopoto clinched the west title one race early