Where Are They Now: Buddy Antunez
February 16, 2007 11:23am
An old minicycle magazine article called Buddy Antunez "The Youngest Racer." At 3 years old, that isn't too much of a stretch. In 1976, Buddy lived on a street with many motorcycle-riding enthusiasts. In fact, Eddie Lawson lived just two blocks away! So it was no surprise to Buddy's dad when he began asking if he could have a bike of his own. His dad surprised him with a Honda MR50, and that was the start of something big for the guy we all know as the Bud Man. It wasn't long after he got the bike that Buddy and his father started going to local races on the weekends.


"Anyone that knows Big Bud [Buddy's father] laughs when I tell them about my first few races, Antunez says. "He had to hold me up on the start line because I couldn't touch the ground on my 50. Then, as soon as the gate dropped, he would chase me around the entire track. Pops used to be fit back then. Anyone who ever rode at Escape Country [behind Saddleback Park] knows how many hills there were, and he used to follow me up all of them."
His father's support didn't stop there. The two made a few of the amateur nationals in 1982 in the family truckster they called Betsy, an old pickup with a camper shell on it. They pulled a tent trailer behind that and strapped the bikes to the top of the trailer. The Antunez crew looked a little ragged at first, but Buddy finished fourth at the World Mini and then won several classes at Ponca City later that year. Those results helped him get a Team Green ride the following year.
Antunez continued to be competitive for the next several years in the minicycle ranks with Team Green. In 1985, however, Buddy got an offer he couldn't refuse: Rudy and Dean Dickerson of R&D Racing offered him one of the spots on their minibike team. For the next five years, Antunez went on a tear, winning every mini race on the calendar. He is still considered one of the best 80cc riders ever.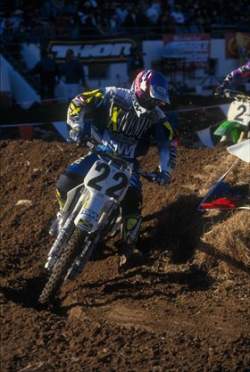 Antunez rode for Team Great Western Banks
photo: Racer X Archives
"R&D was the equivalent of having a factory ride in '80s," Buddy says. "Their bikes were total works bikes compared to anything else at the time. I think DMC had a pretty sweet bike back then, but Rudy and Dean's stuff was just amazing. Those guys made my days on an 80 really special. They were a huge part of the success I had."
In 1990, Buddy turned 16 and signed with factory Suzuki. He won three 125 supercross main events in his first year and finished third in the series. He finished fifth in the national motocross series. The following year was rough for him, as injuries kept him off the bike for much of the year. He left Suzuki and signed with the newly formed Peak/Pro Circuit Honda team for the 1992 season. It turned out to be a good move.
Buddy finished second in every single supercross race that year to his teammate—a guy named Jeremy McGrath. It was a good season, but the next year he was not eligible for 125 supercross and it cost him his ride. He was a privateer in 1993 on a Honda, logging consistent finishes. The next four years saw Buddy go from privateer team to privateer team, trying to get a break racing 250 supercross and 125 nationals. He finished as high as fourth overall in the outdoor national series with the Great Western Bank team in 1996.
In 1997, Antunez made another brilliant career move. He took a privateer Honda and started racing the Mike Kidd arenacross series. Antunez went on a streak that still hasn't been broken, including more wins than any other rider in arenacross racing and five titles! Buddy is to arenacross racing what McGrath was to supercross: The King.
In 2002, Buddy decided to give supercross and motocross one more try. His 125 eligibility had been reinstated and he signed with his longtime arenacross supporter, Suzuki, for the season. He finished a respectable fourth overall in supercross and seventh in the motocross series.
The next two years were tough for Buddy, as the four-stroke era began to change racing as he knew it. The end of the 2004 season would be Buddy's last as a racer. In 2005 he started his own arenacross team with the help of Suzuki. He signed Shane Bess and Brad Hagseth, and for the next couple of years he ran a successful operation. He also worked with
Nathan Ramsey
in 2006 as a rider coach.
Today, Antunez works for Suzuki as a representative. He is assigned to the Rockstar Energy team to help with testing and development of the bikes and also to help the riders with their programs. Buddy still rides on a semi-regular basis and has two kids, Bailey (11) and Boston (5). When he isn't working, he's hanging out with his wife, Shelley, and his family.