Hello, everyone, and welcome to the Rev-Up. The 2007 Amp'd Mobile AMA Supercross Series will head to San Diego this weekend for what I am predicting to be a pivotal point in the series. In this, the post-
Ricky Carmichael
era, we should reflect on an old adage The GOAT used to abide by. He used to always say, "I just want to get out of California with the points lead," because when the series moved East, he would typically kick in the afterburners in a big way. I think this same scenario plays well for
James Stewart
and
Chad Reed
. If Chad can get a win Saturday night, he can maybe get some momentum rolling for the right-coast swing. On the other hand, if James can continue kicking the teeth out of everybody, it will just give him even more steam with more than a one-race lead in the series points.
This is a big weekend across the board. RV Park can wrap up the title in the Lites, the race will mark the 10-year anniversary for One Industries, and there is also a little race going on somewhere over in Florida. My ass will be in Daytona, but my heart will be equally divided on both sides of the country. As I write this at 30,000 feet on US Airways flight 1791, it just dawned on me that there will be a supercross going on in San Diego, but
Ricky Carmichael
is going to be on pit road with me for the Duel 150's this afternoon. It's a crazy world, isn't it? Crazy as it is, if you are reading this, you are a race fan. And I urge all race fans to try a little cross-sport action this weekend. Get Revved Up about the fact that one moment the SPEED channel is going to be broadcasting a race car with a motocross sponsor on it, then the next it will be showing the supercross race that will likely have Nascar30's Jeff Dement in the main event. More on that later—let's go over the two classes that will throw down Saturday night.
Supercross Lites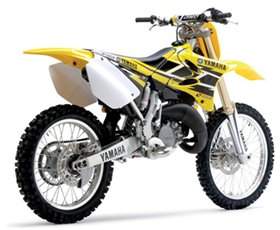 One's black-and-yellow Yamaha anniversary graphics
We have drama here, ladies and gentlemen! A little paint was exchanged in Houston, and when I check back over at "The Sign of the (Lap) Times," it tells me that
Jason Lawrence
wants to win one of these in a bad way. RV probably went to work during the week and will be more ready than ever, although I think a rider we have to keep an eye on is
Josh Grant
with his, ahem, affinity for the San Diego side of things. He might be riding with a little extra, or he might be head-casing a little extra. Either way, I think he will be one to keep an eye on. As a mater of fact, all these guys are going to be riding with a little extra gusto. With the series moving east next week, it will be the last chance these guys have to put in a good performance and leave their team managers with a smile. You listening, Hansen?
Supercross
Chad Reed
's momentum was slowed last week in Houston by a mouthful of sand. He'll need to keep his grill clean is he has any aspirations of keeping James in sight in San Diego. Chad put in an incredible ride here in 2005, as he overtook
Ricky Carmichael
on the last lap for the win. Other than those two cats, I think the biggest thing to get stoked on is
Timmy Ferry
's performance. How about ol'
Red Dog
? He has been digging for a long time, and it's good to see him getting some love again.
Other than that, the folks that have to be the most pumped about the coming weekend is One Industries. A little over ten years ago, they began making some graphics, and since then the San Diego-based company has grown into one of the most unique and stylish logos in the sport. Marc, Ludo, Dobey, and the boys will all watch the action this weekend with a proud set of eyes.
Hey guys, I don't know what to say other than that. I just finished writing this column from my little brother's motorcoach. It's been five minutes since he climbed out of the Jack Daniel's 07 and a sixth-place finish. RC was standing behind the 07 pit box for the whole race watching very intently. His four partners over at Ginn Racing are in the next race, so he hung back while my youngest brother Casey and I jogged over to see Clint climbing out. When he got out he walked over to Casey and I simply said, "We're good. Bring on Sunday." He'll line up 12th for the 500.
Okay, guys, it's going to be a big weekend. Let's all keep out thoughts and prayers with everyone that will be racing on both coasts. Two wheels or four.
Thanks for reading, see you next week.