Privateer Profile: Dennis Jonon
There's one more Western Regional Lites race left before the Amp'd Mobile Supercross Series heads east, and one rider hoping to make a statement this weekend is privateer Dennis Jonon. Riding for the Fire and Police KTM team, Jonon is coming off one of his best finishes in Houston and hopes to build on that this weekend in San Diego. We caught up with him earlier today for this week's Sponsorhouse.com Privateer Profile. Show Dennis and his sponsors some support by clicking on the links at the bottom of the page.
Racer X: Dennis, you're steadily improving each and every week in the Amp'd Mobile AMA Supercross Series. What's the secret to your success?
Dennis Jonon: Yeah, it's been good so far. I got a 17th, 16th, 16th, and a 13th, so each finish is better. Every time I make it to the main, factory KTM helps me out more than usual. Like, before the series they let me go out to the test track once a week, but now I can go out there every day with the team, so that's definitely helping out a lot.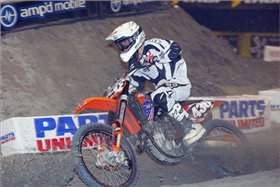 Jonon finished 13th last weekend in Houston

photo: Steve Bruhn

Last year you raced the National AX series, and this year you're dedicated to supercross. Did you think you'd be doing as well as you are?
Yeah, because before the whole series, I was riding a lot with Villopoto and Randy Lawrence, and the whole time, Randy was making me do tons of laps, and he said if I ride as good as I do with Ryan, then I'll definitely me making main events. So I kind of expected to be where I am, but now that I'm here I just want to get better. My goal is top 10 now, and I have two races left to do that.
Was Houston a career-best finish for you, besides your ninth up in Canada?
Yeah, it was. Canada is just a bit different then the AMA races, and Houston was the real deal.
Talk about your deal you have going on. We see you're on KTMs.
Yeah, it's the All-American Fire and Police KTM team. It's pretty much the satellite team for KTM, because there's nothing else out there. That's pretty much it. We also get to ride with the team, and they also help us out with some suspension and motor stuff too.
Is this the first year for that team?
Well, they've been building up. In the past they were on different bikes and had a whole different dealer. They're talking now that they want to keep it going for years to come. But it's a really good deal. At the beginning I thought it would be a disaster, but it's been really good.
They have to be excited with your results.
Yeah, they're stoked. Like I said, they're just starting out, and they help me out as much as they can afford, because we don't have much support. I'm pumped on the whole deal.
How did you land this deal?
Actually, just being friends with the owner's son. I knew him growing up racing amateur stuff, and he said he wanted to put something together. I didn't want to pass that up since I had nothing going.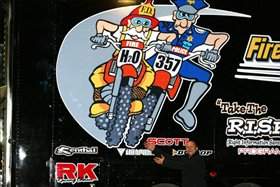 Jonon poses in front of his team's semi.

photo: Steve Bruhn

What do they do for you?
They just get me to the races and help with all of the expenses. Rather than doing it on my own with my parents, it's definitely a good deal. They also pay all my entry fees and my pro license, so that's good.
For the average fan, a privateer rider finishing where you are in the Lites class, are you making good money or just breaking even?
Well, it if you want to know the truth, I'm living off my parents still [laughs]. They're helping me out so much, and even me and my mechanic are helping each other out. It's definitely hard, but I've got good roommates and we figure it out and get by.
Where are you living now?
I'm in Temecula right now with my mechanic, Shawn Kraniak, and Kevin Rookstool. Kevin is riding the East Coast for our Fire and Police team.
Who is your mechanic?
Jeremy Winchester, but we call him T-Bone. Everyone knows him as T-Bone.
What are you looking for this weekend in San Diego?
Top 12, for sure. I want to get another good start like I did in Houston. That helps out so much. I found out that it's a lot easier to go backwards then it is to go frontwards. If I get a good start and ride solid, I could be top 12, for sure.
After San Diego, you guys are on a pretty long break. What are your plans? Are you riding the East Coast in the 450 class?
Last I heard, you can't ride the 450 on the East Coast anymore because of the rules. I really don't know. I'd definitely be interested in doing that. But next Friday I'm going in for surgery to get two screws removed from my hip. Dr. Alexander thinks I'm going to improve my range of motion, so I'm going to try that. I'll be out for like a week and a half, which will be a good break, anyways. I'll be 100 percent like two weeks after the surgery. During that time I'm also going to go home and see my family back in Kansas.
I know you frequent the Mototalk message board a lot, and I'm sure you've read all the hype on this Leatt Neck Brace. What are your thoughts on it?
Actually, I'm going out to test some more with them right now. I wore it yesterday and it's really good. I can definitely feel a difference, especially between neck donuts. I never could wear a neck donut, and this thing, after I put it on, I really didn't know it was there. The only reason I could feel it on was because of a tag on the back, but the new ones are coming without that. They got that problem figured out, and that was the only thing I could feel. I'm excited to be part of wearing that.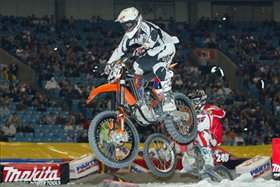 DJ436 is looking for a top 10 this weekend

photo: Steve Bruhn

Will you be wearing it this weekend in San Diego?
Yeah, for sure I'll have one.
Any other guys on the team?
Joe Oehlhof, and I think Michael Willard is trying one. Sleeter also, and Eric Nye on the East Coast, for sure. But I've heard that Windham and Preston were trying them today, so it's definitely going to be a big deal pretty soon.
Well, good luck this weekend in San Diego. We'll be rooting for you from the Indy Trade Show! Do you have anyone you want to thank?
I just want to thank all of my sponsors, Fire and Police KTM, All-American KTM, my parents, and my mechanic, T-Bone. I don't really have any individual sponsors right now. Ogio, Scott, Alpinestars, and anyone I'm forgetting, thanks. If there are any shoe sponsors out there, I'm definitely looking because I just got dropped by DC Shoes. The guy I dealt with left, so I was just on a verbal deal. It's 180 bucks to get the lift on my shoes, so if anyone wants to help, I'd definitely appreciate that.
Well, we'll get the word out for that. Looking ahead, you riding outdoors?
I'd like to, but I'm not sure yet. I want to, because if I have good equipment, I'll do really good. But I'm actually talking to the factory team a little bit to maybe get some help, so we'll see.

Dennis Jonon's sponsors: