Welcome to the Shift Number Cruncher. We have a big one for you this week. It came to be from the result of last week's #18. See, about five minutes after the one-eight was posted, I received an e-mail from none other than Jimmy Button himself chiding me that I had left him out. Around a dozen e-mails from all over the world making the same claim followed.

All I could retort was, "Hey man, #11 is on the board next week." No catchy gimmicks this time around. No marinating necessary for this number. Some heavy dudes have worn the great eleven during some great seasons….

Then came the David Bailey video. The Icon himself made an appearance from his bedroom in California to ask the motocross world to please consider at least trying the Leatt neck device. The world took notice—the same world that will always feel that David Bailey "owns" #11. That was the number he wore to one of the greatest seasons in AMA supercross and motocross history: 1983.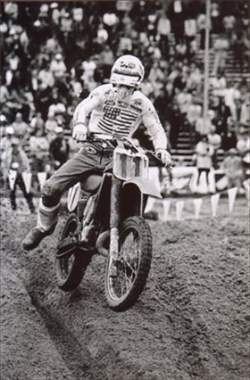 David Bailey
photo: Dick Miller Archives
Check out this shot of
David Bailey
at the 1983 Foxboro Supercross. It's kind of strange seeing him looking a little out of control. Unless he was dragging the bars around a berm, you will struggle to find another shot of the Little Professor with so much as a foot off the peg! Bailey helped define style and technique, which is a pretty good reason to listen to him when he talks safety: If it could happen to him. …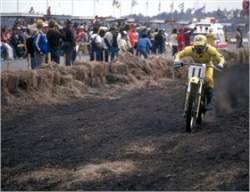 Marty Smith
photo: Dick Miller Archives
Another bona fide American motocross hero. This is from 1981, late in his career at the Daytona Supercross. To this day,
Marty Smith
embodies style and class in American motocross …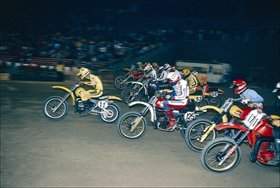 Broc Glover
photo: Courtesy of Moto Verte
… and so does this man, the "Golden Boy" himself,
Broc Glover
. Here the six-time champion is getting the early jump on the pack in this blast from the past! It doesn't matter what time frame it is; the feeling a racer gets from getting a jump like this hasn't changed and never will.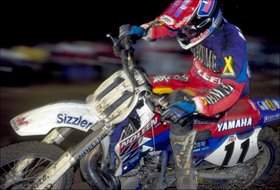 Larry Ward
photo: Fran Kuhn
Team Noleen Racing's
Larry "Big Bird" Ward
had one of the most astonishing privateer efforts in the history of the sport in 1995 as he chased Jeremy McGrath to several runner-up finishes on his way to finishing the SX season in second place. For a few years there, if it wasn't Jeremy getting holeshot, it was Larry on the rocketship Noleen YZ.
Finishing third in the 1995 SX season was none other than "The Fro" himself. Two yeas later he would be king. A year over a year later he would hit rock bottom somewhere in Arizona. He gathered it back up for one last charge in 1999 and won the U.S. Open wearing #11. You may recall a picture of him after this race with a hand over one of the digits on his front number plate. A four-time AMA champion, multi-time MXdN champion, and easily one of the coolest motorcycle riders of all time.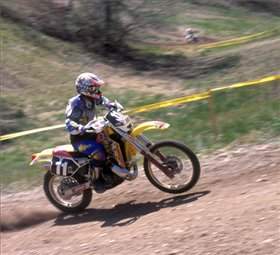 Steve Hatch
photo: Jim Talkington
One of the fastest men to ever race through the trees, as well as one GNCC and National Enduro (and now WORCS and Supermoto) folks have come to always see with a big smile,
Steve Hatch
is also a major investor in the Pole Position Raceway.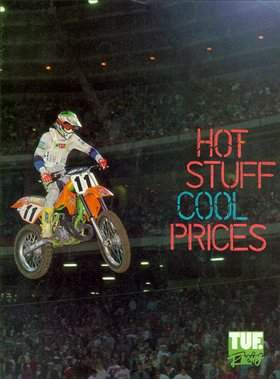 Keith Bowen
In a career that saw the Michigan Mafia's
Keith "Bones" Bowen
land on Bob Hannah's arm, almost win the 1987 Daytona Supercross, and take two races in the 1986 125cc outdoor nationals, he probably never imagined he would be racing an orange Kawasaki during his last full AMA season in 1988.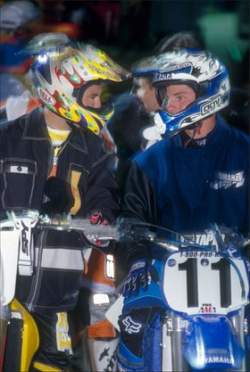 Ezra Lusk (right)
photo: Chris Hultner
Number 11 was pretty good to
Ezra "Yogi" Lusk
in 1997 as he picked up two supercross victories at Orlando and Pontiac. He also nailed down the win at
Budds Creek
later that summer.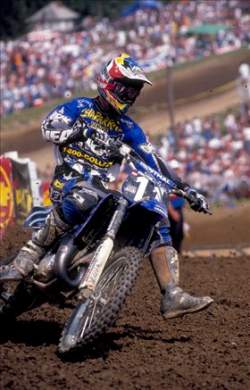 Jimmy Button
photo: Andy Trecki
Another class act, "
Button Fly
" raced with #11 in 1998 alongside Jeremy McGrath under the Team Chaparral awning. He would put in some strong rides in the 125 outdoor series and come in sixth overall. He was, like, Justin Timberlake-cool while that guy was still singing in the school choir! Button is still a big player in the industry, though, like David Bailey, his on-track career ended far too soon.
Jesse Moore made the trek from Texas to Loretta Lynn's Tennessee to compete in the 125 A and 125 Pro Sport classes. He wore the 11 to 26th- and 36th-place finishes against the best amateurs in the country.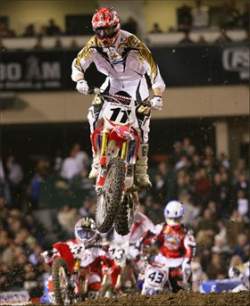 photo: Simon Cudby
"
Mr. T
," as he can be called, is the current owner of AMA #11. After a brief stint as a Honda factory rider, Travis moved back over to Factory Connection and came out swinging in the supercross season. He got off hard at Anaheim 2 and had been trying to get back in the groove ever since. Look for him to challenge for the podium soon—maybe even in San Diego.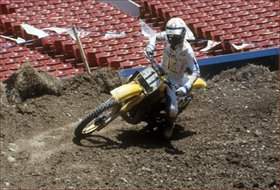 Davey Coombs
photo: Racer X Archives
Oh yeah, check out our fearless leader doing a little Bailey emulation in this old-school shot of him winning the 125 class at the Pittsburgh Supercross amateur day in 1983. (Yes, that's at the now-rubble Three Rivers Stadium!)

On the road racing side of things, you can't mention #11 without bringing up Ben Spies. The young Texan is getting ready to embark on the defense of his very first AMA Superbike title, which he picked up last season against none other than six-time champ (and his Yoshimura Suzuki teammate) Mat Mladin. Spies will be wearing #1 in '07, but he'll have trusty old #11 hidden in his number somewhere if you look closely enough. Oh, and in World Superbike, two-time champ Troy Corser will be wearing #11 when that series kicks off in Qatar next weekend.

This column always has been and always be for you fans. There are a whole lot more great number #11s out there, so get your heads together and let's see them! Send them to me at andy@mxsports.com and we'll get you in the Redux.