Bench Racing Ammo: Best Season Ever?
February 13, 2007 12:45pm
As the 2007 Amp'd Mobile AMA Supercross season rolls on, James Stewart has won the five of the first six races so far, and it doesn't look like he will be losing any time soon. Although this may spell a long season for fans of supercross, it also means we may be witnessing some history in the making.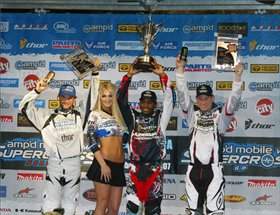 How many times will James hoist that first-place trophy in 2007? 15? 14? 10?
Back in 1996 Jeremy McGrath was able to win 14 out of 15 races—including the first 13 in a row that season.
Ricky Carmichael
was able to match that record in 2001 when he won the final 13 races of the 16-race series. RC also totaled 14 wins that hear, tying MC's record.
So while the chance for a perfect SX season is out of reach now, the next best thing would be to top both MC and RC for most SX wins in a single season—he could end with 15 if he wins out from here. At this point, both Ricky and Jeremy are feeling what it's like for the '72 Miami Dolphins as they watch Stewart inch closer and closer to their records!