Monday Conversation: Jason Lawrence
Yamaha of Troy's or Jason "J-Law" Lawrence showed enough speed to really challenge Ryan Villopoto for the win in Houston for what has to be his best supercross ride to date. He got the start he needed and stayed on Villopoto's fender until he could make a move. That move came right after the finish-line double in the form of a really close pass under Villopoto. Words were exchanged later, but it seemed over by the press conference.
Monster Energy/Pro Circuit Kawasaki's Villopoto managed his fifth win in six starts this year, but we felt #338's main-event effort at Houston was worthy of a Monday Conversation with a runner-up.

Racer X: Jason, that was a pretty exciting main event, wasn't it?
Jason Lawrence: Yeah, that was a good one. I finally got the start I've been looking for. In my heat race I was set up good and was kind of set up to the outside. It seemed way better to get to the left in that first section and stay away from all the guys casing the jumps, everyone hitting and crashing. I wanted to get there as fast as I could and brake and stay on the left. I got there right with Ryan.

It was awesome to be right behind him those first couple laps. I just made the first move I could. The first move was after the finish. It wasn't a dirty move at all or anything—I just passed him. He had some stuff to say about that. We might have hit a little bit. It didn't really feel like anything to me. It seems like everything is all right after listening to the press conference. It sounds like no hard feelings. So it's cool.
What was different about this main event for you?
It's when you start at the front! It's so much different than where I've been starting. I've been starting about, like, 10th, and by the time I get even a podium spot, I'm so tired from trying to pass everybody and there are only a few laps left and everyone is out of reach. That was inspiration for me to show my speed there. I think I did that. I don't know how I did on my endurance. I was a little tired at the end, the last couple of laps. I'm not used to running that pace up front. I got really tight when I was out in the lead. That's something else I'm going to have to work on. You can't go to the test track and have Ryan Villopoto and all the other fastest riders right behind you, so that was just awesome.

This would have to be one of your best races ever.
Yes, I would say that was my best race ever.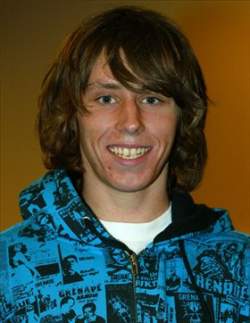 Lawrence feels that Houston was his best race ever!

What did you think when you saw Kyle Partridge fall and Ryan bump into him and fall too? Did you think you could hold on and win right then?
I thought if I could get more than five seconds on him I would be able to do it. I'm sure it was hard for him in the beginning of the race to ride in front of me like that. It did feel like I had a lot more speed than what I could do right behind him. The only place I felt I wasn't better than him was the set of whoops after the triple. I definitely felt I had him in the set of whoops before the finish because he was trying to jump them. That was the conservative route, but I was just trying to hang it out and get a win. I was wheeling in and trying to pin it through those things, sideways or not.

There are two more West rounds left. Are you going to beat Ryan straight up in one of them?
I'm going to work for that next week. I have a bunch more confidence now for sure, just knowing that I have the speed. I felt that I had the speed, but there was no way to tell for sure without going out there and riding with them. He does seem like he's a little better than me in the whoops, so I'll work on that. My corner speed seems good. My starts are going good, so I almost have all the bases covered.

Did you get any crap for what happened in that heat race in San Francisco?
No, not really. That was just something that got, like, brushed under the table almost. It was a stupid deal right there, what happened to me and Josh. I shouldn't have taken him out like that and he shouldn't have waited for me. Most of all, what happened after the race, I shouldn't have done that. That was horrible for my sponsors. I won't be unsportsmanlike like that ever again. That's for sure.

So you aren't that "bad guy?"
[Smiles] No, we'll see.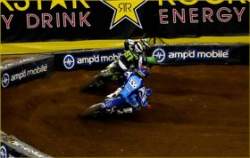 Lawrence is feeling confident for San Diego